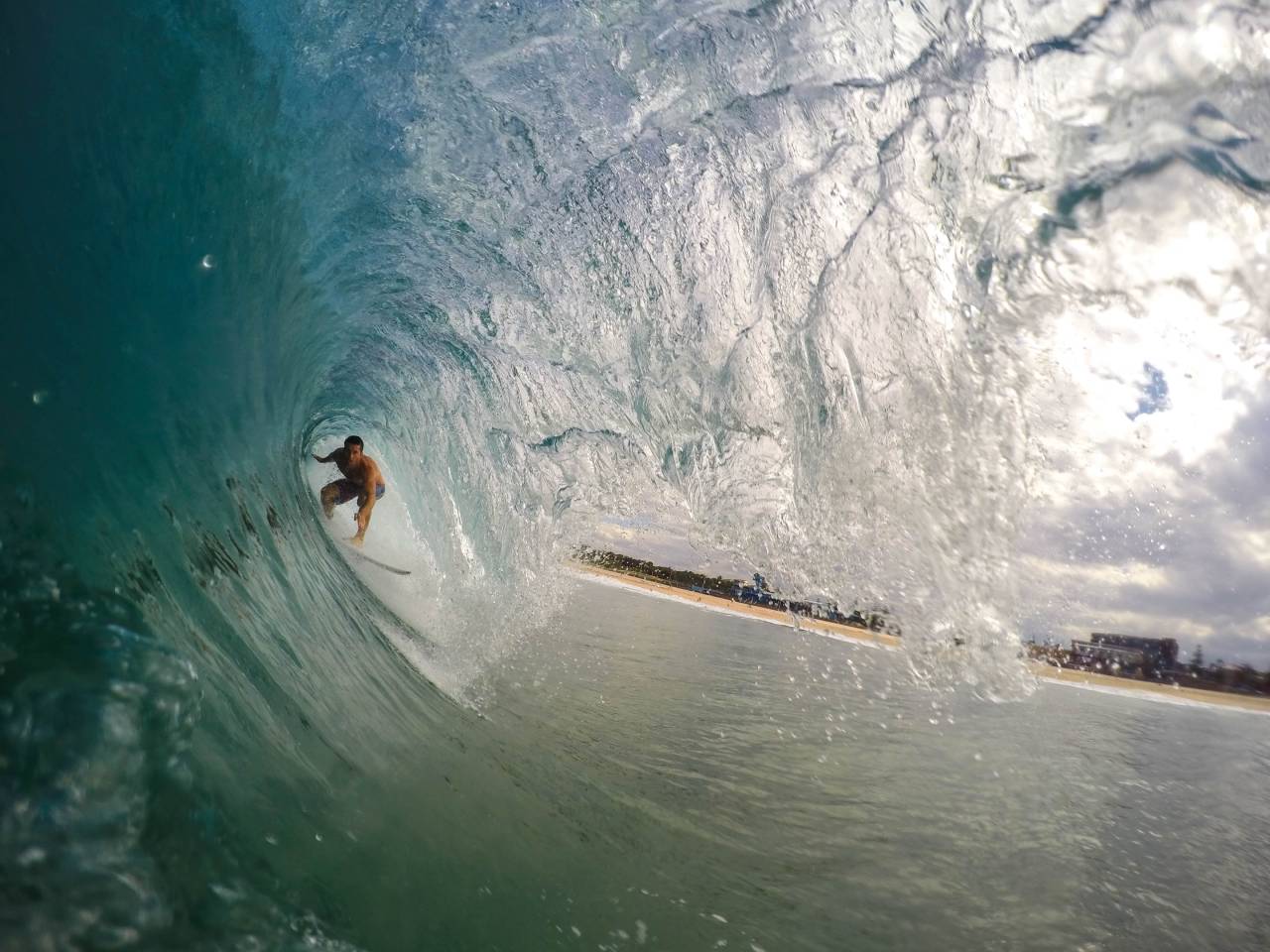 Grab what you need, hustle hard and ride the freelance wave
Go freelance they said, once you take the leap you'll never want to go back they said. No more long commutes into work, no more "sorry I'm late" excuses, no office politics and no more strange looks from Phil in finance. Now that you're freelance you get to make the rules, set your own schedule and only wear a shirt for that conference video call (we've all done it). Only problem is you now have a brand new set of challenges and every time you think you've nailed it - boom! You lose another client. With 50% of the workforce predicted to be freelance by 2020 competition isn't getting any easier, but there are some ways you can step up your game and become not just good, but great.
You may not be supervised, but that doesn't mean you don't need a review. It's time for a "quick catch up" with yourself. So sit yourself comfortably with yourself and take a look at these 6 traits of a great freelancer to see if you're missing any.
1. Our passion is our strength
To quote Steve Jobs' famous follow your heart and don't settle speech:
"The only way to do great work is to love what you do."
Being passionate about what you're doing has a number of benefits when it comes to self-employment in terms of self-motivation, sense of purpose and wellbeing, but understanding what you're passionate about can help you find your niche so that you can attract the right clients. Let's say you're passionate about, for example, improving education opportunities for disadvantaged communities. You could focus on working with charity sector clients who fulfil that mission by tailoring your own self-promotion towards that niche. We spend up to a third of our lifetime at work, so consider this:
What do you want to do with your working hours?
What do you have years of experience in which makes you stand out?
What do you actually care about?
If what you do as a freelancer can reflect the answers to those questions you are well on your way to being 'great'. Better yet, if you actually care about the work you're doing, before you know it, you'll be at the end of your working week.
2. We deliver results - not promises
Whatever your area of expertise or experience delivery is key. In a recent LinkedIn post, Head Writer at Riot Games Mike Foster said:
"Nobody cares about the creative genius with the most brilliant ideas in the world. What people need is DELIVERY. If you're the person that shows up, delivers work on time, responds to clients / managers / stakeholders etc, you'll consistently outpace those with more "talent" and more experience."
He's right. No matter how good you are at your job, if you don't organise your time effectively and actually deliver the work on time, you're going to lose the work to someone else who will... even if they are less talented than you. That said a great freelancer also knows how to strike a balance, so even if you're someone who makes your deadlines, if you often have to work late or over the weekend to meet them there's still more work to do. Eventually you will burn out and that's not good for you or your clients.
If you're flying solo you don't have a boss or company processes to keep you in check, so you need to step up and put that structure in place. That doesn't mean you have to work at full capacity, a great freelancer is realistic about their time and includes gaps in their schedule for those unexpected "argh!" or "why am I even doing this?" moments, not to mention those unexpected meetings and the twists and turns that life likes to throw at us.
3. We lead with persistent positivity
We all get things wrong from time to time and have those 'off' days, but when you're working alone in isolation this can be even more difficult to ride out. This is why a great freelancer really needs to be well-practiced at leading with positivity and persistence. Not something you have in abundance? The good news is that positivity is contagious and persistence often follows, which is why a great freelancer knows they need to have regular interactions with their peers and clients whether that's at events, meetings or being a member of a buzzing coworking space.
There's no HR to keep your morale boosted when you're freelance, that's why it's important to set achievable goals for yourself that make you feel good. These include some long-term goals that help you feed a high-growth ambitious mindset, such as:
A walk a day to give you some time out
Attending at least one freelance community event a week
Winning at least one new client by the end of the month
Learning a new skill every quarter
Building up enough work to outsource by next year
It's really about keeping yourself in check and making sure that, beyond delivering for your clients, you are also getting some value and sense of self progress. It's a cycle that can be hard to maintain but those who master it excel.
4. Our chat is on point and we have good hustle
Ah, good communication, the secret to any successful relationship. A great freelancer is a master at communication. They frequently share ideas, offer solutions not problems and, when you add good hustle to the mix, they know how to turn any conversation into a moment of opportunity.
So, what exactly does it mean to hustle? Historically the term has negative connotations, meaning to push or pull things your way, and is even associated with con-artists. When we say hustle, we follow the definition set by Neil Patel and Jonas Koffler in their renowned book, Hustle, which is to make a decisive movement towards a goal, whereby the motion itself brings about hidden opportunities, and charges our lives with more money, meaning and momentum. In it they uncover a number of strategies that can help you get out of a 'cycle of suck' and start making progress in every area of your life. Give this video a watch to find out how you can escape 'the cycle of suck':
While you don't have to have the gift of the gab or write eloquently, being precise and to the point helps great freelancers retain clients. You need to be prepared to communicate often and leverage your strengths to connect with your peers and uncover hidden opportunities. This can be difficult if you consider yourself an introvert and spend most of your time working from home, but not impossible. Especially if you put most of your social efforts into connecting with other freelancers who may be able to do the hustling for you and share client work.
5. We know how to look after ourselves
Many people think that when they leave the daily grind of a permanent desk job, they will have more time. Unfortunately a freelancer map survey found that many freelancers are overworking, with 40% working more than 40 hours and a quarter more than 50 hours a week. There's a reason 'freelancer burnout' has become a thing. A great freelancer knows when to stop and that time out is just as important as being on the clock to deliver results.
It's one thing to have discipline to focus on your work but it takes a great freelancer to know when to take a break.
Listen to your body - you're not getting paid sick days or holidays anymore. Take a few days if you need to because either you will burn out, or you'll feel like you're working non-stop. This is also appropriate when accepting work. It may be exciting for a client to want your services but if you're over capacitated, the quality you deliver suffers. Know when to decline work and you'll keep on top of your work game, as well as your life game. If you simply can't afford to stop? Well, it's time to review your time, outputs and rate to make sure you are not overworking for little return.
6. We're digital nomads with a sense of wanderlust
If you spend most of your days in your PJs at home, then you are missing out on one of the best aspects of self-employment: being able to work wherever you want! Okay, so some days at home are nice, but over time you are going to feel disconnected and isolated.
A great freelancer knows it's important to change location to get perspective and keep things fresh. There couldn't be a better time to do this with so many great digital business management solutions. Heck, as digital nomads this is exactly why we created Xolo, so people like Asad can work worldwide without the worry of 'dropping the ball' on their projects.
Feel like working in a cafe? Library? In a bar with a pint in hand? It's all possible and those who only require a laptop and other small bits of equipment should embrace their digital nomad side. Better yet, pack a suitcase and book a plane ticket! There's also so many great coworking spaces across the world to choose from, why not get your bum off the sofa and tap into your sense of wanderlust?
Time to be a big fish in a big pond
Starting a business as a solopreneur may seem daunting as you begin to face what feels like a never-ending cycle of work and admin, but it really doesn't have to be that way. More and more people are embracing freelance life and creating a freelance business plan that enables them to enjoy the 'free in freelance'. Can you afford to be anything else but great? It's time for you to grab a board so you can start navigating the waves of self-employment. Follow the above steps and you'll soon hit your pointbreak!

Freelance