Fact: freelancing is a business. As such it gives you a limitless potential for growth. But unlike other types of business, the growth curve is often less obvious (but no less exciting!)
In fact, it's not even a single-line curve, but rather a polygon with multiple angles you can pursue to scale your freelance operations.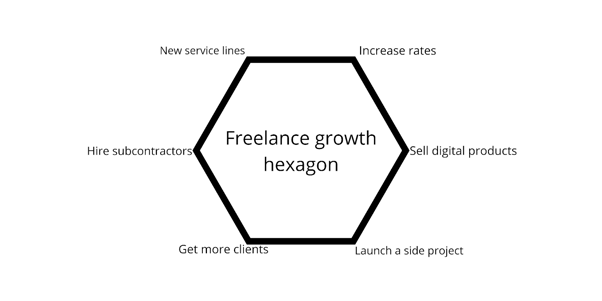 To grow your freelance business, you can:
Get more clients
Hire more people
Add extra services
Launch spin-off project(s)
Sell physical or digital products
Create and trade NFTs (

that's now a thing!

)
Or you can offer productized services.
…And that's what we're going to focus on in this post!
What is a productized service?
A productized service is a scoped, standardized solution you offer for a set rate to a well-defined target audience.
Instead of tailoring your service to each client, you bundle your expertise and standard execution processes into a repeatable step-by-step framework. Then add a fixed price tag on it.
Or as Max Traylor, a Producer of consulting services and published author, said:
"[Productized services] are like a Nike shoe. You know how they're made, you know how much it costs, and you're not making it up as you go along."
To give you extra context, here are several productized service examples for freelancers:
Done-for-you blog post publishing. Add extra value (and charge higher prices) by offering end-to-end blogging services: research, write, stage, and publish a monthly set of blog posts.
Content repurposing. Offer to turn audio or video content such as interviews, webinars, and podcasts into written assets for a fixed rate.
Technical SEO optimization. Provide a full audit that includes itemized technical and on-page SEO optimization tips. Then apply the fixes.
UX audits. Pitch an in-depth audit of a UX flow or entire product, aimed at showing gaps in user flows with a list of recommended changes.


Wait, aren't productized services the same as digital products?
No, productized services aren't *exactly* the same as selling digital products that are complementary to your core business.
Digital products — templates, libraries, e-courses, etc. — come with a "make it once, sell it many times" philosophy. By creating digital products, you can diversify your income and earn extra cash without committing as much time as to delivering a service.
A productized business model, in turn, still has a "service" component to it. The difference is that you treat each service as an independent product with a set of "included features" and a fixed price.
Productized services still mean you need to do the delivery (or hire subcontractors to help you out). But you have more control over the timing, quality, and consistency of the delivery process. And by proxy — over your work schedule and income.
7 very good reasons to productize your freelance services
Irregular income is a challenge for 47% of European freelancers, followed closely by late payments (36%). Productizing services can help with your money woes — and bring in some extra bangin' benefits:
More retainer clients. Your productized services can be subscription-styled where you commit to doing X, with Y regularity — plus take money upfront.
Predictable workload. When you know how much time a standard service takes, you can block time in your calendar — and pack extra work around those blocks without stretching yourself too thin.
High scalability potential. You can scale your operations fasters by hiring subcontractors and training them to deliver a standard service using your checklists, systems, and guidance.
Entry-level value prop for new clients. "Sample-sized" productized services such as audits, workshops, or "delivered in a day" services, can help you attract cautious clients who are afraid of trusting you with larger, higher-paying projects from the get-go.
No haggling or overservicing. When you set a fair, fixed price you have fewer awkward conversations about raising your rates if you misquote the first time around or get pushed to do out-of-scope work.
Better than pricing by the hour. With a productized service, you aren't penalized for working fast or face client objections for quoting an "exorbitant" hourly rate.
Stellar CX. Your clients love you more because you are dependable and deliver value right on schedule. There's also less back-and-forth with adjusting expectations on both ends — everything is laid out up-front.
How to productize a service: a blueprint for freelancers
By turning services into products, you do yourself a favor.
Instead of spinning multiple plates of different sizes and shapes, you fill in your mental rack with saucers of equal size which match perfectly to the cups you have — aka your core competencies. So your (mental) cupboard is always in order.
If you, too, want to have an orderly schedule, consistent income, and inner zen, here's how you should approach service productization.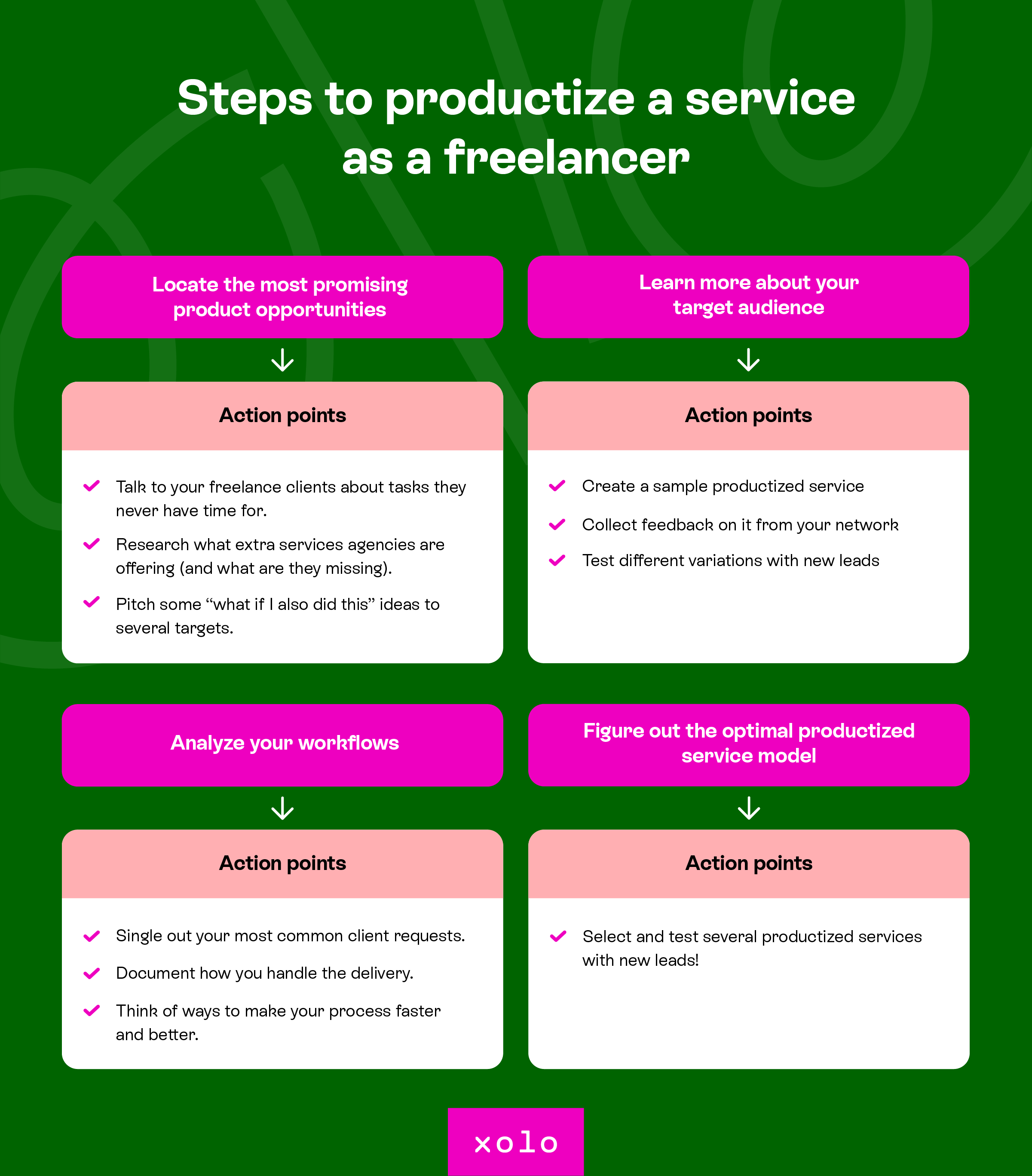 1. Locate the most promising product opportunities
Great products are based on the human-centric creative process.
As Ideo puts it:
[Human-centric design] is a process that starts with the people you're designing with and ends with new solutions that are purpose-built to suit their needs.
Put yourself into your client's shoes: What are they struggling with? In long-term projects, you can pick up on client pain points from casual conversations and off-hand remarks. Or you can uncover their woes yourself.
Think of different jobs in your industry where:
Hiring an agency doesn't make sense because it's too expensive or the task is too small
In-house people are too busy to get to it or aren't qualified enough to handle the task expertly
The "Great Resignation" and cut-throat competition for talent has left many companies short-staffed. At the same time, the magnitude and speed of market changes force companies to challenge the old ways of doing things — aka innovate!
But before diving into something new, most businesses want to test their assumptions. For example, an e-commerce startup wonders if TikTok could help them get more sales. But they are reluctant to hire people in-house for content creation in case the idea flops.
That's where you can come in with your productized service: You can plug a hole in their current workflow or set the company up for future success.
Action points:
Talk to your clients about tasks they never have time for
Research what extra services agencies are offering (and what are they missing)
Pitch some "what if I also did this" ideas to several targets
2. Learn more about your target audience
Another golden rule of product development is knowing thy target audience.
Top-selling products are niche and solve oddly-specific problems a cohort of people has. After a few chats, you know that several of your clients struggle with the same problem. Now you need to validate if there are more people like them.
This process is called finding product-market fit (PMF) — a buzzword, coined and popularized by venture capitalists.
PMF is simple framework freelancers and startup-ers can use:
Start with a hypothesis, test it, prove it, move on, or further iterate on the hypothesis.
Let's say, you already have a hypothesis:
"Clients in the restaurant industry mostly want 5-page websites with 10 specific features. On average, they paid me $10K for such projects"
Next, you can test your assumption by creating a "mock-up" productized service. This can be a brochure or a landing page, explaining what your awesome "launch a resto website" package will include.

Send it over to your past clients (or peeps in the industry) and ask for their feedback. Do they like the sound of it? What types of questions/clarifications do they ask? Is the price OK? Do they want more add-ons? Would they appreciate it if you offered it sooner?
Adjust your offer based on the feedback. Then split-test it in terms of:
Included deliverables
Pricing tiers
Timelines
Remember: In the words of the said VCs "serendipity plays a role in finding product/market fit". At some point in your experimentation, all the parts fall into the right places and you nail your ideal productized offering.
So don't over-think things. As Joanna Wiebe of Copyhackers explains:
"You're going to sell this thing, you're going to figure it out as you go on the first one, that's just the nature of it. The first time I sold a website audit, I didn't have anything in place for it. I think I had like, a form that said, what's your name? What's your website? When do you want this delivered? And that was it. And over time, I learned to refine that, like oh, I'll need to find out what pages they want me to focus on, etc."
Action points:
Create a sample productized service
Collect feedback on it from your network
Test different variations with new leads
3. Analyze your workflows
You have a productized service idea. Now you need to wire predictability into it.
A good productized service should:
Be feasible to deliver within a set timeframe e.g. weekly, monthly, or within X days
Have low dependency on client feedback i.e. you collect all input once during onboarding, then do the work autonomously
Be quantifiable. You can itemize the number of in-scope activities and clearly convey what the client will receive
Have low variability in execution. Only a few parameters need to change e.g. the number of monthly posts or process steps
Not every type of work can be put on the product rails.
As a mobile app developer, you can easily estimate how much time and effort you'll need to create an interactive mobile app mockup with five screens. But you probably can't tell whether or not building a specific app will take X days and Y dollars. Too many variables are at play — technical requirements, number of user stories, client's feedback speed, etc.
So before turning services into products, take a good look at your day-to-day work. Analyze your standard processes for doing various tasks. Then think if you can mesh these steps into a more comprehensive, repeatable system.
You can't sell a productized service unless you have a system behind your work. If you operate by the principle of "there's a method to this madness, but no one else can see it," you'll struggle with:
Consistency in quality
Scaling the service beyond yourself
Making money from retainer clients
So reign your creative chaos to one step-by-step framework for doing things. This can be as simple as a step-by-step list of instructions you use for yourself. Put that down and refine it as you go.
Action points:
Single out the most common client requests you do
Document how you handle the delivery
Think of ways to make your process faster and better
4. Figure out the optimal productized service model
Similar to physical products, you can offer different services "configurations" to clients.
Revisit your target audience research and think about how different packages could best meet your clients' needs and suit your operating model.
To help you out, here are several tested productized service model ideas.
Entry-level service
An "entry-level" service is a lower-priced, introductory offering you can deliver in a few days.
Its main purpose: help you get your foot in the door at bigger opportunities and build rapport with reluctant clients.
Ideas:
Audit
101-training session
Software tool setup
Rapid mono-task execution
Example: Landing Page in a Day by Jarrod Drysdale.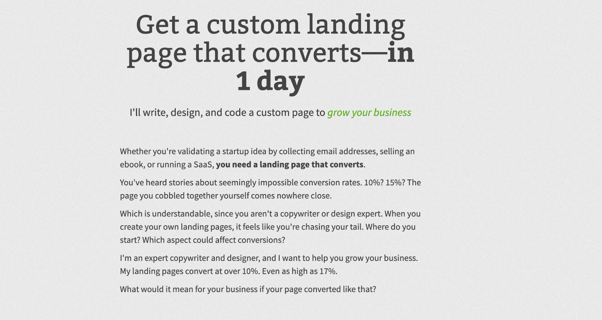 To fill up his client list, Jarrod Drysdale created this enticing one-day offering for clients who need a landing page for yesterday. The pitch is simple: a 15-minute chat, a 24-hour wait — and a mobile-first, bootstrap-based landing page pops up in your inbox.
As Jarred has now moved on to running his own product design and development studio, this productized service offering did help him make some cool connections!
Standalone offering
As the name suggests, this can be any type of service your clients need occasionally, packed into a neat, fixed-price agreement.
Depending on the type of freelance work you do, you can also turn you standard services into productized packages.
Doing so is a great alternative to day rate or hourly projects (and endless pricing negotiations!).
Ideas:
Website design package
Email marketing sequence
Landing page sales copy
Logo variations package
Google Analytics 4 account setup and training
Example: Email conversion & churn audit by Val Geiser.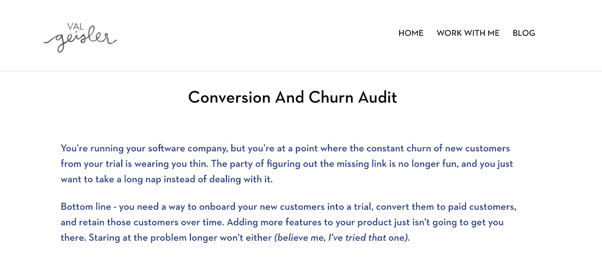 Val Geiser is an email marketing extraordinaire — and she's usually busy with regular work. Her "Conversion and Churn audit" offers clients the fastest way to work with her. Plus, it also doubles as an "entry-level" offer that can be used to cultivate ongoing client relationships.
Demand-based services
Some of the most commonly outsourced tasks are demand-based ones.
These can either be need-driven — e.g. when a client wants to try a new marketing strategy — or periodical. For example, when they redesign a website.
The obvious con is the fluctuating demand. It means you either have to be "on-call" yourself or have a trusted subcontractor to deal with a high volume of requests. But such offers can also keep your work schedule full with existing gigs.
Ideas:
Case studies creation
Transcription services
Podcast hosting
Infographic creation
Annual report designs
Example: Content remix by Kaleigh Moore.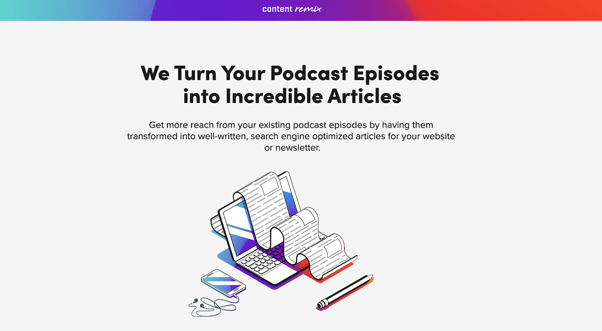 Freelance writer Kaleigh Moore started a side service project, offering podcast to blog content repurposing service. Rather than just transcribing the entire episode, her team grabs the best sound-bites and turns them into engaging, SEO-friendly blog posts or newsletter copy.
Retainer services
Retainers are the secret to taming unpredictable workload into steady, subscription-based work…and predictable revenue.
Retainer services run the closest to a standard agency model. But such services are less ad-hoc and better structured.
Examples:
Content writing
Editorial work
Website maintenance
SEO packages
Photo/video packages
Social media management
VA services
…Or anything else you can package in a reasonably scoped offering.
Examples: Castos podcast editing services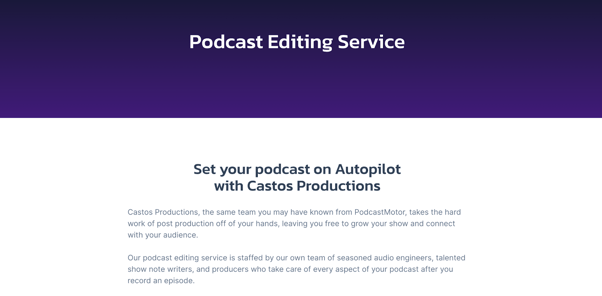 Castos team promises to handle all the daunting post-production work — from editing to notes — for a fixed recurring fee. They offer attractive bundles with different deliverables with different subscription tiers. That's a great recipe for repeatable work and predictable income.
Example: Bnb Magician by Deian Isac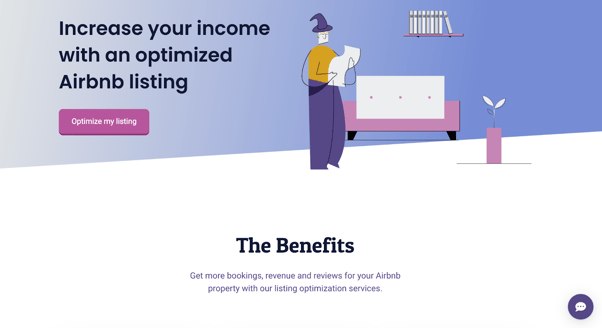 Fellow Xoloprenreur Dein Isac came up with this original productized offering, which is a combination of his SEO, copywriting, and customer success skills.
For a fixed price, Dein consults Airbnb hosts on optimizing their listings to drive more guests to the property. You can choose among three packages:
Consulting-only: Receive a thorough video analysis of your listing with feedback and tips for improvement.
Done-for-you Airbnb listing optimization, where you get the tips and have them implemented for you.
Premium listing optimization plan, featuring the above plus a custom apartment layout plan and a PDF guide for guests.
As a frequent traveler, dwelling exclusively in Airbnbs, Deian knows what makes a high-converting listing and what guests value in rented properties.
Action point:
Select and test several productized services with new leads!
Stress less with productized services
Work-life balance remains a fickle element in many freelancers' lives. Between late paychecks and unreasonable clients, a lot of things wreak havoc on our mental health.
Productized services are a proven way to regulate your income and workload. Instead of jumping on every opportunity under the sun, you select your lane(s) and focus on honing your skills and expertise within it. Plus, you build out a repeatable way of doing stellar work — and that makes clients stick with you for the long term!
About Elena
Elena Prokopets writes content for tech-led companies & software development businesses, marketing to them. Her empathy for the customer, expertise in SEO, and knack for storytelling help create content that ranks well and drives industry conversations.

Elena uses Xolo so she can focus on her solo B2B content writing business without stressing over the compliance and admin overhead.