Tiago pitching one of the startups he founded — Songvice
We asked Tiago, a Portuguese national, why being a solopreneur doesn't limit your global aspirations.
Portuguese home, global office
I'm originally from Porto in Portugal, but left to study computer science in London for 6 years, and then onto Brazil for a while. I returned to Portugal in 2013, and with some Portuguese friends co-founded a music startup in Amsterdam called Songvice; with the aim of being the first marketplace for users to obtain musical advice should they want to learn a new instrument. Sadly it didn't work out as planned.
Undeterred, in 2014 I went to San Francisco to find a product market fit for Songvice. Whilst there I found out there was a need for developer coding schools — so we all decided to try out the coding and education path (we were all teachers and coders in some way or another) — yet crucially, we wanted to make it fun to code. The first course was released in November 2014 and we were instantly profitable, unlike Songvice.
We sold Codeplace in April 2017 to the largest coding boot camp in Portugal. Since then, I decided to focus on consulting.
What does your business do?
Since selling Codeplace I decided to focus on software development consultancy — due to travelling a lot I required a business solution that could enable me to run my business from any location around the world. For example, I was in Bali in September, and was still able to manage my business — nothing stops or gets delayed.
How did you hear about LeapIN and why the need?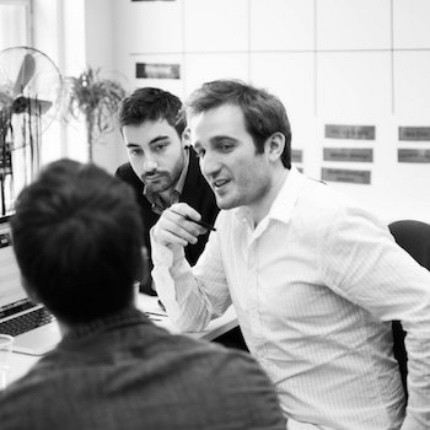 As a solopreneur I found Portugal's company setup was really limiting — plus it had high immediate costs to pay, €200 per month. From being one of a group of founders to becoming a solopreneur — this was simply too much.
Additionally, the corporate tax rate is 35% annually — that is fine for your traditional bricks and mortar businesses who can reinvest the profits to refurbish their offices, locations, hire new staff or purchase new assets. For online tech solo entrepreneurs like myself, this was expensive and inefficient as I had neither the need to reinvest or hire others — so all my profits would've been taxed.
While searching for new solutions, I read a lot of articles on digital nomad blogs. I learned that the Estonian tax system was more attractive because you don't pay tax on your profits, only dividends.
I continued to explore this option and finally found the answers I was looking for — from the LeapIN knowledge base and blog. I decided LeapIN was for me, and contacted them before I set up my Estonian company.
Did you consider anywhere other than Estonia to incorporate your company?
Yes I did, a lot of friends recommended Stripe Atlas in Delaware, USA. I'd done this once before with a previous company, but somehow I didn't feel comfortable dealing with the US tax system (maybe because I'm an EU national) and preferred to deal with EU laws and regulations.
Did you have to go to Estonia to set up your company?
No I didn't, because I've only set up my company and not a bank account yet. I'm aware that due to the bank's Know Your Customer regulations I'll have to make the trip if I want a business bank account.
For the company set up it was all managed online, and for payments I use my TransferWise Borderless Account.
But I definitely want to go and visit beautiful Tallinn — I feel having a business bank account will provide more flexibility for my business transactions.
Why should others consider Estonia and LeapIN?
Several reasons, first the the tax system is advanced and clear, allowing people to become remote workers first and then find work. Previously, workers had to work for large enterprises and after a period of working — request to work remotely. e-Residency has turned this on it's head and it's great for worker productivity.
Secondly, to manage your company online, LeapIN's dashboard is an easier way to manage your business, plus it provides a clear overview of expenses and sales. Anywhere I'm located, I can upload my expenses and generate invoices. It's important for me to keep tabs on my company, rather than waiting for a monthly update (and sometimes shock!) from an accountant.
Lastly, I love the customer support — this may seem trivial, but in today's service provider world having people who are knowledgeable, understand your way of working, and how to manage a solopreneur business, is hugely accommodating.
Do you feel e-Residency will grow?
I read that it's estimated there'll be 1 billion digital nomads by 2025 because companies are looking to attract top talent, no matter where they're located. E-Residency then, is only going to grow.
Thank you, Tiago!
e-Residency