Let's face it — making money is loads of fun and super rewarding. Managing money? That's a whole different kettle of fish. And by kettle of fish, what we really mean is that it can sometimes just flat-out stink.
If you're a digital nomad looking for simple and solid ways to manage your money, you have a couple options:
Try solo: Picture long nights at home trying to reconcile spreadsheets while all your friends are out socializing
Fly Xolo: Delegate responsibilities like a true leader. We'll explore how to share tasks with experts so you can do more of what you do best

In this article we're going to show you how digital nomads can truly manage their own money, and dive into how Xolo Leap can help them save time, money and potentially some ibuprofen along the way.
Budgeting and saving as a digital nomad
Many digital nomads earn money ad hoc, and may not necessarily have a consistent income each month. It depends on how many clients you have, the jobs you take on and how much time you set aside for personal things like traveling, family or finally brewing that beer in your bathroom 🍻 (those six bottles will be worth it).
Sadly your expenses have a habit of remaining quite consistent. That's why it's extremely important to keep tabs on your cash flow and budget projections (a digital nomad without a budget is truly doomed).
Today we look at some budgeting tips for digital nomads, why and how to create a digital nomad emergency fund, and at some popular methods for managing your finances as a solopreneur.
Budgeting tips for starting out fresh
If you want to become a traveling solopreneur, or you're already living that life, it's crucial to stay on top of your cash flow.
Learning the basics of budgeting as a digital nomad means dealing with irregular incomes on a regular basis, facing large expenses head-on, and maintaining a profitable and enjoyable lifestyle that suits your needs (we didn't become solopreneurs because we hate freedom, after all).
Let's start with 3 simple tips that may seem like no-brainers, but are often forgotten, to help you create a budget and stay atop your finances:
Track your income and expenses: Record all your incomes together with all your spending. You may consider using a service like N26 insights that helps you categorize and reduce your spending habits monthly.
Create a budget and financial goals: Use your new insights from income/expense tracking to make habitual changes to your monthly spending, and try to set a couple of (achievable) financial goals.
Go at a steady pace: A clear picture of your cash flow, a budget and goals in place… What can go wrong… Right? Knowing how to manage your money as a digital nomad starts with balance — too much, too fast will result in burnout and disinterest. Give yourself some room for error and growth, and be sure to breathe.
Saving money and time allows you to more easily allocate some funds to your brand-new digital nomad emergency fund, which you'll set up later in this guide.
🤔 … Remember what your budgeted funds are for and try not to intermingle them.
Budgeting methods for remote digital nomads
Budgeting enables you to plan and manage your finances, while allowing you to strategically work towards your financial goals. There are an endless number of methods people use to budget their money, but budgeting for the life of a digital nomad can be rather specific.

Today we'll go over zero-based, envelope and percentage-based budgeting plans, but it's important to keep in mind that no single method will ever match everyone's needs perfectly. It's up to you to decide which plan is best for your situation and structure it accordingly.

Let's dive in:
Zero-based budgeting allocates each bit of money you earn to a specific expense, helping you track expenses and be more conscious of your spending habits. You should aim to end each month having allocated all income and expenses to the sum of a zero balance. Excess in this instance would be given to savings or investments.
Envelope budgeting lets you allocate your expenses to various categories that have a defined limit i.e. entertainment. Reaching your limit for spending in this category is like running out of cash in an envelope that reads "Fun!" on the front of it. Because no-one can force you to stop spending, this method does require a bit of self-discipline.
Percentage-based budgeting strategically allocates a percentage of your income each month to different categories of expenses, such as rent, food or business supplies. The most common method utilizes the 50-30-20 rule — 50% on living expenses, 30% on things you want and 20% towards savings.
All of these methods share one common denominator: Proportions! Having a clear picture of what your money goes to, and allowing yourself some fun each month, is key to maintaining a properly-defined budget.
Budgeting for a rainy-day emergency fund
There's almost nothing more important to the digital nomad financial plan than the rainy-day jar. Setting up this emergency fund will help to ensure you're ready for life's unexpected roadbumps — death and taxes are the only certainties we have after all.
Planning for 3 months of zero income, changes to work environments or abilities, and the dreaded injury or illness doesn't sound fun, but not having a plan in place for these moments is far less fun — guaranteed.
After all, you work hard for the life you have. Insuring it is only logical.
And logic is really all you need! Let's go over some simple-to-understand, harder to implement life choices and guidelines to ensure your path to financial freedom and nomadery is a constant:
Allocate money in your budget to an emergency fund: Taking intentional action towards saving for a rainy-day fund is the best way to make it happen. Many people wish they had one, but don't create an actionable plan to put funds into it.
Cut your costs: If you're finding it challenging to put money away into your emergency fund, you might consider cutting back on unnecessary expenses. It doesn't mean you need to ditch the McCartney dress, drop the Michelin date, or cancel your trip to Indonesia, but it does mean you might need to get creative.
Treat yourself: Saving money each month requires a lot of planning and commitment. Reward yourself for achieving your savings and budget goals — that flight, fancy dress or delicious dinner may just keep you motivated.
Having a budget plan in place, that allows for an emergency fund, is best before deciding on products and services that involve your business' financials — many products vary and some solutions could be better suited for your needs than others.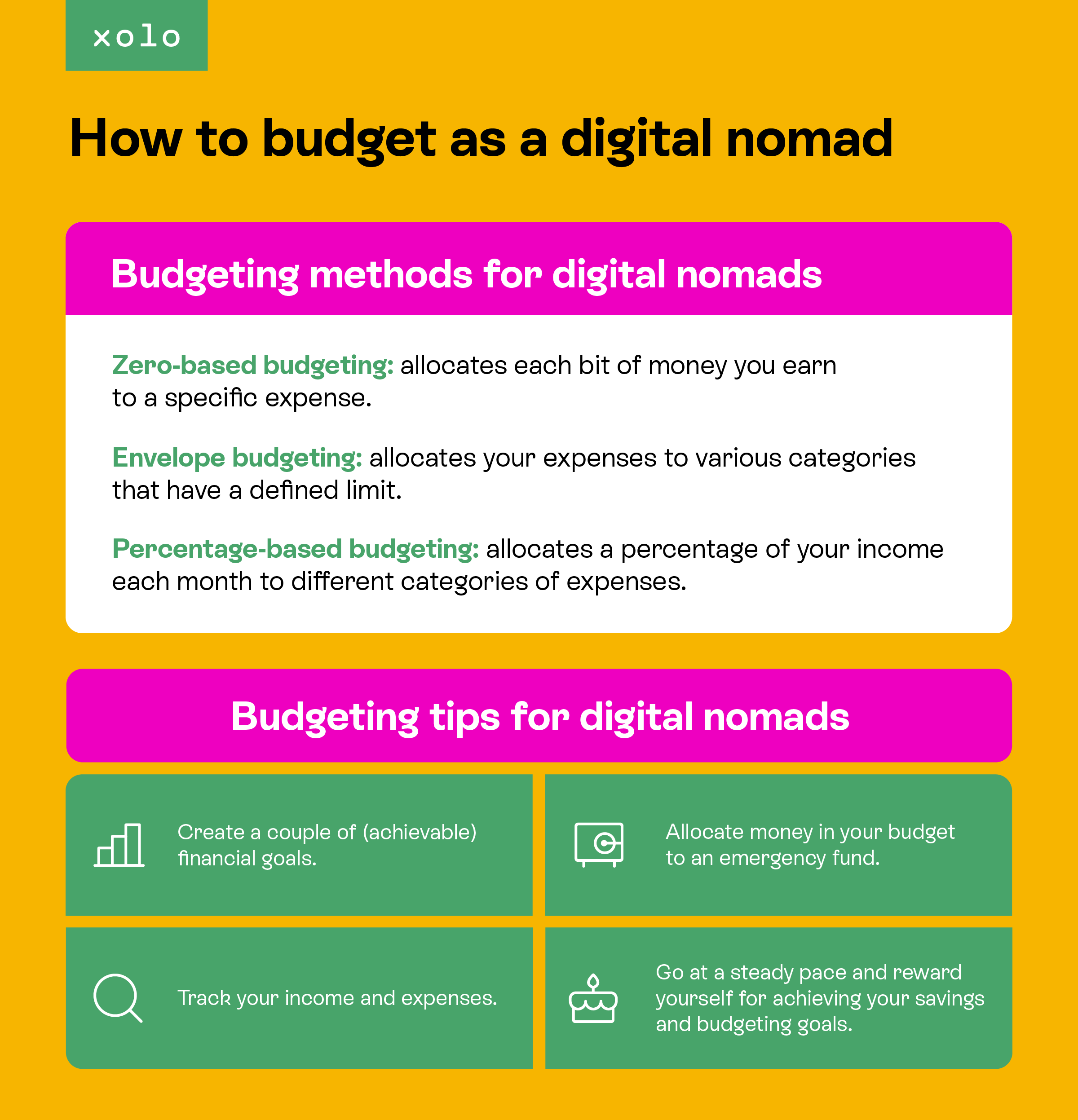 👇 Once you're budget-minded, let's get into the fun part of…
Getting paid as a digital nomad
A digital nomad who doesn't know how to get paid won't benefit from anything they've read here today (I mean, what's the point of budgeting if all you have are expenses) 💸

Many of our clients, as freelancers and solopreneurs, are likely based overseas, which means that finding reliable, fast and secure methods to receive international payments is key. Often overlooked is the seamlessness in which your method of getting paid works with your business admin tools and other integrated services.
Digital security, fees, speed and simplicity are the main factors to look at when choosing a digital payments provider(s) for your business. Regardless of whom you choose, we'll also discover just how easy it is to integrate your choice with Xolo Leap.
Billing local and international clients
What does an American running a Singaporean business who needs to bill someone in Hong Kong all have in common? Dollars, dollars and dollars (and yet they're each still different). It's just one example of the modern-day digital nomad trying to figure out how to get paid by their clients with oceans between them.

*insert scream*
In this bit we'll cover some modern ways to get paid, with or without owning a company, and from clients almost anywhere in the world. To end it all, we'll cover the best method of generating and sending professional invoices to stay compliant.
International money transfer apps
Many digital nomads choose to get paid through digital money transfer apps like PayPal, Wise or Payoneer. These typically work by creating an account linked with your existing bank and paying a small fee each time a transaction is made from your account.
These applications generally offer a very solid UX/UI so your experience is always an easy one. Because of their intended purpose of bridging people all around the world, one (or a combination) of these providers can generally cover any amount of payments you'd need to make or receive globally.
What you'll love:
It's quick and easy to get paid from clients around the world using international money transfer apps

It can be quite cost-effective to use these apps by comparison with banks and the fees they charge

Many of these money transfer apps have advanced security features to protect customers against cyber crime
What you should consider:
Not every service will cover every country, and your bank may not support them

You should be mindful of incoming and outgoing transfer limitations from each service

International transfers can have nasty rates (which is where Wise comes in handy), and you should be mindful of the fees you're agreeing to before and during usage.
Taking the time to read through the basics of a service provider will save you time and money in almost every scenario. But knowing how to automate your admin tasks can take that a step further (don't worry, we'll get there shortly) 😎
Traditional banking services
The old brick-and-mortar bank will likely never go away but, despite their slower pace in keeping up with modern solutions, many banks offer a sense of security that is unrivaled in digital fintechs.

Using a traditional bank will likely open you up to unique investing services as well, and your options when saving for the future may grow because of it.

Still, high fees and a generational sense of unfairness linger in today's banking industry, especially when dealing with international payments. That's why we recommend exploring the world of e-Residency and checking out our guide to borderless banking with wonderful services like LHV. Becoming an Estonian e-Resident opens a continent of opportunities for traditional banking services to non-EU residents.
What you'll love:
Likely access to investing services perhaps not found in digital solutions

Security through highly-regulated banking partners in many countries

Stronger assistance in cases of fraud or misuse
What you should consider:
High fees and inconsistency in rates for international payments

Slower support and assistance/lack of knowledge on international issues

Slow transfer times and lack of global solutions
You likely already have a bank account, but exploring beyond your own borders with Estonian e-Residency is something that most people all over the world can do right from their home!
Combining a powerful fintech with a traditional bank may be your sweet spot.
Generating and sending invoices
Knowing how to get paid, and doing so professionally, is maybe the most important thing a digital nomad should consider (outside of being compliant) when starting a business.

We love using Xolo Leap, as it was built to enable the generation of custom invoices with professional branding and all using an intuitive, simple interface. Dot ever i and cross every t when you create invoices through a Leap account, and your clients will appreciate the quality and ease of accepting and paying them.

We've put together a full guide to ensure you know how to send professional invoices, but thought it best that you know some of the top perks of using a Leap account first:
What you'll love:
Leap gently guides you through every detail of invoice creation, saves your client information and sends simple-to-use invoices to your clients so that everyone gains the benefits.

Leap automatically sends late-invoice reminders to your clients on overdue bills — a true headache saver — and ensures they are treated professionally.

Schedule ahead, set recurring invoices up from your dashboard, and save client details in an editable and clean interface.

Leap gains you access to the EU market from almost anywhere in the world.
Did you know? Choosing to use Xolo Leap allows for the frictionless linking of your bank accounts. Modern fintechs, like our partner Wise, and those old-school banks we know and love all integrate wonderfully with Xolo's accounting, expense and invoicing features.
Accounting and tax reporting as a digital nomad
Once you've decided on whom you'll use for a banking and payments provider, you'll be able to get into the nitty-gritty of running your business.
As a solopreneur living the digital nomad life, you want to maximize the time you spend living and minimize the hours spent covering admin tasks and the mundane. With Xolo Leap, you'll be able to hand off many of these responsibilities to a team of experts.
Paying taxes as a digital nomad
An important part of managing your money as a digital nomad is being aware of tax laws and how they apply to you personally and to your business, as well as ditching some of those misnomers.
It's essential that you understand the tax laws of every country that you visit or stay in, and that you get expert legal opinions and tax advice about your tax residency and where you may owe taxes. From a financial perspective you may also want to think of where you'd like to register your company (if you have one), based on favorable tax rates, the existence of double taxation agreements (so you don't end up having to pay tax in two or more jurisdictions) and the ease of doing business there.
An increasing number of digital nomads are opting to register as Estonian e-Residents to take advantage of their competitive tax rates, access to the EU market and the ease of conducting business from Estonia. Xolo Leap cannot provide tax advice outside of Estonia, but can immensely help freelancers and business owners to manage finances more effectively, while staying compliant.
It's important to consider where you owe personal taxes. That's typically dictated by where you are resident, or where you spend most of your time - although some countries have a territorial tax system that applies no matter where you may choose to reside. For a traveling nomad, that in itself can be a challenge, so it's a good idea to seek tax and legal advice before checking out our full guide on paying company taxes in Estonia.
Handling business accounting and reporting
Choosing to go with Xolo Leap means that you're registering an EU-based business in Europe's Silicon Valley of Tallinn, Estonia. Thanks to Estonia's wonderful e-Residency program for digital nomads, you'll enjoy some of the lowest bureaucracy and simplest registration practices around.

Leap allows business-owning solopreneurs to hand off most of their mundane responsibilities to a team of experts so that you can focus on the work you do best.
See what Xolo Leap can do for you:




VAT number application and registration

Monthly VAT reporting (including OSS for sales of digital goods)

Monthly salary tax reporting (TSD)

Annual reporting

Submission of reports to Statistics Estonia (required by law)
And that's really just the starting point for Xolo Leap users. With easy bank account integration, an intuitive dashboard that makes managing your business simple and clear, and a world-class customer support experience, Leap's 6000+ digital nomads are already feeling its long list of benefits.
Final thoughts on managing digital nomad finances
We hope this guide has helped you understand how to better manage money as a digital nomad. Digital nomad finance management is one of the most important aspects of running your own solopreneur business.
It's clear you need to have a budget, a secure and reliable bank account (or equivalent), and a way of tracking all income and expenses to effectively manage your finances. It's also important to decide where to register your business from a legal, tax, and ease of doing business perspective. These factors are the main driving force behind so many remote workers and digital nomads applying to be Estonian e-Residents.
E-Residents will benefit from services like Xolo Leap that offer so many tools, experts and aides to becoming and running an e-Residency business.
About Andy
Andy is a seasoned digital nomad and content writer. He has been running a fully remote digital marketing agency and traveling the world for the last 10 years. Andy shares his advice and insights on digital nomads and the future of work on his blog, Andy Sto.