If you've been wondering how to become a digital nomad then this ultimate guide is for you. Find out more about what a digital nomad is, what it's like to live a nomadic lifestyle, and practical steps and tips to get started and make a success of your solo journey.
Being a nomad is more than just being able to travel and work. It's a culture, a mindset and a way of life that has sprouted many digital nomad communities, coworking hubs and co-living spaces around the globe.
One of the most important factors to consider when embarking on a location independent lifestyle is where to register your business if you're self-employed or an entrepreneur. That can affect where you pay tax, how much tax you pay and how much profits you're able to earn. Many nomads who are 'in the know' are choosing Estonian e-Residency to achieve the freedom of running your digital nomad business from anywhere. Xolo Leap will help you launch and manage your e-resident business with ease and full compliance.
What is a digital nomad?
Digital nomads are location independent professionals who work and travel in a range of cities and countries around the world. Using digital technologies to work remotely from anywhere, nomads work in a range of digital sectors from digital marketing, finance, e-commerce and design to computer engineering and coding.
More than 35 million people around the world have chosen the digital nomad lifestyle for the sense of freedom and independence it provides. Some are self-employed freelancers or solopreneurs, others work with partners as entrepreneurs, and some are formally employed but able to live and work anywhere.
The majority (66%) of digital nomads have their own businesses, with 34% comprising freelancers. The rise in digital nomadism has also seen the expansion of digital nomad visas around the world - with many countries offering incentives and visas for nomads to work and live there.
What is a digital nomad lifestyle like?
Many people assume that any digital nomad is a perpetual traveler who has the perfect work-life balance and is able to fit in lots of time for adventure and travel.
While all this is possible, experienced nomads typically work long hours and take time to learn how to find the right balance between work and play.
Not all nomads travel incessantly. Many prefer slowmadism and immersive experiences in one city or country, often staying there for months or years before moving on.
Digital nomad communities and hubs are also becoming increasingly popular. And there are many coworking and coliving spaces and experiences that have been designed specifically for professional nomad workers.
What type of jobs do digital nomads do?
There are endless possibilities when it comes to remote work careers as a nomad. Thanks to the growth in remote work and digital connectivity, there are now so many types of jobs that can be performed remotely. All you need is an internet connection.
You can be a social media manager, a computer programmer, a digital artist, a personal assistant, a travel agent, an engineer or a wellness coach. You can also run your own digital consultancy or agency, start up a digital e-commerce business, or provide digital services to clients around the world.
There are entire industries set up to support startups and entrepreneurs, and there are a growing number of online freelance jobs marketplaces that make it easier to live a location independent lifestyle.
Some pros and cons of being a digital nomad
Before you embark on the journey of becoming a digital nomad, it may be helpful to look at the pros and cons of this unique type of lifestyle.
Pros of being a digital nomad
1. Flexible working environment
You get to control your work environment including where you work from and the hours you work. This flexibility and freedom is what attracts so many people to telecommuting.
2. Job satisfaction
You can choose the type of work that you do and the clients that you want. That allows you to do what you love, and to have more job satisfaction. You can also control your workload and working style and can add new skills if you want to change into working on something new.
3. Adventure
Because you're able to travel to places you want to work and live in for a while, you get to fill your need for adventure. Whether you're cruising the ocean in Greece, or living in a teepee in New Mexico - your life can be as full of wonder and adventure as you want.
4. Sense of freedom
As a nomad, you get to make all the choices. Where you live, where you work, how often you work, how to plan your day. This gives nomads a great sense of freedom compared with more structured and traditional office-based jobs.
5. Opportunity for personal growth
The remote work lifestyle of nomads where you get to call all the shots, means you also have the opportunity for personal growth in a way that isn't possible with traditional jobs. That includes meeting new people, learning new languages, and being exposed to different cultures and religions.
6. Better work-life balance
One of the great appeals of being a nomad is being able to cultivate a perfect work-life balance, as you're able to fully control how much work you take on. While it does take discipline to get the balance right, remote work also helps free up time spent on your daily commute so you have more time for things that really matter to you.
8. More earning power and savings
Many people also look at nomadism as a chance to grow financially. Many nomads are entrepreneurs who run their own businesses. When you work for yourself, you're often more motivated to make a big success, and you're also able to cut costs on commuting, utilities, etc.
Cons of becoming a digital nomad
While there are many benefits and attractions to becoming a digital nomad, there are also some downsides.
1. Loneliness
Many nomads experience a sense of loneliness, particularly if they travel away from friends and family for long periods of time. And if you're a solo traveler, and solo business owner, it can be quite isolating not to have colleagues you see every day in an office. However, there are also many ways in which you can overcome this loneliness - for example by working from a coliving or coworking hub, or by using technology to stay in touch with friends or meet new ones.
2. Lack of stability
Another downside of having a digital nomad lifestyle is the lack of stability. You sure can have your own routine but that can easily change when you move to another location or find a freelance job for a company which is 10 hours ahead of your time zone. It's easy to feel disconnected and uncertain sometimes so it's important to build a structure for your day wherever you go to create a sense of stability and bear in mind what you're working towards.
3. Travel burnout
The nature of being a digital nomad is that you'll travel quite a lot and often find yourself on the go. While it's exciting, constant travel can also bring exhaustion and fatigue. Having a balanced diet and taking some breaks to recharge yourself will help to manage travel burnout and enjoy all the experiences to the fullest.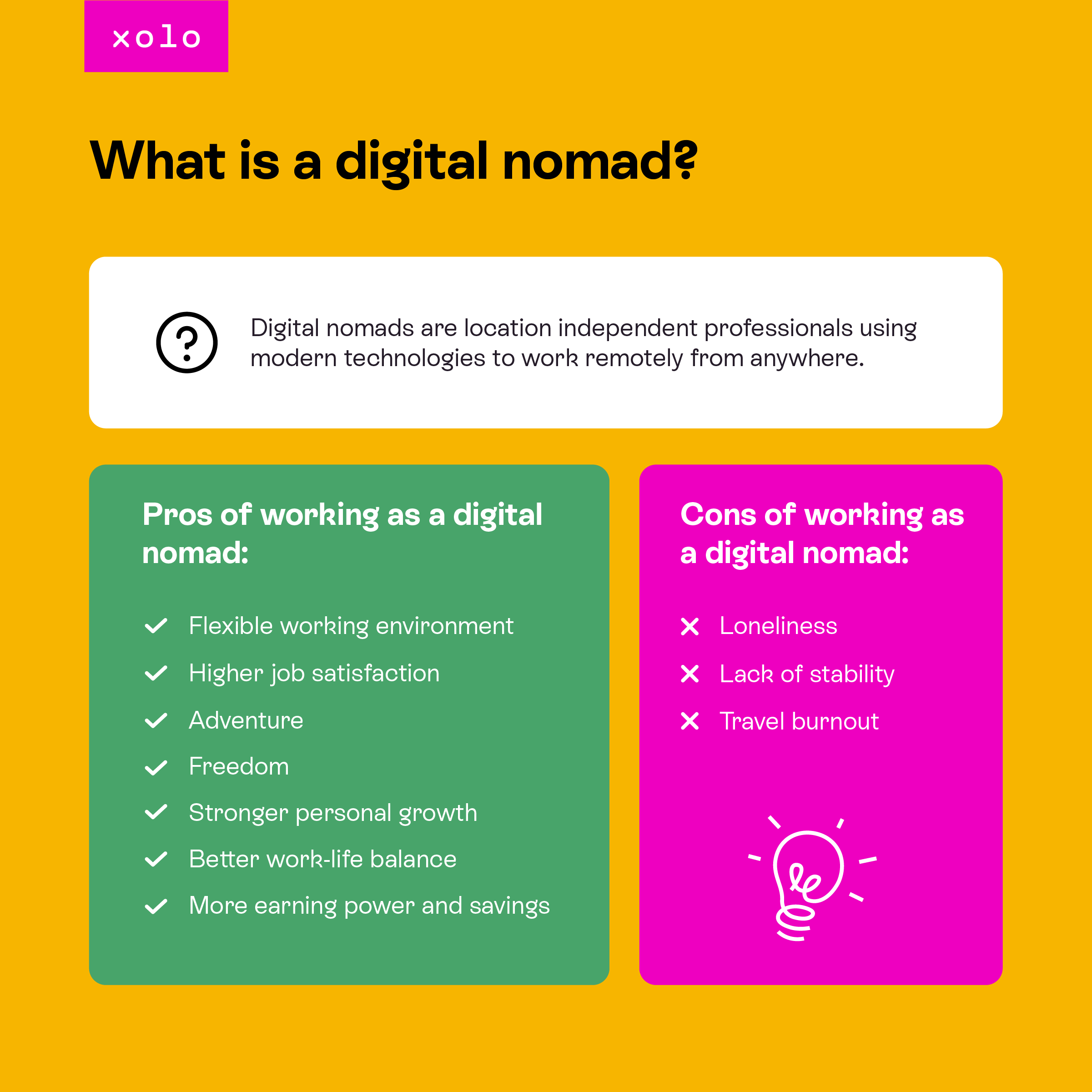 What are the steps to become a digital nomad: Practical tips to run your solo business as a digital nomad
Want to become a digital nomad but don't know where or how to start? Here's a list of steps to take before kick-starting your journey of digital nomadism.
Step 1. Identify your niche and service to provide as a digital nomad
Start by figuring out exactly what type of work you can and want to do. For example, will you work as a freelance graphic designer, will you consult as an environmental management specialist or will you start your own business offering business consultancy services?
Then start working on creating a plan to productize services and make money within that niche. That includes figuring out where there's a gap in the market, what your unique selling points are, and how you will differentiate your products and services.
You'll also need to invest in your brand image or in building a network of clients. That may require you to set up a website, social media presence or profile on a freelancer platform.
🎯Tips: Consider your existing skills and experience when deciding your niche. Look at what other freelancers and digital nomad pals are doing, and see if there's a gap in the market for you to create a niche service or product range.
Step 2: Register your digital nomad business
Decide where to register your business, based on tax and financial benefits and ease of carrying out your business activities online, from anywhere.
You'll want to find somewhere to register your business that makes it easy to access all the digital services you need to remain compliant, and that offers competitive tax rates while also making it easy to apply online to register your business.
🎯Tips: Registering your business in Estonia via the Estonian e-Residency program helps digital nomads to access a large EU business market, offers competitive tax rates, and is a quick and easy way to start a company 100% online. There are many other benefits and reasons to choose e-Residency, such as being a hub for tech startups and unicorns.
Xolo Leap can help you register a business via the Estonian e-Residency program, no matter where you plan to live and work. Here's a useful guide to opening a company in Estonia using e-Residency, which provides more information and guidance to setting up your solo business completely remotely.
Step 3: Plan your digital nomad financial management, banking and taxation
It's important to plan your finances, especially if you plan to travel and work abroad all by yourself.
Plan your finances as a digital nomad
Living as a nomad can be unpredictable at times, and it's best to plan for emergencies by having a rainy day fund handy. You never know when you might need to fly back home, or pay for something that wasn't expected.
Ideally, it's advisable to have at least 2 months of living expenses when you move to a new town or city. That way you can cover your accommodation and office costs, even if you have to pay more initially. And you may need to pay several months of rent upfront as a deposit. In addition, you'll need funds to cover the cost of visas and any in-country travel.
In addition to your emergency funds, you'll also need money to cover the costs of hiring or buying a vehicle or for public transportation usage. And you should factor in costs for co-working space membership if you plan to work communally - or otherwise to cover phone and internet if you plan to work from home.
Manage digital nomad banking
It's important to have a business bank account that offers digital services so you can bank remotely. And you will want to make sure you have a system for making and receiving foreign payments - if your bank doesn't offer that.
Consider whether you will need a business and/or personal bank account. Your business bank account will typically need to be in the country where your business is registered, and you'll need to be able to access that remotely from anywhere.
Many digital nomads run businesses where they're receiving and making payments to and from overseas on a frequent basis. That can trigger a lot of foreign exchange costs. And the amount of money you receive, also depends on how favorable the exchange rate is.
Many nomads opt for secure international money transfer apps such as Wise, and many also prefer dealing with fintechs like Payoneer instead of traditional banks because of their advanced functionality and competitive transaction fees and rates.
Stay on top of taxes as a digital nomad
When it comes to paying taxes as a digital nomad, it can be complex to figure out the relevant laws. That's why we've dedicated a separate section below to how to pay tax as a digital nomad.
When you choose where you want to travel to as a nomad, consider the tax implications. Likewise if you choose to establish a company, consider which countries offer benefits like favorable corporate tax rates, simplified tax filing, and access to digital e-services for filing taxes online.
A useful resource to refer to for finding out which countries are a good choice in terms of tax implications is the Tax Competitiveness Index. This evaluates countries based on factors like ease of doing business, favorable tax rates, and the number of cross border tax rules in place like double taxation agreements.
Step 4. Choose the right destination as a digital nomad
Do your research and figure out the best places to go as a digital nomad. There are many resources online and reviews of cities from experienced nomads that can be helpful in making this decision.
Best countries to work as a digital nomad
The world is your oyster when you're a nomad. You literally can choose to go anywhere, as long as you have the necessary visa. There are, however, certain cities and countries that are particularly popular amongst nomads, which we list below.
🎯Tips: Some of the factors to consider when choosing where to live and travel include:
Whether the internet is reliable and accessible

Whether the area is considered safe

Whether you can get a visa that allows you to live and work there

What the living expenses are like there and if it's affordable

If there's a thriving nomad and entrepreneurial culture
Here are the top 10 countries to live and work in as a digital nomad.
| | | | | | | | |
| --- | --- | --- | --- | --- | --- | --- | --- |
| | Countries | Broadband Speed | Mobile Speed | Monthly Rent | Happiness Index | Remote Job Searches | Digital Nomad Score |
| 1 | Canada | 149.35 | 85.54 | €950 | 7.23 | 83900 | 74.35 |
| 2 | U.K. | 76.49 | 41.72 | €927 | 7.17 | 68400 | 63.43 |
| 3 | Romania | 188.55 | 41.48 | €325 | 6.12 | 10980 | 62.28 |
| 4 | Sweden | 158.73 | 56.64 | €885 | 7.35 | 3490 | 61.54 |
| 5 | Denmark | 179.81 | 66.68 | €1059 | 7.65 | 1080 | 61.49 |
| 6 | France | 177.93 | 50.45 | €758 | 6.66 | 5360 | 60.8 |
| 7 | Netherlands | 125.82 | 88.13 | €1213 | 7.45 | 3440 | 60.27 |
| 8 | Australia | 58.52 | 88.35 | €1148 | 7.22 | 17600 | 60.16 |
| 9 | Switzerland | 186.4 | 73.85 | €1545 | 7.56 | 3840 | 60.15 |
| 10 | Germany | 120.13 | 49.67 | €824 | 7.08 | 12720 | 60 |
🎯Tips: When looking for somewhere to work and live as a nomad, consider countries that provide nomad visas you can apply for. Look at how long the application process is, how much the visa costs, how long it's valid for, whether you can renew it, and at what the other legal and tax implications are of living there.
Step 5: Consider

how Estonian e-residency benefits you as a digital nomad?
Being a nomad, you'll want to travel and find a suitable country in which to base your business and pay tax, while you move around the world.
Consider how Estonian e-residency could benefit you as a digital nomad. As an e-Resident, you don't physically need to live in Estonia to register your company there and pay your business taxes there.
With Estonia's advanced digital services, location-independent entrepreneurs like you can enjoy the benefits of owning a company within the EU without needing to reside there.
And what's more, you can apply for your Estonian e-Residency online from anywhere in the world. After that, you can easily and quickly register your company there in as little as 24 hours.
🎯Tips:

How to register a company with e-Residency as a digital nomad
After you get your Estonian e-Residency card, you can set up and manage an EU company online and work from anywhere in the world. First, you will need to choose a service provider that helps you establish a legal address and contact in Estonia - Xolo Leap can help you with this. With the suite services of Xolo Leap, you can get your Estonian company registered, and manage many other aspects of business administration like VAT reporting, annual report submission, tax filing, just to name a few.
Step 6:

Consider joining a digital nomad community
Digital nomad communities are a great place to network with and learn from fellow nomads. Remote work communities can also be a great way to spark new friendships, and potentially even business partnerships.
🎯Tips: Here's a curated list of some of the top digital nomad communities to consider joining.
Step 7:

Search for affordable flights and accommodation
Digital nomads who travel often, generally look for the best flight deals and travel routes. There are a range of flight comparison sites like Expedia that help you to find the best priced flights for any destination.
You may also want to consider coworking and coliving spaces - which are on trend in digital nomad circles. Coworking spaces may provide you with shared deskspace, internet access and other facilities and are often a great way to meet fellow expats and remote workers.
Coliving spaces can also be a great way of meeting new people in more immersive ways, often having shared living spaces like kitchens, gardens and living areas.
🎯Tips: Consider joining a frequent fliers program through airlines you frequently use - that can help save on future flights.
Step 8:

Buy digital nomad health insurance
If you're traveling outside of the country where you have medical insurance, then you may need to take out comprehensive travel insurance, digital nomad insurance or remote work insurance to cover you while you're away.
One problem with travel insurance is that it typically only covers emergencies, and as a nomad you'll probably want to have regular checkups by healthcare providers that could be quite costly. And in the event that you need surgery or some kind of treatment that isn't deemed to be an emergency, having comprehensive healthcare insurance can save you on some costly out of pocket expenses.
But using your own in-country health insurance or private travel insurance can be challenging and costly - particularly if you'll be traveling to many different countries. That's why many nomads are turning to especially designed digital nomad health insurance policies. These policies typically cover you in a wide range of countries, so that you don't need to change policy every time you move to a new country.
Some of the top digital nomad healthcare insurance providers include SafetyWing, World Nomads, Medical for Nomads, PassportCard Nomads and Travel Guard.
🎯Tips: When choosing a medical insurance plan, these are some things to look out for:
Check which countries it covers

Check that you'll have emergency care as well as routine, preventative and chronic care

Check whether annual checkups, dental car, and eye care are included

Check what their exclusions are

Check whether certain hospital networks are excluded

Check if adventure activities like hiking, skiing, kayaking are included

Check if it covers pregnancy and associated medical costs

Check if it covers possessions that are stolen or damaged like your luggage, laptop and camera equipment

Check if evacuation and repatriation costs are covered and to what amount
Learn

how to pay taxes as a digital nomad
Every country has their own tax laws, and you'll need to figure out what the implications are for you working there in terms of paying tax.
If you're freelancing as a digital nomad, then invoicing your clients when you're moving from country to country can be challenging. You need to factor in things like your residence country's laws and rules, the currency you want to use, clients from abroad, business bank accounts, and methods of payment.
Along with invoicing, filing tax returns as a digital nomad can be daunting due to the intricacies involved. However, paying taxes correctly is important regardless of where you live and work.
You'll first need to decide if you want to start a company as a nomad. Where you register your company will typically dictate where that company pays taxes. In addition to paying corporate taxes, you'll also need to figure out where you'll need to pay personal tax when you get paid an income.
Personal tax is normally paid where you're a tax resident, which may be different from where you pay corporate tax. Tax residency is often decided based on where you spend most of your time. For a traveling nomad, that in itself can be challenging. But, some countries also impose a territorial tax system, so no matter where you may reside - you owe tax to that country based on your citizenship. And, some countries don't charge any personal tax at all.
When it comes to corporate tax, the country where your company is registered and operates is usually where the company will owe taxes. But without double taxation agreements in place, some companies may face being taxed in 2 different locations.
In most parts of the world, it's challenging to start a business in a country where you don't have citizenship. But, thanks to programs like Estonian e-Residency, nomads can now register a business in Estonia which they can operate across the EU, without having to be citizens of Estonia. Nomads can remotely manage their companies as non-residents and non-citizens.
Many digital nomads choose to register as Estonian e-Residents for tax reasons - as Estonia offers competitive tax rates and has a plethora of double tax agreements with other countries.
🎯Tips: Many people want to know "where do digital nomads pay tax". The answer is complicated and may depend on a range of factors including where you are resident, where you have citizenship, which country you have a digital nomad visa for, and where your business is registered. It's best to consult lawyers and tax experts to find out about your particular situation. Here's a helpful guide to digital nomad tax.
It's important for accounting and tax filing purposes to keep proper records of all your income and expenses. That includes keeping receipts in case you need to make deductions. You'll also want to get familiar with which tax forms to fill out and when you'll need to submit them and how often.
Outsourcing your tax filing to professionals who are familiar with submitting tax in the region where you wish to file taxes can help you maintain compliance, avoid penalties and frees up your time to focus on more important strategic business matters. When it comes to filing taxes in Estonia as an e-Resident, Xolo Leap provides digital nomads with a suite of tax and accounting solutions to help you manage your finances efficiently and effectively.
Become a digital nomad and launch your dream business with Xolo Leap
After reading about all the pros and cons of a lifestyle working remotely and traveling, you achieve your digital nomad dream by getting your business registration and administration in order.
Xolo Leap can help digital nomads and entrepreneurs by helping you form the e-resident company and manage various aspects of business administration so you can focus on growing your solo business and enjoy the freedom of working from amazing places like Bali.
Managing your digital nomad business is a breeze when you've got the team at Xolo Leap behind you!
About Andy
Andy is a seasoned digital nomad and content writer. He has been running a fully remote digital marketing agency and traveling the world for the last 10 years. Andy shares his advice and insights on digital nomads and the future of work on his blog, Andy Sto.