What do you do when you are stuck mid-freelance career? What I'm referring to is that point in time when you earn great money, have a delightful roster of clients, and love the work you do. But there's a nagging question at the back of your head: "What's next for me?".
Six years into my freelance career, I've been having the "what's next" conversation a lot — inside my head and with other freelance friends. Since I'm a slightly compulsive over-planner, I analyzed the recurring themes for scaling a freelance business and organized the findings into a few snackable SWOT templates. I'm sharing them here so that you, too, can decide the best next step for scaling up your freelancing.
1. Start an agency as a freelancer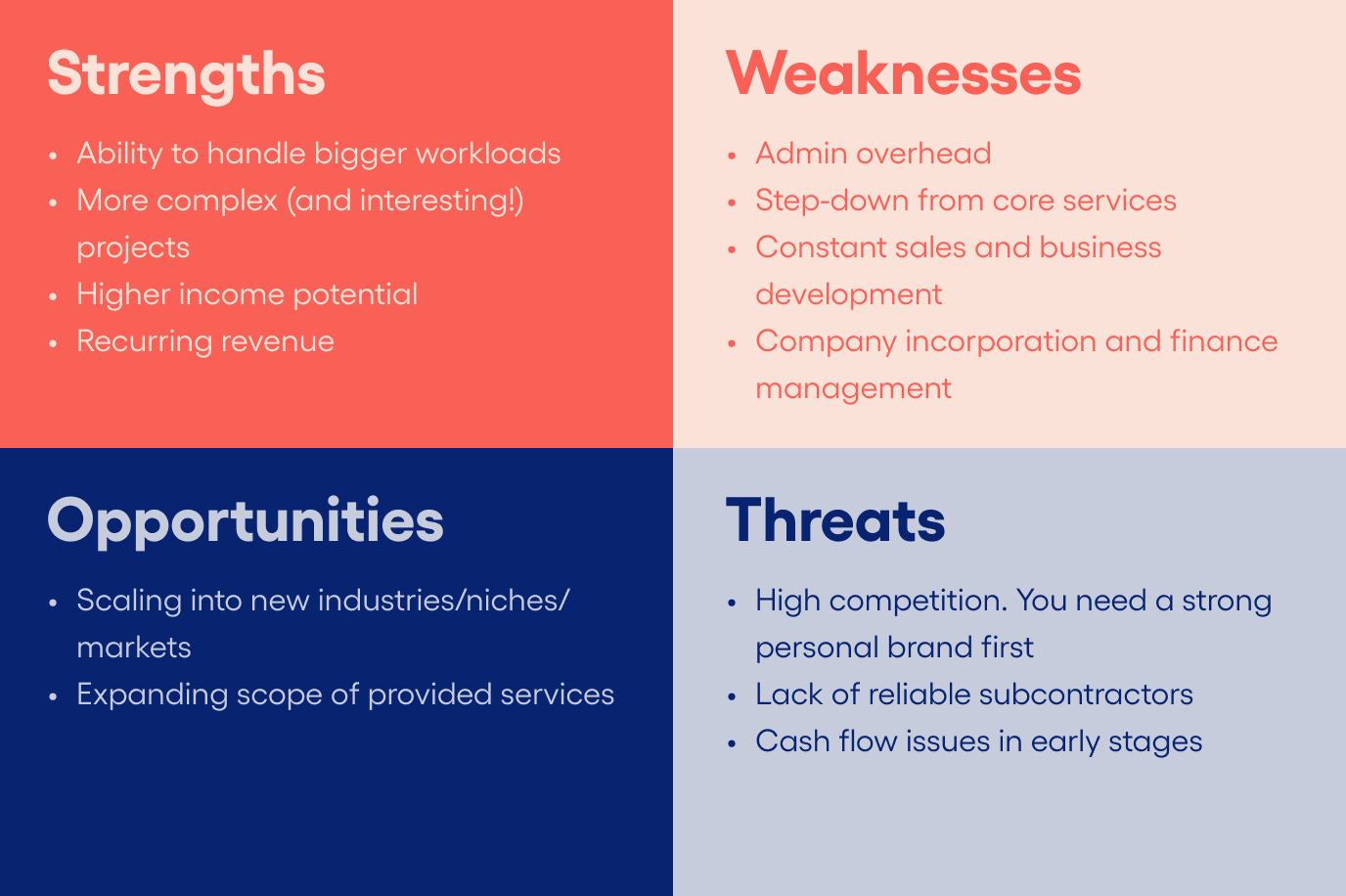 We all have a limited number of productive hours each day. And a finite number of projects to pack into them! When your schedule is already full and you have a waitlist of clients who are eager to work with you (above everyone else, no less!), scaling into an agency makes perfect sense.

But as many agency owners will tell you, operating a joint business venture is a hard slog. "I feel nostalgic about the days when all I did was coding 8+ straight," an app development company CEO once shared with me. "Now I might squeeze in about 8 hours per year for fun. Other than that, it's business development, project management, and all that admin jazz."

Starting an agency means stepping away from your core services. Instead, you'd have to learn how to strategize, delegate, and mentor other teammates to do the work up to your standards. For some, giving away the reins can be stressful.

But for others, it can be an empowering experience! "After working solo for so long, I find it incredibly rewarding to now be part of a team — we are like family, and we are together building something really amazing that is more than just ourselves," says Beth Carter, a former freelance writer who currently runs a team of 5 full-time employees at Clariant Creative Agency. "I'm able to help my team members grow their own careers and fulfill their own individual potentials, and I really had no idea I would love that aspect of being a manager as much as I do!"
How to prepare for running an agency as a freelancer
Look for your core team before you launch. Running an agency means you need a reliable partner to complement your skillset and take on their share of the management chores. Where do you find one? Cultivate relationships with other freelancers.

LinkedIn

, Twitter, Slack communities, and

Facebook groups

are all great places to connect with people in your industry and beyond. Build up your community of internet friends to tap into for referrals, sub-contracting, and perhaps even joint ventures one day.
Figure out the admin side of things. Legally and operationally, running an agency is a bit more complex than flying solo. If you plan to hire subcontractors, you'd have to figure out the boring adult stuff — payroll, tax compliance, legal contract work, etc. This can be a drag. A third of small business owners spend 6 hours per month on managing payroll internally. Soundly, there are alternatives such as Teams — the newest offering from the team at Xolo that automates subcontractor onboarding and subsequent operational compliance.


2. Develop a digital product as a freelancer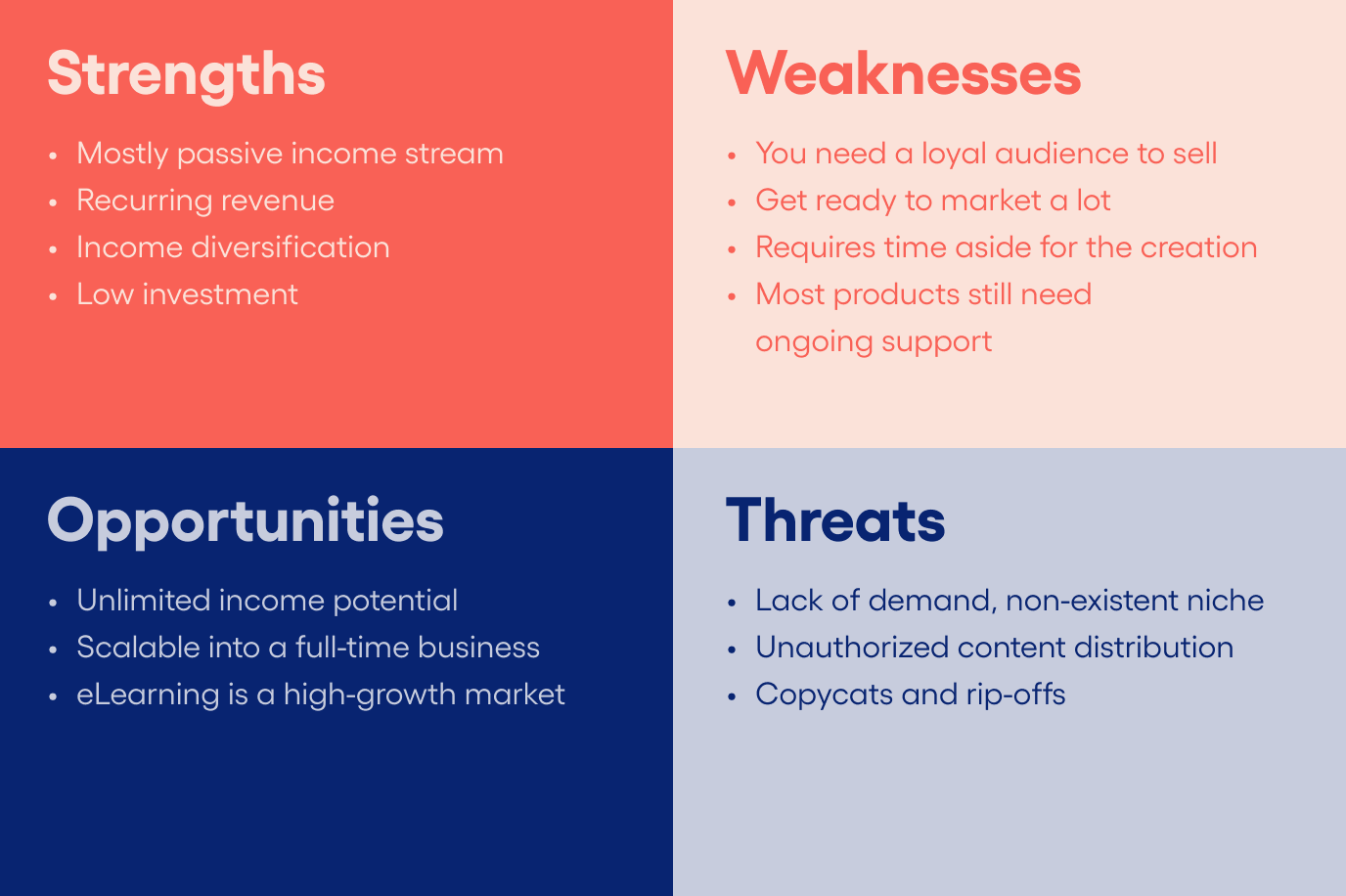 The biggest issue with services is that you always need someone to deliver 'em! A product removes "you" from that equation. Created once — sold multiple times, a digital product generates recurring income for your business. And boy that could be solid.
Take it from Melyssa Griffin, a freelance graphic designer who progressively transitioned into blogging and online education. "I started my website as just a blog. And then started a graphic design studio [...], and then realized that I wanted to basically affect more people. [...]. So I put out my first course thinking maybe I'll get a few people to sign up for it, and in that first month got about 150 sales, which made around $25,000, and that was like a light bulb moment," Melyssa shared in an interview. Since that first course launch, Melyssa Griffin scaled her online education and business coaching hustle into a multi-million dollar company.
Quick reality check: Your digital product may not instantly make six — or even five — figures. First of all, you'd need to build an audience of people who feel comfortable buying from you — because the competition is fierce. Then you'd need to market the heck out of it. Finally, digital products still require a certain degree of maintenance: regular refreshes, updates, and customer support. So it's not exactly "passive income" from the start.
Still, launching a product is a great way to diversify your income. Especially since nearly every type of freelance service can be productized in one way or another.
Types of profitable products freelancers can create:
Operational or legal templates and checklists
Website themes, plug-ins, or graphical assets (e.g. stock images)
eBooks, workbooks, and in-depth guides or reports
Online courses, workshops, or masterminds
How to prepare for launching a digital product
Find an in-demand product niche: a good one sits at the intersection of your expertise and market demand. For example, if you are struggling to refer your clients to an equally great email marketing specialist, launch an online course to train other freelancers.
Validate your product idea.

Before you go full speed into product development, scop the demand. The easiest way to do so is by testing the idea with your target audience — launch a free mini-course, host a survey, or even publish a mock product landing page so you can ask your network for feedback.
3. Launch a spin-off project as a freelancer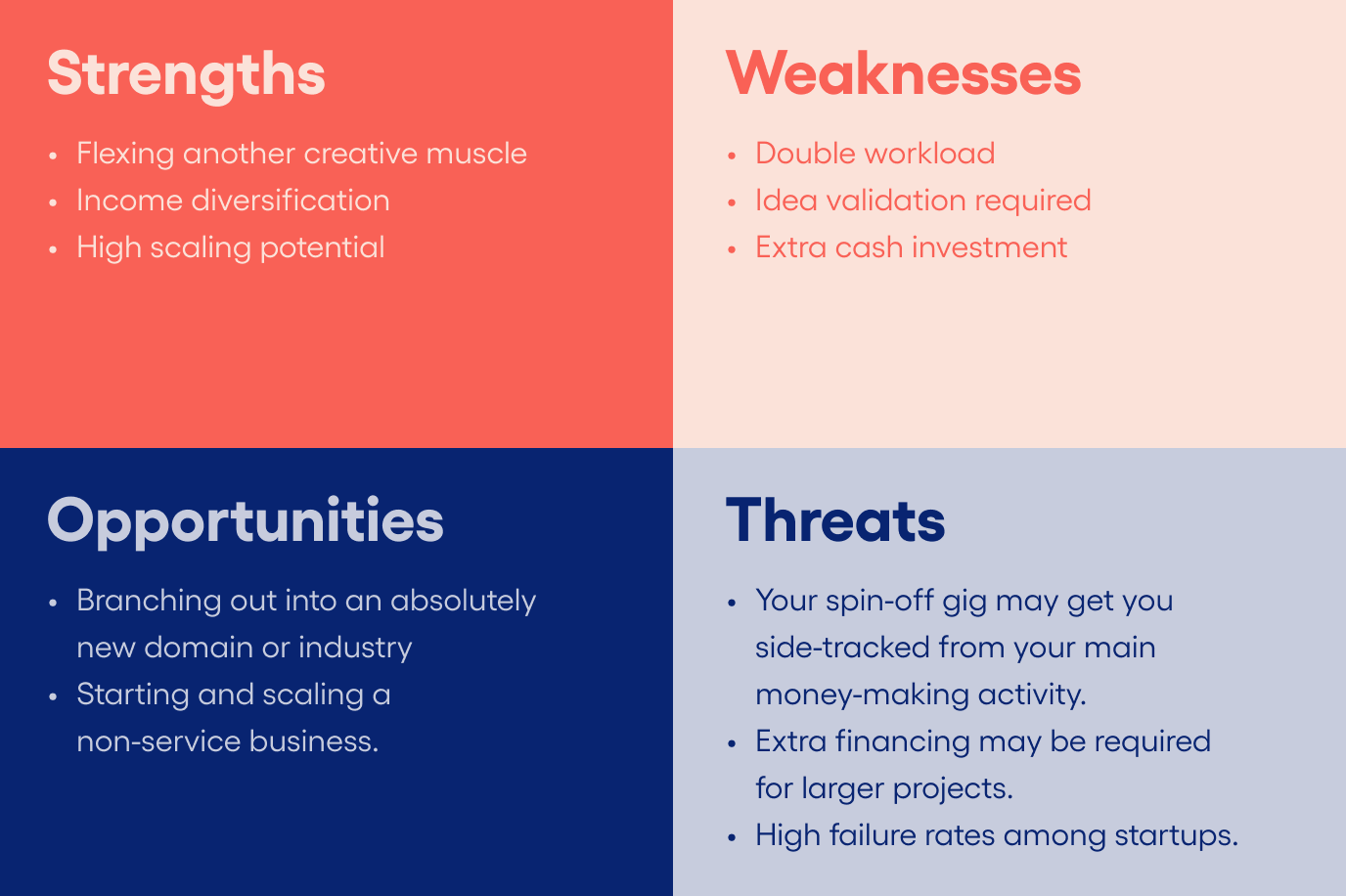 You don't have to stay in the same freelance lane forever. And your freelance career so far probably made you a "multipotentialite" — a person with many different callings, rather than one. So why not explore something beyond your core niche?
Take it from Tomas Laurinavicius — a serial entrepreneur, who co-founded an online design magazine, wrote an eBook, dabbed into web design, no-coding, marketing, and content writing, all while running a popular blog and an online marketing agency. Recently Tom also launched yet another spin-off project, Content Writing Jobs — an online job board and directory for freelance writers.
"I think it's essential to keep learning at any stage of your career. I directed my curiosity towards building stuff, and learning no-code was something I wanted to try, so I decided to build a job board," Tom explained.
"While my main consulting work brings in most of my income, the Content Writing Jobs platform runs without my active involvement. My efforts slowly compound into a company that's not dependent on me selling hours or using my personal brand to generate revenue."
How to prep for launching a side project:
Divide your time. Think how you'll balance your core money-making work with a side gig. Will you have to scale down in work? Also, consider the finances. How do you plan to fund your side-idea — out-of-pocket or via external investments? Think how much money you can afford to sink into it.
Think about the end-game.

Do you plan to launch a smaller venture for fun and some small extra income? Or do you hope that one day it may replace your core freelance work? If you want to properly divide your time between the two, think about where you want your project to be in two to three years.
Don't succumb to the "hustle mentality"
From every corner of the internet, you'd hear pitches to go bigger — "make six-figures", "raise venture capital", "change the world".
Ignore those. It's fine if you want to stay a freelancer for now (or forever). You are in the business of YOU and that is what matters most.
Business growth doesn't have to be flashy. You can scale your freelance business via alternative routes:
Switch industries (e.g. B2C to B2B)
Change your positioning (e.g. target enterprises over SMEs)
Do paid workshops or private 1:1 mentorship sessions
Take on consulting work or sign up for paid speaking gigs
You have a myriad of opportunities to run a business you both love, but don't feel pressured to constantly grow.
About Elena
Elena Prokopets writes content for tech-led companies & software development businesses, marketing to them. Her empathy for the customer, expertise in SEO, and knack for storytelling help create content that ranks well and drives industry conversations.

Elena uses Xolo so she can focus on her solo B2B content writing business without stressing over the compliance and admin overhead.