Ukrainian freelancers and entrepreneurs are increasingly utilising Estonia's digital infrastructure to conduct their business globally. Here's why Ukrainians should incorporate their businesses in Estonia.
Ukraine has begun visa-free travel across most of Europe, but there's another option that Ukrainians can adopt should they wish to work from home but still access the EU's 500 million people — set up an Estonian company.
You'd think that the UK would be the highest adopters of incorporating a company in Estonia given the uncertainty surrounding Brexit — but actually, it's Ukraine, with more than 1,200 applications submitted from Ukraine through Estonia's e-Residency programme. The e-Residency programme provides Ukrainians with a government-issued digital identity and access to public services online.
Ukrainian e-residents are using Estonia's advanced digital infrastructure to establish and manage an EU company entirely online with low costs and minimal bureaucracy — whilst still living, working and paying taxes in Ukraine.
Why are Ukrainians incorporating Estonian companies?
Global internet access shows no signs of abating, yet there's an enormous variation in access to services and products online because of your location. Sadly, Ukrainians are among the worst affected by location-based restrictions on a wide variety of online tools and services.
An example would be whether or not an online consumer can stream a service in their location, or ordering goods from abroad, and the company refusing to ship to you. Why have internet access if consumers can't utilise it to enhance their lives?
The same can be applied to business and entrepreneurs.
Managing a business without access to modern global business banking, international payment providers or other online business tools can prevent your company from scaling or worse, from even getting off the ground!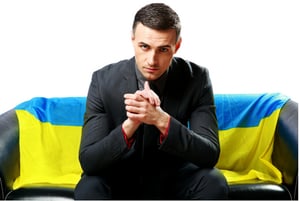 For many Ukrainian freelancers these obstacles are clear challenges that must be overcome. The country has no shortage of entrepreneurial talent, ideas or enthusiasm.
Ukraine has a highly skilled and educated workforce, including leading IT and software developers, and other countries and large corporate businesses are already outsourcing their work there. It's outsourcing value is built on its technical expertise and reliability in delivery.
Sadly, these obstacles are holding Ukrainians back from building new businesses, launching freelance careers or finding remote work, depriving an entire country's economy of additional income that could be generated from the global market.
What's the solution then?
Through the Estonian e-Residency programme, Ukrainians can unleash their entrepreneurial potential by accessing Estonia's advanced digital infrastructure whilst remaining in Ukraine (if they choose to). Becoming an
e-resident and managing an Estonian business means that Ukrainian entrepreneurs can benefit from the same opportunities online that Estonians and other worldwide freelancers already possess.

An EU company established through e-Residency not only makes it easier to conduct business transactions within Europe, but also benefit from the EU's legal frameworks and higher levels of trust when conducting business globally. e-Resident's companies have access to all the tools needed to easily conduct business across borders and significantly grow.
E-Residency provides a business environment built on openness and transparency, where anyone has the opportunity to succeed as an entrepreneur. Ukrainians are signing up because there's enormous demand there for greater trust in their ability to conduct business globally.
How do I become an e-resident without leaving Ukraine?
The e-Residency programme has launched a new website where you can apply for e-Residency and learn more about launching your own EU company.
e-Residency doesn't mean actual residency. It's not a visa, a right to remain, an identification card or citizenship, nor does it come with any of the social rights that local Estonians have. And it shouldn't be seen as a way of avoiding tax.
What e-Residency does provide is the tools for entrepreneurs and freelancers to manage their business online and the opportunity to incorporate an Estonian business.
To become an e-resident you'll need:
Your name and identifying information
A scanned passport photo
A scanned copy of government-issued identity documentation
A minimum of one paragraph describing your interest and motivations behind applying for e-Residency. This helps the Police and Border Guard Board with their risk management and background check.
Payment of the €100 state fee via Visa or Mastercard
There's more information on the e-Estonia website here.
Once approved, you'll then be notified by email that your e-Residency starter kit is ready to collect from the Estonian Embassy in Kyiv. You can also select other locations globally if you plan to be outside Ukraine. The starter kit contains your digital ID card, an ID card reader that plugs into your computer's USB port, and your pin codes to authenticate your identity and digitally sign documents.
You'll then have access to Estonia's advanced digital infrastructure and the same abilities as Estonians to establish and manage EU businesses online. There's no need for a local director, so you will own and control 100% of your EU company.
And connecting your e-Residency card to your computer's USB port you'll be able to sign documents and contracts instantly online. Your secure digital signature is the legal equivalent of a handwritten signature in Estonia, and across the EU in the near future, and between any partners globally by agreement.
How do I incorporate a business in Estonia?
You can now visit e-resident.gov.ee/start-a-company and follow the process to obtain a legal address in Estonia and set up your company. About 90% of e-residents choose an e-Residency business service provider, to guide them through this process and provide services including accounting and a virtual office.
Compliance is a headache for any business and the entrepreneurs behind it. That said, if you register your Estonian business through a service provider like LeapIN, compliance is not something you'll ever have to worry about.
LeapIN handle literally everything, from registering expenses to filing tax returns, to paying VAT and keeping your books in order. Our most expensive plan is €99 a month — a bargain compared with hiring or using individual accountants.
We'll even help you setup your company and provide guidance through both the e-Residency and company opening process, including assisting you in opening a business bank account. So if you're unsure about where to begin — this is where we'll get you started. Sometimes it's nice to simply have someone guide you along the way!
Getting a business bank account in Estonia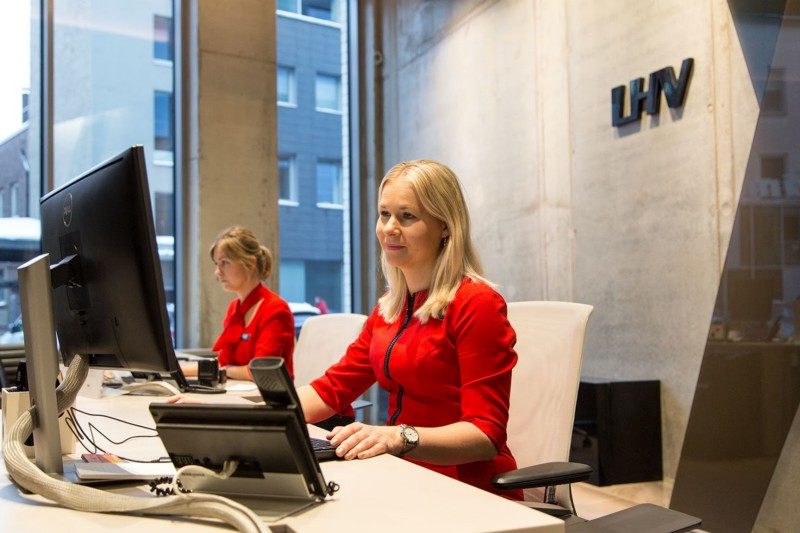 Once your company is established, you can then set up your business banking too. Until now, e-residents have had to travel to Estonia to establish their account at LHV or Swedbank with the help of a service provider, but there are good travel connections from Ukraine, and the feedback from e-residents about their service has been very positive.
A large number of Ukrainian e-residents do believe the journey is worth it. Some combine their business trip with a short holiday, whilst others visit the country for just a few hours. (You can get from the airport to the bank in under 10 minutes by taxi).
Of course, no-one wants e-residents to be rejected after taking the time and expense to travel. So it's recommended to speak to LeapIN before booking any travel to Estonia to open your business bank account. We have an excellent relationship with LHV and will ensure that you get pre-approval before you book your trip.
However, the e-Residency programme has now partnered with the Finnish fintech firm Holvi to offer borderless business banking for e-residents, which can be accessed entirely online. Meaning the entire process of establishing an EU company with EU business banking can be completed from Ukraine for the first time.
There are various benefits of each banking option, and we've written an excellent summary of the pros and cons of each of them. We'd recommend you read it first before deciding which business banking option suits you. You can read the guide to borderless business banking here.
As an e-resident freelancer, you'll now be able to run your EU company entirely online from Ukraine or take it with you when you travel.
Why not make it easier by having a chat to the specialists at LeapIN?
Freelance
e-Residency