We all love numbers. Numbers make the world go round. Apparently, someone smart once said "what can be measured can be improved".
This someone was Peter Drucker, the father of modern business management. He actually said "If you can't measure it, you can't improve it", but that leads to the same action: measuring and collecting numbers.
And so we all worry about our figures, trying to surpass our best performance, trying to reach our benchmarks and KPIs, hoping to look at a chart and see a line that slopes upward as a result of our booming growth.
Yes, growth is what everyone wants. Growth is not directly related to making more money but it's always a sign that your business is reaching and impacting more people. This is what the modern economy demands: impacting people, gaining traction…
…and so we measure.
In today's economy, companies spend a great deal of effort collecting numbers and statistics in a constant attempt to improve their business.
Google Analytics is perhaps the most popular suite for data collection available today. In its stunning simplicity, Google Analytics can collect data from your fridge with the same ease it collects data from your website.
The possibilities are endless. There's no limit to our freedom of collecting numbers, and spending resources, time, and money, to try to make sense of them.
As a digital service, e-Residency generates a lot of data. All that information is systematically logged and stored. The system has been designed to require no human assistance and statistics are automatically generated. Those statistics monitor indicators related to e-residents facts, demographics, location and behaviour, such as:
number of applicants;
number of e-residents;
speed of growth (e-residents per week);
demographics (sex, age);
nationality;
motivation to apply;
engagement with Estonian companies;
establishment of new companies (by e-residents);
areas of economic activity of the new established companies.
All these indicators are very valuable to Estonia for evaluating the performance of their e-Residency program. As for other innovative and disruptive services, there's no history we can rely upon to forecast the destiny of e-Residency.
Obviously, this raises several concerns:
…is it working?
…do people actually manage to use it?
…is it growing?
…is it a fad or is it something that will stick with us for a long time?
…does it bring real value to Estonia?
…are people actually using e-Residency to create new companies and business opportunities?
These are all fascinating questions that could be answered looking at e-Residency statistics. This is exactly why the good people of e-Residency built a system that collects all those data.
But they did much more…
They made the data public.
Yes, e-Residency statistics are publicly available and updated in real time!
High-five to Estonia for sharing the results of their disruptive experiment with the world.
A first glance at the weekly chart of new e-residents leaves no doubt: e-Residency works, it is used and it's growing fast.
The current growth rate is between 200 and 300 new e-residents per week and, thanks to the work of the many people who are promoting the service, the weekly growth-rate is now showing signs of acceleration. Even more, Estonia's new e-residents are surpassing the country's birth rate.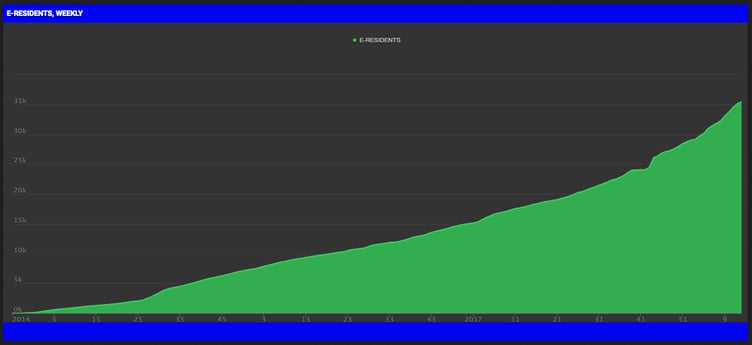 The ratio of approval of applications is 94%. In fact, only 1% of applicants were denied e-Residency. It's worth noting that the screening process to become an e-resident of Estonia is very similar to the one that the country enforces for regular residents, so, very strict.
At the time of writing, the total count of e-residents is 35,453.
The drop-off is negligible: only 2% terminated their e-Residency before its expiration.
The first e-Residency card was issued to British journalist Edward Lucas on 01.12.2014 and it expired on 30.11.2017. And cards have now started expiring at the same rate as they were issued (initially 60 to 100 per week).
The question everyone is secretly asking is: how will that change the chart above?
Will the existing e-residents renew their card before expiring?
…or we will see a drop in growth?
Will the number of e-residents eventually stabilize (so many in, so many out) or will the existing ones stick with the program and make it grow?
Like any real business, e-Residency will have to face the "customer retention problem". We'll have to wait until next December to see what will happen.
In the meantime, let's have a look at more data.
What is the profile of the typical e-resident?
e-Residency statistics say male, and under 50.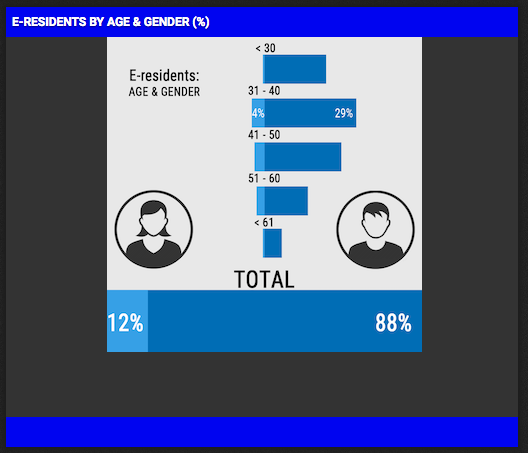 In fact, women account for a mere 12% of all the e-resident population.
Age wise, over 50% of e-residents are between 30 and 50 years old.
This seems to indicate that the service appeals to people who already have established businesses, and not only to those who are just starting out.
People seem to apply from all over the world. 156 countries in total, including Atlantic and Pacific islands, South America and Africa.
However, just over 50% of the total number of e-residents come from just nine countries: Finland, Russia, Ukraine, US, Germany, UK, Japan, Italy, and China.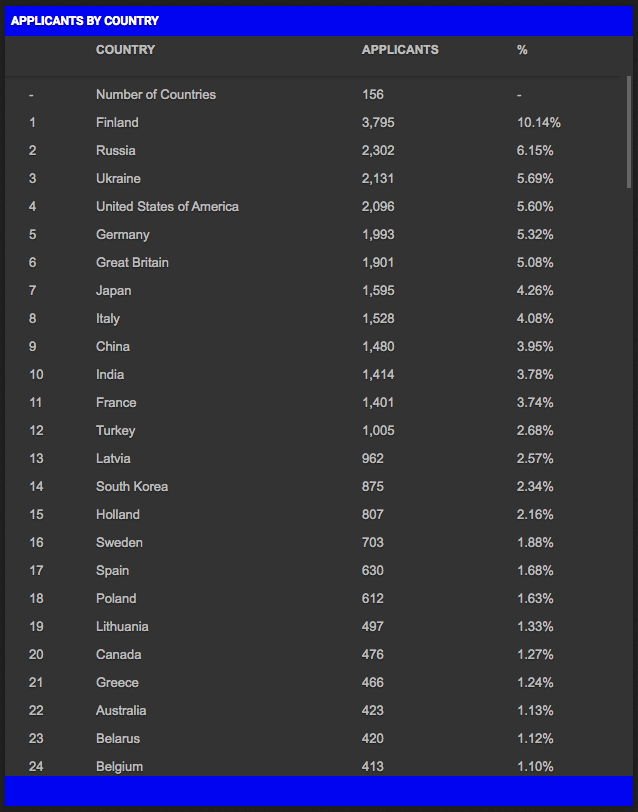 Things become really interesting when we begin to look at the motivation for becoming e-residents. Yes, there's a statistic for that!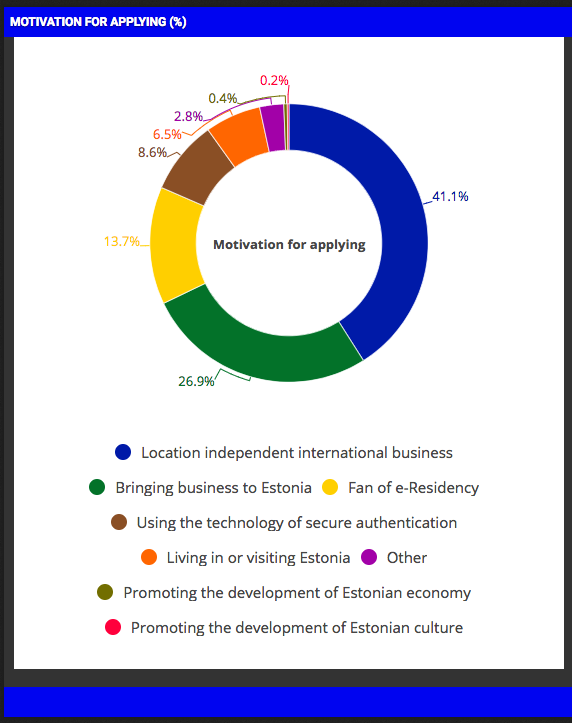 13.7% admit they're just fans of e-Residency, and this indicates they probably won't stand the test of time when it comes to renewing their e-resident status.
Of the others, over 75% declared serious business intentions:
41.1% — "location independent international business";
26.9% — "bringing business to Estonia";
8.6% — "using the technology of secure authentication".
At this point a fair question to ask would be: are these people serious?
If so, we'd have at least 68% (41.1+26.9) of e-residents setting up or owning an Estonian company. Today, that would be 24 108 Companies.
Can it be?
Let's have a look at the right statistic!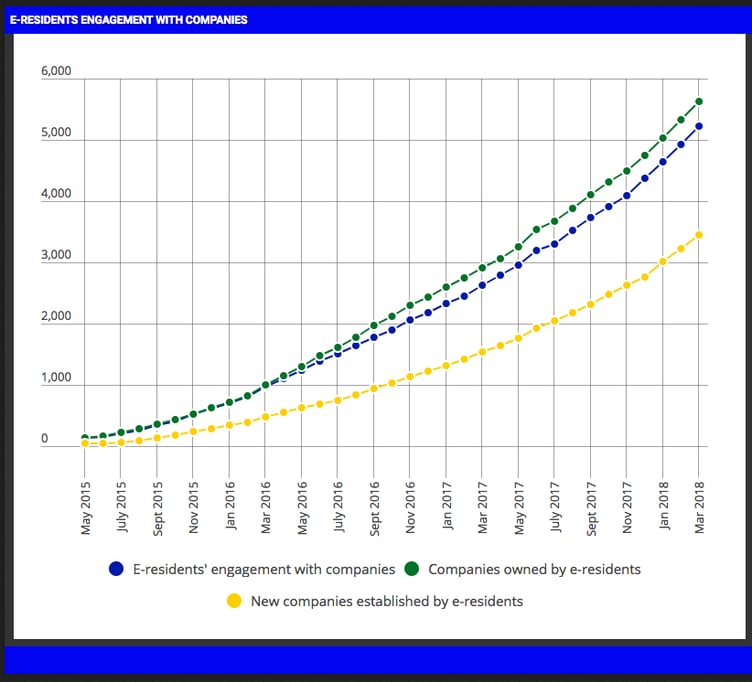 From the chart, it looks like there are about 5 500 e-residents owning at least one company, and of those 5 500 around 3 500 are new companies.
Altogether, it amounts almost 25% of what we would have counted according to the declarations of e-residents.
That's not bad at all!
This number is destined to grow, as banks are determined to make it easier and easier for e-Residents to open bank accounts, and services like LeapIN are assisting e-residents in setting up and running their own companies.
Also, the cost of setting up and running a company in Estonia has become very low, so it's affordable for everyone willing to try a new venture.
Finally, for the sake of competitiveness (and just because we can), let's see which country has the highest ratio of "newly established companies vs.
e-resident applicants". This list counts 110 countries.
For ease of representation we'll only show the first 25: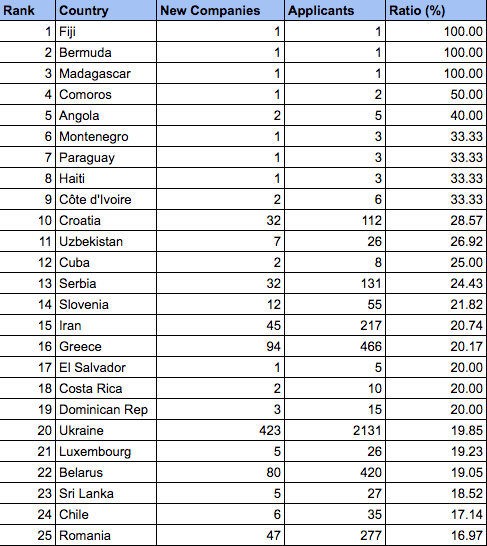 As you can see, there are a lot of small countries that really mean business!
Ukraine is the only country in the top 9 mentioned above that makes it on the list, in 20th position.
Are you curious about the other eight?
…we thought so!
Out of 110 spots on the list:
Germany is 30th;
Russia is 45th;
Italy is 51st;
UK is 68th;
Finland is 81st;
US is 93rd;
Japan is 96th;
China is 104th.
E-Residency is now over 3 years old and the numbers tell us it's growing pretty well. Traction is there and engagement is also fairly high.
If you want to make your own analysis, here's the link to the real-time data from the e-Residency Program: https://e-resident.gov.ee/dashboard.
This blog post was written by Andrea Bronzini — data-driven growth expert and writer.
e-Residency