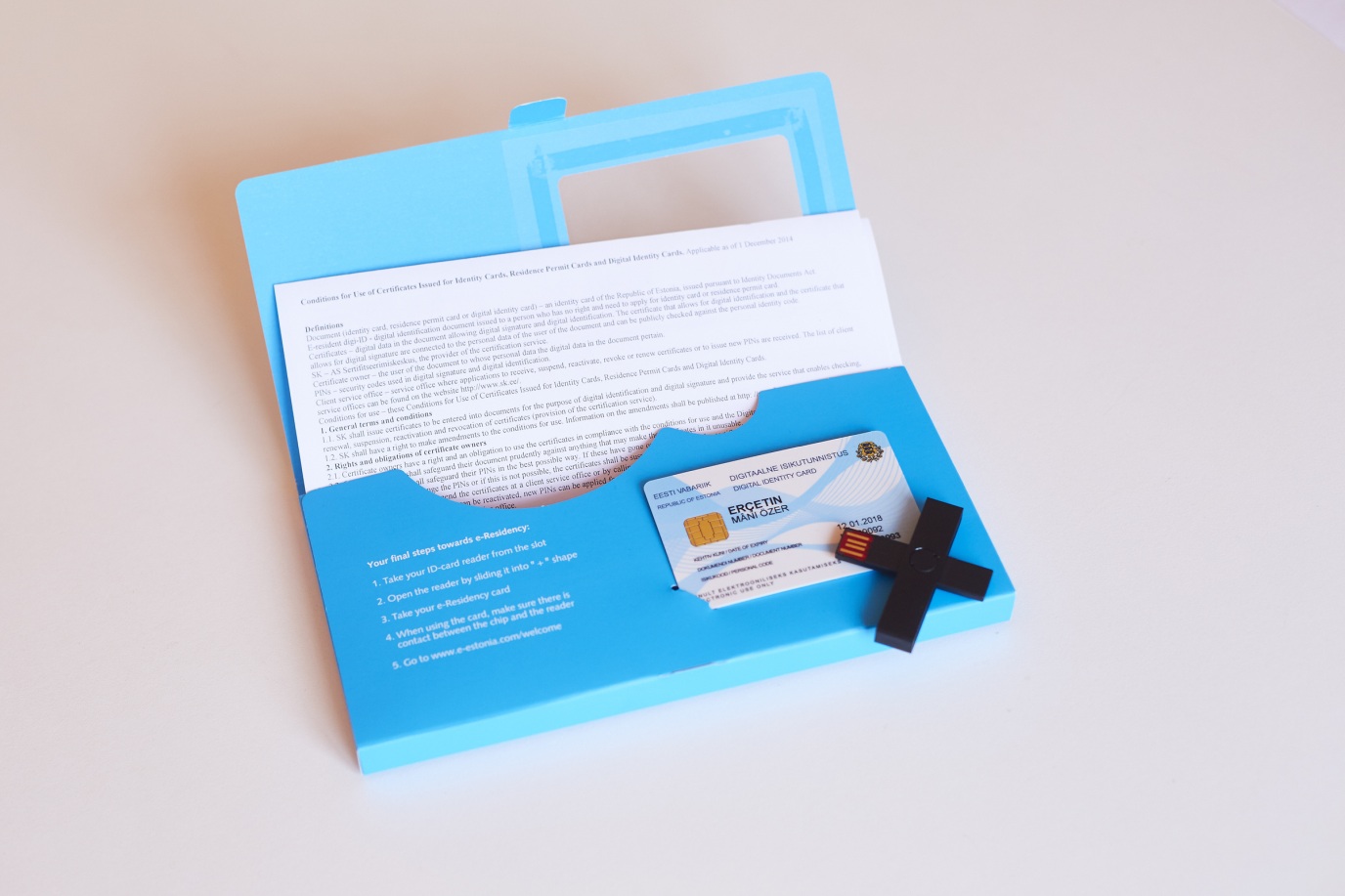 Estonia's e-Residency programme makes starting and running a global business ridiculously easy. If you're considering becoming an e-resident and starting a business in Estonia then read this step by step guide to applying for e-Residency.

In this guide you'll find out:
What is Estonian e-Residency
What Estonian e-Residency isn't
And how to apply for e-Residency
What is Estonian e-Residency?
Estonia's e-Residency is not a path to citizenship, nor is it a legal residency. You can't use an e-residency to move to Estonia and live there as a full-time domiciled resident.
E-residency in Estonia does, however, allow you to sign documents, start a company in Estonia, open an Estonian bank account and conduct business — even order prescriptions. What's more, your e-residency card can be used as a "digital signature" that's valid anywhere in the EU.
With e-Residency, you can also use online services in Estonia like government websites or online banking. Bank transfers and managing a company registered in Estonia (including submitting Estonian tax returns) can be done easily from wherever you're located.
As the programme continues to develop, things are getting easier and more attractive. For example, the e-resident card will be recognised as an online ID for all EU countries by 2018. It can even be used to send encrypted emails to other e-residents.
What Estonian e-Residency is not
E-Residency is not a way to get out of paying taxes in your home country. It won't grant you a step towards citizenship or serve as a valid travel document. It's not a visa, a right to remain, nor does it come with any of the social rights that local Estonians have. And it shouldn't be seen as a way of avoiding tax.
In summary, the electronic residence is best suited to those who either want to bank or run a business in Estonia, or both — and can be an attractive tool for nomads wanting to increase their freedom and digital options.
A Step by Step Guide to Applying for e-Residency
Applying for e-residency is easy:
1. Visit the e-Residency website
Find out whether e-Residency is for you on the e-Residency website. There are testimonials and further information about the programme. So ensure it's suitable for you.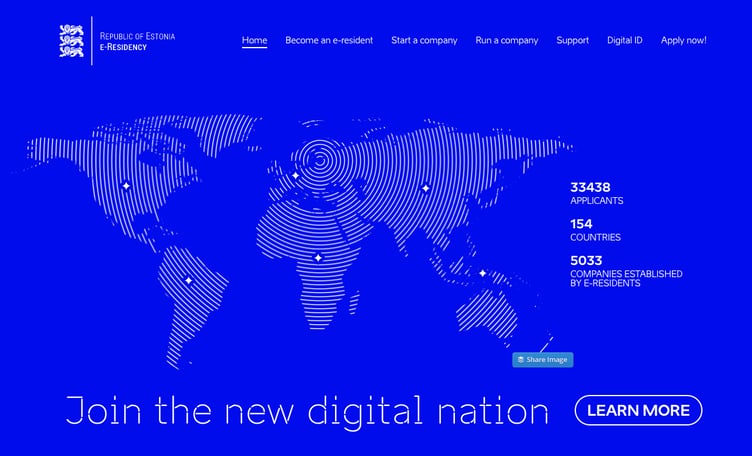 2. Gather the correct documentation required
To become an e-resident you'll need the following:
A copy of your government-issued ID
A passport-style digital photo
Your motivation statement — A written paragraph about your reasons for applying, which is used by the Police and Border Guard Board in their assessment of your application
Your Visa or Mastercard, to pay the state fee of €100
3. Submit your application
Go to the 'Apply' section of the e-Residency website. There, you'll find the secure online application form. You'll need to upload your photos, describe your purpose for applying (motivation statement), and pay your €100 e-Residency state fee.
You'll also enter your personal details, the scan of your government-issued ID, and a proper passport-like picture. The application process is fast. In less than ten minutes, you'll get your application submitted (and receive a confirmation email).
You'll also need to determine your pickup location for your card and equipment. (Ensure your chosen pick-up location is in a country or region you're entitled to enter!)
4. Wait for your application to be assessed and approved
Once your application has been submitted, you'll need to wait up to 30 business days for the Estonian Police and Border Guard to complete your background check.
The Police may request further information from you to ensure the security of, and trust of, the e-Residency programme.
5. Receive confirmation of application approval
Once the background check is completed, you'll be notified by email whether your application is approved. If you're granted e-Residency, you'll be invited to pick up your digital ID card from your chosen location as specified in Step 3.
6. Collect your digital ID card from your chosen location
You must pick up the card at an Estonian embassy or consulate, or inside Estonia. If there were no selected locations in your own country you'll need to collect from another country, which you stated in your application.
You'll need to come in person and bring the same ID document you submitted in the online application form. After you've submitted your fingerprints to the consular or police official you'll be given your e-Residency kit, including your digital ID card and card reader.
Your digital ID card provides you with:
A government-issued digital identity
Secure access to e-services
Digital signing and authentication of documents
The digital ID card and e-services are built on state-of-the-art technological solutions, including 2048-bit public key encryption. The digital ID card contains a microchip with two security certificates: PIN1 for authentication (that it's you accessing the technology) and PIN2 for digital signing. Never reveal these two PIN codes to anyone!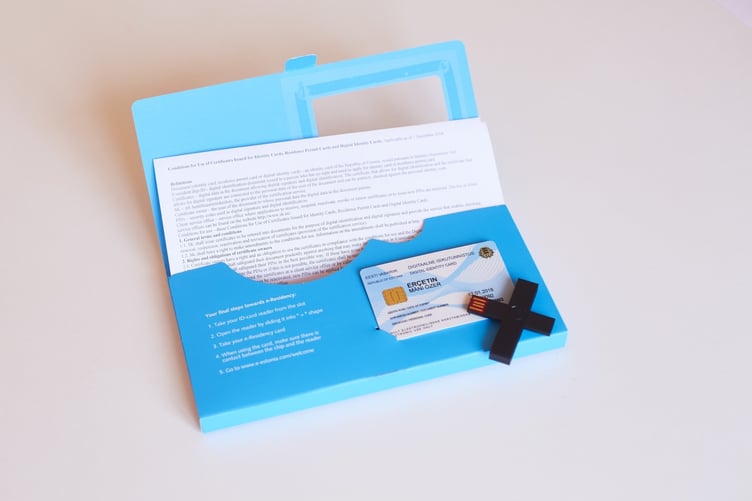 Note: your e-Residency kit is sent via diplomatic mail once a week, so this process could take 3–4 weeks. The embassy will notify you or you can contact them from the list here. You'll need to pick it up within 6 months.
7. Start using your Digital ID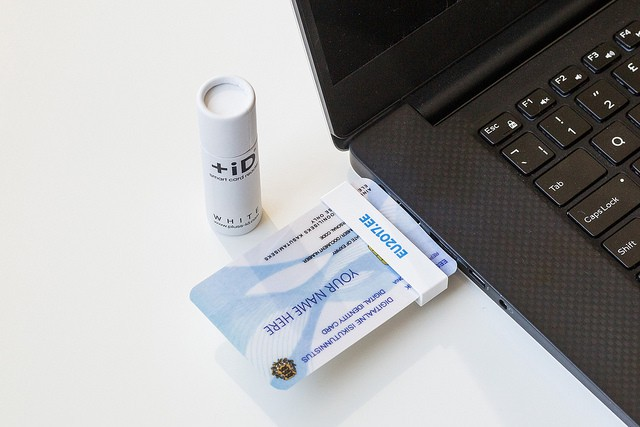 Now you have your Digital ID — to begin using it you'll first need to download the ID software, called DigiDoc4, to your desktop. Once the software has been installed you can insert your card reader into your computer's USB port, with the side of the card with the gold-coloured chip facing upwards, and all the way into the card reader.
Should you need to sign documents then open your DigiDoc4 software and click "Sign Documents." Use the browser that opens to select the document you wish to sign, for example a contract. You'll be prompted to save a .bdoc file to a location like your desktop. Hit "Sign" and when prompted, enter the 5-digit PIN2 you received with your e-Residency starter kit.
You're done! Now you can either email, save, or archive your signed .bdoc file the same way you would any other file. You've digitally signed your first document!
Estonian e-residency has easily become one of the most revolutionary developments to come from Estonia. For digitally-based entrepreneurs looking for better efficiency, location independence and looking to set up a business within the EU, e-Residency is the perfect fit.
The e-Residency process, depending on your personal circumstances, can take anywhere between 2–4 months. Once you have your e-Residency and subsequent tools you can begin the process of setting up an Estonian business.
Should you wish to have someone guide you through the e-Residency process then speak to one of the support specialists at LeapIN.
Company setup
e-Residency