When Xolo launched back in 2015, we were called LeapIN, and there was no such thing as Xolo Go and Xolo Leap (only LeapIN).
But freelancing and the world of business are changing all the time, and we have changed along with it — while continuing to offer everything that today's independent operator requires. That might be someone just dipping their toe in the water with a side hustle, through to an entrepreneur building a sustainable company, which is an asset in its own right.
That's why Xolo now offers two main pathways to support this community — but which one is right for you, and how should you choose?
Xolo Go:

The easiest way to do business, without a business of your own
Xolo Go is a microbusiness platform that gives freelancers a way to send VAT-compliant invoices to clients in 186 countries, in just a few clicks. It's perfect for new freelancers that are just starting out, side-hustlers, and even more experienced freelancers who prefer to keep things simple!
When you're providing a professional service to a business, the most important thing is your skill and the value you add. You're great at what you do, they need what you've got, and they want to pay you for that expertise. This is a great start for any collaboration!
Why you need Xolo Go
That hiring business, however, has its own concerns and risks. Your client needs to make sure they can work with you without creating any employment or corporation tax liabilities! How can they be sure you're not too difficult to contract with safely? Especially if you're in another country with different rules about things like self-employment taxes?
Meanwhile, you as the freelancer just want to apply your expertise to the work at hand, then get paid for it. Completely reasonable! You don't want to go through the hassle of registering a business, setting up banking, and figuring out how to get VAT set up. And then there's the smaller (but still important!) issues like creating invoices that are legally sound and nice to look at, managing business expenses, keeping bookkeeping in order. You're just a professional providing a service. Why does it have to be so complicated?
Xolo Go is the perfect solution in this case, because you don't need to create your own business. In fact, you don't even need Estonian e-Residency!
How Xolo Go works
Xolo Go is a partnership between you as the freelancer and Xolo Go OÜ, an Estonian limited liability company which is part of Xolo. You essentially rent a slice of our business instead of setting up one of your own. You also receive a dedicated virtual IBAN, which is automatically added to your invoice template.
That means you can issue a compliant legal invoice, and — most importantly! — get paid, with zero friction. As soon as the client pays your Xolo Go invoice, Xolo deducts the VAT and the handling fee, and you can withdraw the balance to your personal bank account.
You don't get the independent branding or the limited liability of forming your own legal entity, and you retain individual responsibility for your personal income tax liabilities where you live.
Xolo Go features
What do you get instead? The ability to raise invoices immediately once your account is set up and your identity verified (an easy, one-time process), with no monthly fee — just a simple 5.9% flat cost. You can also expense eligible purchases against your business activities.
Xolo Go is the perfect starting point for many freelancers, and also works brilliantly alongside employment.
But if you know you're going to need your own business as a freelancer, then you should explore:
Xolo Leap: A fully-featured private limited company via Estonian e-Residency
The evolution of the original LeapIn service is Xolo Leap — conceived to help solopreneurs all over the world to form and operate a private limited company-of-one in Estonia.
Why you need Xolo Leap
If you want to do more with your enterprise than simply send the odd invoice, it's worth looking at the advantages of having your own e-resident business instead.
Xolo Leap is the perfect solution for this.
How Xolo Leap Works
Xolo Leap is simply the most accessible and straightforward way to operate a fully-featured EU-based private limited company, and work with customers anywhere. It's a product specifically created for 'Xolopreneurs', our definition of the fiercely independent operators who are our typical customers — professional knowledge-workers from all over the world.
You need to apply for and obtain Estonian e-Residency first, but then you can set up your own company within hours, and operate it through the bespoke Leap business portal — managing expenses, invoices, subscriptions, and more, on any device, from anywhere.
Xolo Leap features
There are many advantages to trading as a business in this way rather than a simple freelancer, including:
Your own branding and business name, for credibility and a professional appearance

Limited personal liability, as your business entity can enter into contracts on your behalf and assumes the risk

Flexible ways to get paid, including salary, professional fees, and dividends (with 0% corporation tax on unrealized profits)

Multiple income streams and activities, through a single business

Detailed tax reporting
Xolo Go or Xolo Leap— which is right for you?
Xolo Go and Xolo Leap are two complementary products serving different people with different needs, to ensure that every freelancer can find their best home at Xolo.
Which is best for you is an important decision, but it's not an irrevocable one.
Some people start with Go, perhaps if they're testing out the viability of a particular side hustle, and want to do so discreetly and without commitment, before launching their own business with Leap later on.
Others may operate both Go and Leap for different purposes — while noting that they are both separately charged services, and funds assets may not be combined. Furthermore, if you are a client of Leap and own your Estonian company, you are responsible for it as a shareholder and a board member, and will retain those duties until the company is liquidated. You cannot convert Xolo Go into Xolo Leap, but you can transition your activities from one platform to another.
To help you decide how to get started, think about the following questions: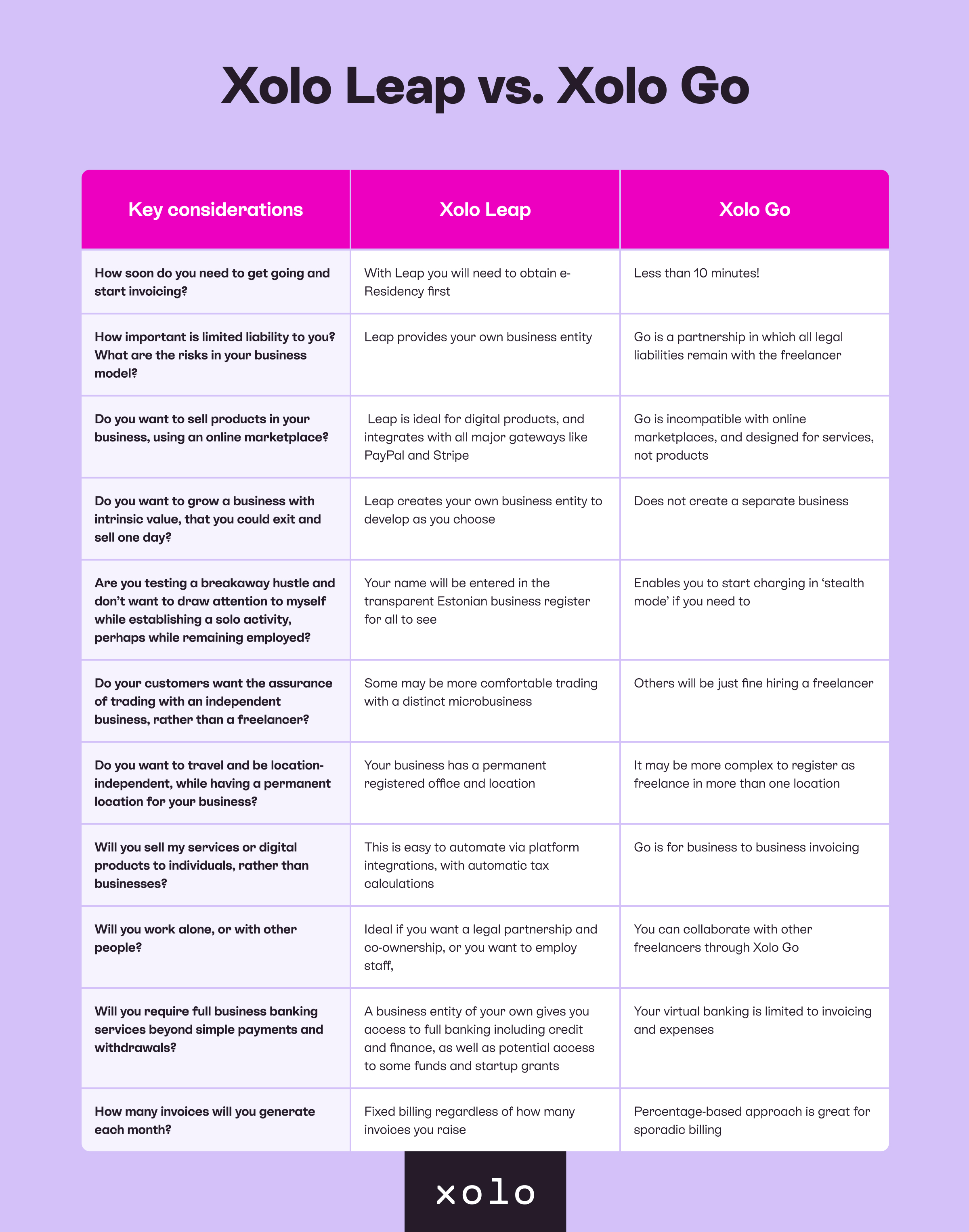 So there's plenty to think about, and questions to consider. You will need to factor in your future intentions, as well as your immediate needs, in order to make the best plan for you and your business activities.
If you're still not sure, talk to us!
Xolo Go and Xolo Leap share many things despite their differences, and that includes our legendary customer support. We'll help you get going with your perfect freelance structure, in a way that is compliant, affordable, frictionless, and best suits your needs. Start a conversation with Xolo today!
About Maya
Maya Middlemiss is a freelance journalist and author, excited about the future of work, business, money, and technology. She operates her e-resident business through Xolo Leap, so that she can work frictionlessly with brands and publications all over the world, and she is the host of the Future is Freelance podcast. Exploring the social impact of technology on our changing world, and bringing those stories to life in an accessible and inclusive way, is her passion — because all of this is far too exciting to leave it to the geeks. Maya is a 'digital slowmad', originally from London, presently living with her family in Eastern Spain.