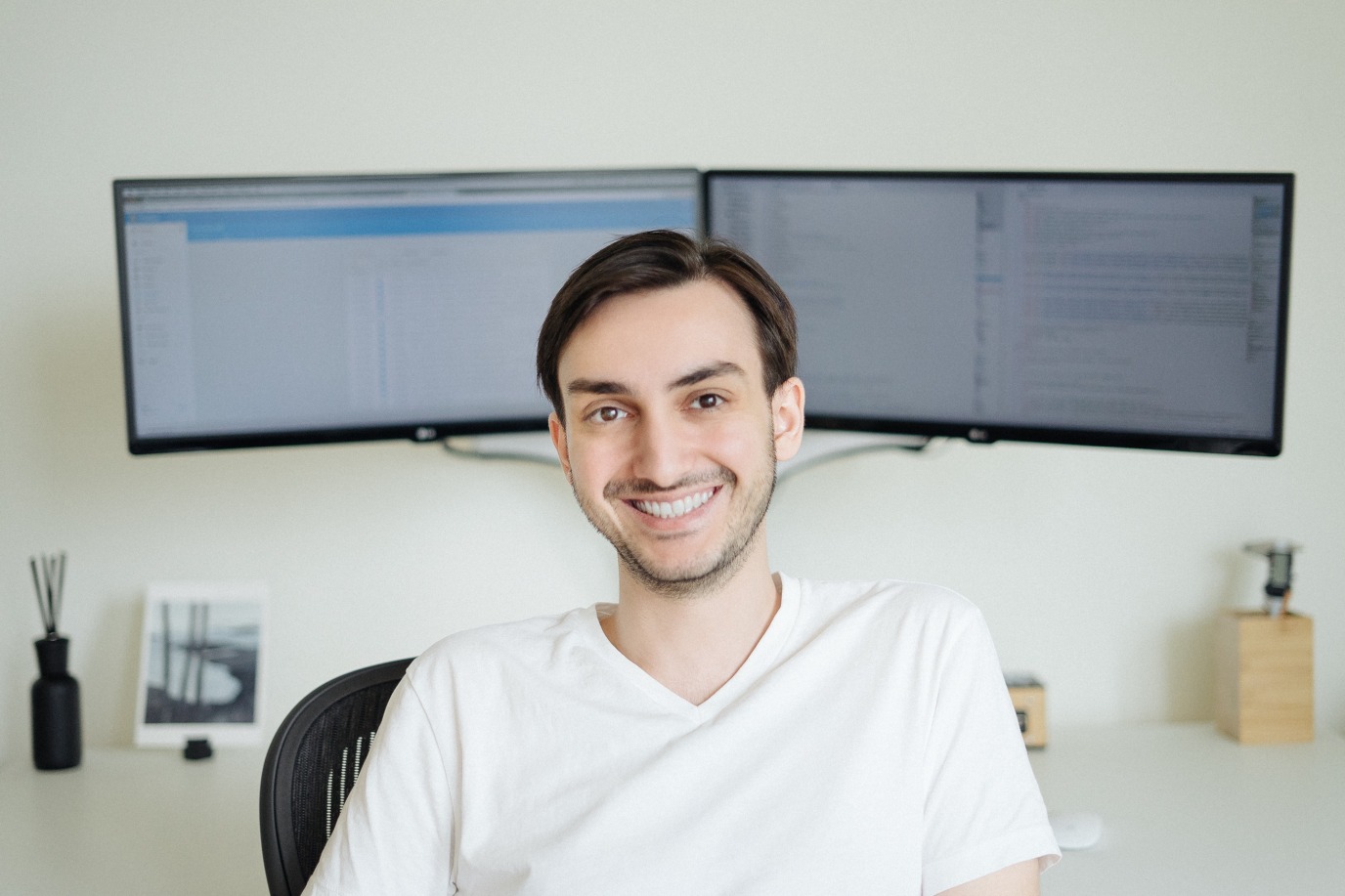 We asked John to write about his experience in becoming an e-resident and why he set up his company in Estonia.
Starting in New York
In 2014, I gained a Master's degree in Computer Science, Electronics Engineering and Music from Carnegie Mellon, and moved to New York with great ambition. I held Creative Technologist positions at Wieden + Kennedy, McCann, and as Senior Creative Technologist/Tech Lead at TBWA. Originally dismissive of technology in advertising, I soon realised that technology was just as important as being creative when advertising products.
Because of this I found myself working with, and becoming involved in, several projects for Mastercard, Microsoft, Coca-Cola, USPS and MGM Hotels — making gizmos, gadgets, and product design in the name of product advertising. I built really strange things like a giant human-scale automaton for the Oscars on behalf of Mastercard meaning I even got to attend the Oscars™️. A true geek's dream coming true!
But I wasn't happy. I wanted to have my own company, and a 9 to 5 job simply wasn't for me.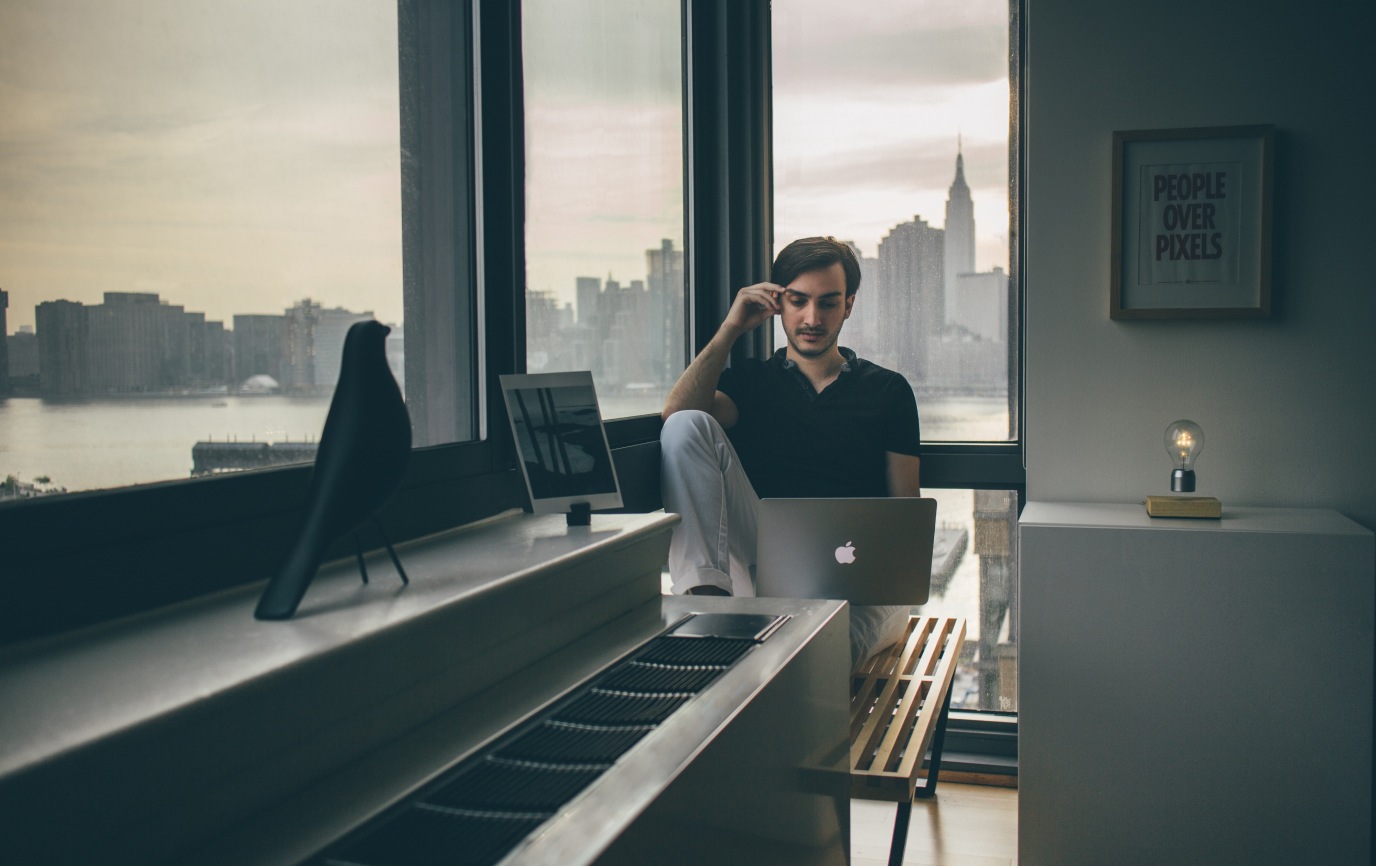 John at his New York home.
Where to next?
I'd been to hackathons at Facebook HQ, and Google, and started growing more of a fear for privacy and security on the internet. Just to clarify, my fear wasn't because these companies are 'evil'. If anything I witnessed the opposite in person. I knew as a coder how so many things are interconnected on the internet by their very nature. I simply realized how we as users are sharing too much about our lives on the internet.
So I knew what I wanted to build. I wanted to make the safe-box equivalent of the internet. Where you can put things you don't want to share. Things you want to keep absolutely private and safe. Every day I came home after work and coded my security and privacy-focused app for another 8 hours.
After 6 months of this, I started looking into the legalities of the situation. I had a work visa, meaning I could only work for one company at a time in the United States. I wasn't permitted to earn additional income from freelancing or other side projects. So the only legally feasible way I could start a company was if I did it overseas.
Free to live, move and work
As a non-EU/US citizen, it's difficult to be an entrepreneur or digital nomad. Your citizenship defines your ability to start up companies.
I felt frustrated, because I hated being tied to one country so I needed a legal solution around this, one that has no geographical boundaries.
E-Residency, and a company in Estonia addressed all these problems.
After reading an online article about e-Residency I became attracted to Estonia with its advanced digital infrastructure that makes it easier to manage my business from anywhere in the world.
Furthermore, I've always been attracted to the nordic appeal; the culture, and ways of doing the simple things well.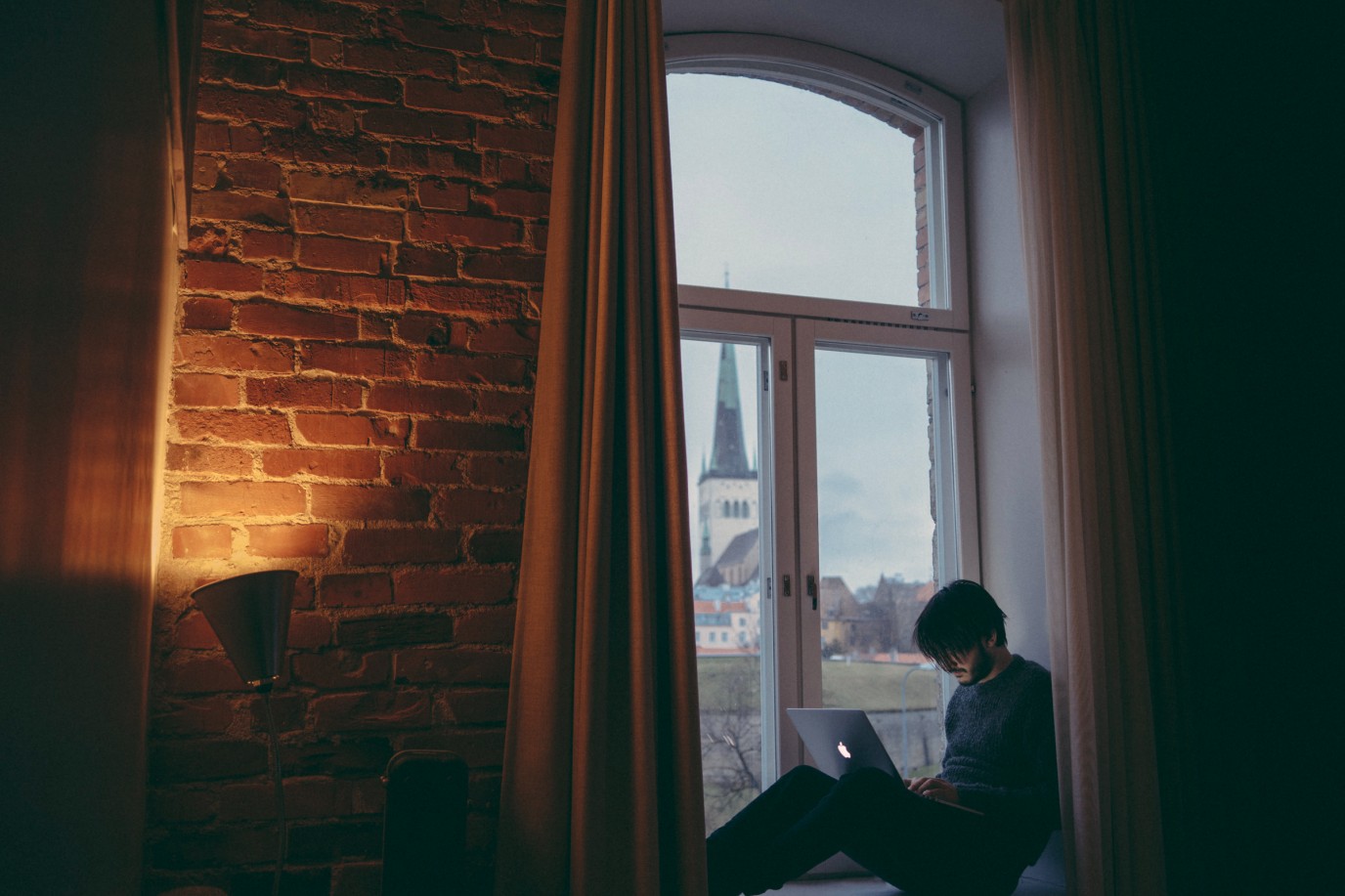 John during his first stay in Tallinn
When considering Estonia it soon became apparent how everything worked so smoothly; low bureaucracy and taxation and little problems obtaining a visa to visit. A lot of paperwork puts me off but it soon became obvious that Estonia doesn't have this problem. So I flew to Estonia to check the country out, satisfying my burning curiosity, and fell in love with the city of Tallinn.
Around this same time my app was reaching a maturity level. I was building an encrypted productivity toolkit. Documents, Notes, Files, To-dos, Photos, but private. All zero-knowledge encrypted. This means that even I as the owner can't see your files or photos.
The growth of the app, along with my evolving lifestyle led me to a few clear conclusions:
Estonia is the perfect country for my startup. They know what it means to have been hacked. They value encryption so much, that their national ID cards (and e-residency cards) carry a 2048-bit public key encryption. Even the government runs on blockchain!
Tallinn is a beautiful city, green, quiet, affordable and lovely with a population of 410,000 in 160 km².
Living in NY is a bad idea. It's a city of 8.5 million people, mostly crammed onto the tiny island of Manhattan of 60 km². It's crowded, dirty, loud, and expensive as hell. Quite the opposite of Tallinn. To help you with the math, Manhattan is about 3x smaller than Tallinn and has at least 20x more people on it. Try living with 20 people in your apartment instead of living alone. That's exactly how life in NY feels like.
So, after conversations with friends, and fellow e-residents, I decided to move to Estonia to keep working on my startup.
Safety for your life
After a total of one and a half years of work, half of it coded in Tallinn, the other in New York, my app is finally ready!
It's called Cryptee, and it's a cross platform app that provides you a safe and encrypted home for your documents, notes and photos. Much like Estonia and E-Residency gave me a safe and encrypted home.
And to return the favor; along with username & password login and Google accounts; Cryptee supports Smart-ID and Mobile-ID for e-residents and Estonians to sign up and sign in. Just like they can sign in to their banks, vote, run their companies or sign legal documents.
I've also used Paddle as my payment processor for Cryptee — another start-up who really help software developers with creating subscriptions, along with credit card, PayPal and Apple Pay payments without having to sign up with multiple payment processors.
In fact, they have three major advantages:
They handle the nasty complexity of VAT-MOSS for subscriptions.
You don't have to deal with signing up for payment processors like Adyen or Paypal or Apple Pay.
They've got a pretty fantastic and well documented checkout system you can easily integrate into your website/service/app.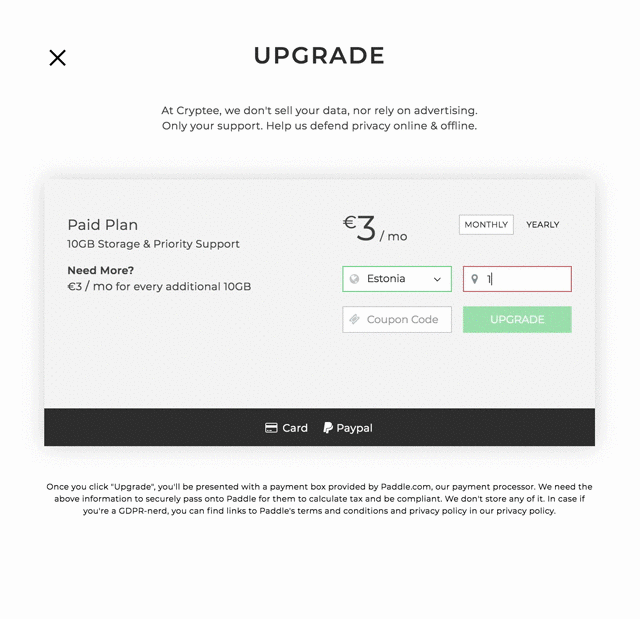 Cryptee — Paddle Checkout
Companies like Paddle, who help me with payments, and LeapIN, who help me incorporate and run my company in Estonia, are so important to my life as an e-resident and entrepreneur — they really help make life that little bit easier.
A small incentive
It feels only fair that I give something back to the e-Residency community which has already given me so much. So — all e-residents and fans of it can start using Cryptee for free, and have 10% off if they wish to upgrade to the paid plan one day. Just type "ERESIDENT" at the checkout.
I'd encourage anyone considering it to join e-Residency to get an encrypted, location independent life, and join Cryptee to keep your files encrypted and independent from big companies.
Freelance
e-Residency
Customer story