Early in 2023, the world-leading Estonian e-Residency program passed the exciting milestone of its 100,000th member!
Now surpassing the population of many a decent sized city, this community of pioneering innovators and entrepreneurs has representatives from all over the world, who have formed over 25,000 businesses. With its own international chamber association EERICA and more than 1000 new applicants in March 2023 alone, the Estonian e-residents are clearly a force to be reckoned with on the international stage.
These contemporary e-Residents are creating remarkable new businesses, pushing the boundaries of collaboration and problem-solving in the future of work, and benefiting from all that the program has to offer - from ease of doing business, access to the EU single market, the lower cost of business administration, and the trustless security of digital signatures and ID.
But how did it all begin, and who were the early adopters that inspired this movement? They were by nature less likely to be independent entrepreneurs, but more typically 'Estophiles', and high-profile figures. Either people with a connection to the Estonia who wanted to be part of its bold experiment, or those who instantly grasped the potential of what was on offer and wanted to write about the concept, like BBC's Rory Cellan-Jones and Wired's Ben Hammersley.
There are other influential e-Residents who have helped spread the word, and make the program as popular as it is today:
Edward Lucas, Senior Editor of The Economist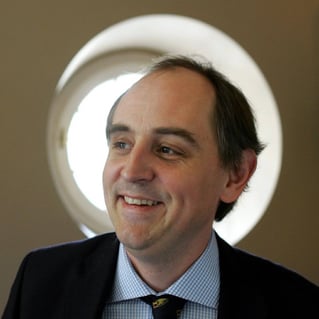 Somebody has to be the one to raise their hand and say 'I'll go first!' - and when it comes to Estonian e-Residency, that was Edward Lucas from the Economist. That's why his ID card has the serial number 1 on it, and he received it directly from the hand of the Estonian president in a public ceremony in 2014.
The Economist has always supported innovation in business and entrepreneurship, and has covered Estonia extensively, as an exemplar in digital transformation at the state level. Describing the emergence of Baltic Green Shoots in early 2012 after noticing that Estonians were now starting businesses at the fastest rate in the industrialized world, and praised Estonia's low taxes, clean government, high internet penetration and high technical education. They also pointed to the influence of Skype, as well as the country's small domestic market that "forces entrepreneurs to think globally from the start".
Their description of the e-Residency scheme creating 'satellite Estonians' may not have caught on, but their coverage remains extensive, with recent highlights including the use of digital voting in the recent elections, and coverage from prime minister Kaja Kallas on cyber-defense lessons from the war in Ukraine.
But was ID card #1 the first inception of e-Residency? Apparently not!
Barack Obama, US President
Barack Obama - Photo by Pete Souza
Just before the Estonian e-Residency scheme was officially launched in 2014, then US President Obama apparently showed great interest in the idea, and the whole Estonian e-governance and identity framework. He even joked at a press conference that he 'should have called the Estonians' to sort out the US healthcare website.
So, according to Postimees, just before Airforce One departed, a specimen ID card was personally handed to Obama by Estonian president Toomas Hendrik Ilves.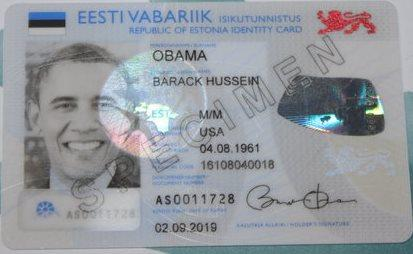 Source: Twitter
As this was two months before the e-Residency program was launched, President Obama's digital ID card was issued in the same style as the cards provided to citizens and residents of Estonia (which included a picture, because these work as both an online and offline ID). When the e-Residency program launched properly it was without a photo, because the card is not a travel document or primary ID. That's why your card looks a bit different to Obama's. His card also has 'specimen' written across it, though, while yours is the real deal!
Shinzō Abe, Prime Minister of Japan 2006-2007 and from 2013-2020
Shinzō Abe - Photo by Tomohiro Ohsumi/Getty Images
Japan arguably once led the world in digital innovation, and despite its economic decline has remained committed to transformation - not without pushback, the nation continues to try and drive adoption of digital signatures and ID.
Much of this may have been inspired by the e-Residency uptake of then prime minister Shinzo Abe in 2015, whose e-residency card was presented to him by Taavi Kotka, then Deputy Secretary General at Estonia's Ministry of Economic Affairs on a visit to Japan, as a celebration of the continued co-operation between the two nations.
Before his assassination in 2022, the retired premier remained one of the world's highest-ranking Estonian e-Residents, alongside…
Angela Merkel, Chancellor of Germany 2005–2021
Angela Merkel - Photo by Carsten Koall/Getty Images
For many years the most powerful woman in Europe and perhaps the world, Chancellor Merkel holds Estonian e-Residency ID number 11867.
She accepted this on a visit to Tallinn in 2016, where she delivered an ambitious speech titled "Estonia — a pioneer in digital technology — and Germany — a global industrial power — shaping the future of Europe together".
Historically Germany and Estonia have a long intertwined relationship, with the Baltic German nobility in charge of Estonia for over 700 years, and German the official language until Estonia's independence in 1918.
Today with over 6000 German e-residents running more than 2000 businesses from Estonia, the connection remains as strong and relevant as ever, as equal partners in modern Europe.
Tim Draper, venture capitalist
Tim Draper - photo by Ben McShane/Sportsfile
While the significance of the e-Residency program was early cemented by the symbolic adoption of illustrious heads of state, others were drawn to the business and technical potential of the scheme to reshape the way the world operates.
Tim Draper, Founder at Draper Associates, Draper Fisher Jurvetson (DFJ) and Draper University, was among the first US citizens to take up Estonian e-Residency, back in 2014. In fact, he and his business partner Steve Jurvetson were the first non-Europeans to receive their e-resident ID cards (although Jurvetson's parents were originally from Estonia.)
I interviewed Draper for Cointelegraph Magazine back in 2020, where he talked about the deep parallels between digital identity and digital money, and the way that Estonia's state-level digital infrastructure proves that critical systems (like money) can cooperate entire online:
"Globalization unites the two concepts. Digital identity allows people to operate wherever they may be. Digital currencies allow people to share in a common value vehicle so that business is frictionless. If countries can identify each of us and compete cross-border for us, we will get better government service. When people use global currency, they have less friction in doing business.
"Governments are finally starting to try to compete for citizens on the virtual level."
Well known as an investor and advocate for bitcoin and the crypto economy, his venture capital greatest hits also include an early investment in Estonia-born unicorn Skype.
Guy Kawasaki, venture capitalist and tech evangelist
Guy Kawasaki - Photo by Bloomberg/Getty Images
Guy Kawasaki believes in the power of brands to create such deep connections with their customers that they act as their best advocates in the wider world. He understood this back in his days working for Apple, one of the world's most iconic brands in the 1980s - decades before modern concepts of influencer marketing were born.
Always keen to stay ahead of trends and new ideas, Kawasaki applied for his e-Residency in 2015, while attending the Nordic Business Forum, and promptly used his personal influence to promote and advocate for this move.
Among his many projects across Silicon Valley, many Xolopreneurs may know of him for his 'Chief Evangelist' role at Canva - the powerful online graphics tool that many of use all the time for everything from our brand kit to social media posts.
There's one more VC we should note for their impact on the Estonian e-Residency program:
Ben Horowitz, US venture capitalist
Ben Horowitz - Photo by Bloomberg / Getty Images
Co-founder of Andreessen Horowitz (a16z), Ben is suspected of being the subject of a famous quote from Sten Tamkivi, the former General Manager of Skype, who cofounded Teleport and also worked as entrepreneur-in-residence at a16z.
Tamikivi said at the time: "I sent a description of the plan to some well-known investors in Silicon Valley... The first reaction I got from one legendary investor was just one line — 'This is so freaking huge man, it's insane'."
All we know for certain is that Ben became an e-resident himself soon after, and has retained close ties to Estonia through a16z's investments in Teleport, Wise and many others.
While Estonian e-Residents may reside in all corners of the globe, perhaps the planet itself will not be a constraint for much longer?
Jean-Jacques Dordain, Director General of the European Space Agency 2003-2015
Jean-Jacques Dordain - Photo by ESA/P. Sebirot
If Estonian e-Residency truly means business without borders, then it's only appropriate that the Jean-Jacques Dordain was head of the European Space Agency (ESA) between 2003 and 2015. This period included the hugely successful Rosetta mission, which captivated the world when it intercepted comet 67P and sent a lander named Philae to its surface.
One of his final tasks was to sign an agreement on Estonia's accession to the ESA Convention, in which he was also presented with Estonian e-Residency.
The flag of Estonia is now flying high at the European Space Agency and Estonians will now contribute to the exploration of space, further cementing Estonia's successful integration into Europe. Meanwhile, the first astronaut of Estonian descent, Nicole Aunapu Mann, was part of the SpaceX Crew Dragon which successfully launched to the ISS in October 2020.
Peter Kentie, Dutch marketing expert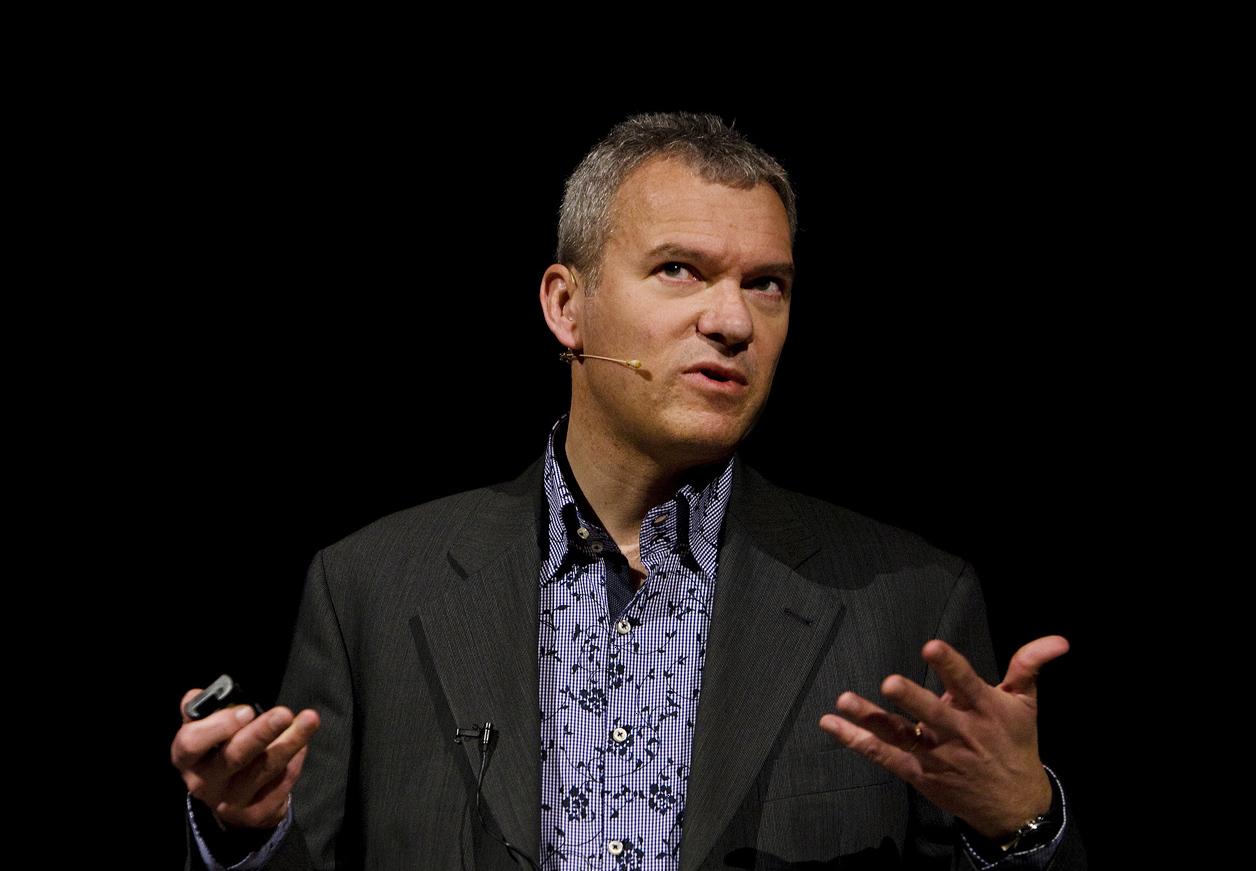 Peter Kentie - Source: https://about.me/peterkentie
Peter Kentie is the Managing Director of Eindhoven365, a marketing agency based in the Netherlands. They're responsible for both branding and marketing Eindhoven as a destination.
Fortunately for Estonia, Kentie fell in love with the country during a visit and decided to become an e-resident before then donating his skills to suggest new nation branding ideas. His new concept is Just Estonishing, which is based on the idea that 'Est' is a state of mind. He told Estonian World: "Estonia offers a state of mind, a philosophy that any country, region or city state can follow. E-Estonia truly inspires the world. It's a unique way of thinking and acting in this modern digital age, being the 'est'."
Once you become an e-resident, you won't need to visit Estonia, but you'll always be welcome. And if you do visit, you'll see plenty of people and businesses who have now proudly adopted Kentie's -est concept into their own branding and fashion.
Peter Kenti is now also an Honorary Consul in The Netherlands for the Embassy of Estonia, where he uses his brand building skills to connect the tech & digital ecosystems of Brainport Eindhoven and Estonia for mutual co-operation and experience.
A new wave of e-Residency Envoys
What makes a notable e-Resident anyway?
We all have different audiences, different spheres of influence. With 100,000 e-Residents spreading the word worldwide, we can all act as Kawasaki-style brand evangelists, and share our knowledge and love for the digital citizenship which connects us.
The e-Residency department has recently launched a new program of designated Envoys, who are experienced and established e-residents across various industries, and receive training and mentorship to support their representation of the program worldwide. It's an honor to be chosen as an Envoy for the Estonian e-Residency program, and I look forward to speaking and advocating further, on behalf of a digital community of which I am proud to be a member.
And the growth is only set to continue, following the trajectory projected by the deputy secretary general for communication and state information systems Taavi Kotka back at the launch of the scheme in 2014, as a target for 2025:
"Ten million e-residents is a bold goal which shows our ambition," Kotka said. "We want to create an infrastructure with our services that would permit companies, and not only Estonian companies, to use that infrastructure and make Estonia bigger. We have 80,000 companies in Estonia right now, if we could double that number with e-residency, it really would be something big."
Maya Middlemiss is a freelance journalist and author, excited about the future of work, business, money, and technology. She operates her e-resident business through Xolo Leap, so that she can work frictionlessly with brands and publications all over the world, and she is the host of the Future is Freelance podcast. Exploring the social impact of technology on our changing world, and bringing those stories to life in an accessible and inclusive way, is her passion — because all of this is far too exciting to leave it to the geeks. Maya is a 'digital slowmad', originally from London, presently living with her family in Eastern Spain.