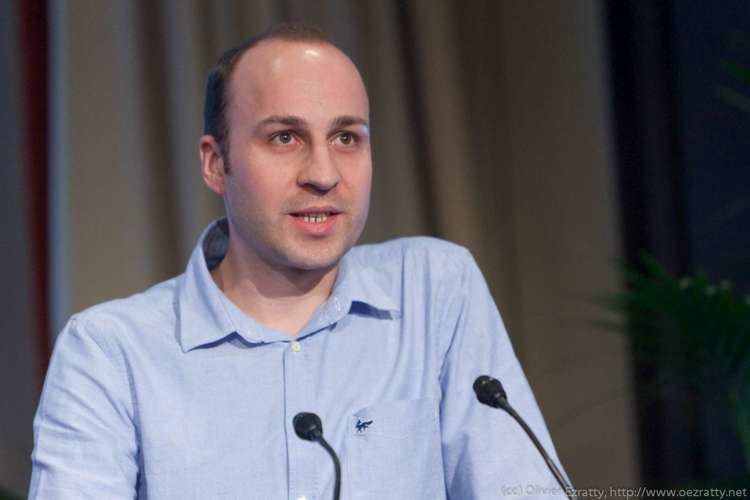 Knowledge management and knowledge marketing is something that businesses sometimes feel isn't for them, just for other companies. This is a mistake. In this day and age, it's more important than ever that everyone in an organisation is given the chance to work not only harder, but also smarter. That's why Jack Thorogood, a LeapIN client from the UK, believes his company Knowlocker is the future.
According to Knowlocker, knowledge workers (that's anyone in the research, reporting, creative, content-management, or related professions — their job being to handle or use information) spend an average of two hours per day looking for information. If multiplied, that's a major cost to a company's bottom line. Knowlocker can help with this, and also with the essential process of sharing news, views and expert opinions from businesses of all sizes, cutting down on customer churn and making sure all clients are always fully informed on developments.
We spoke to Jack to find out why Estonian e-Residency, and a relationship with LeapIN, is such a vital cog in what he's trying to achieve.
What does your company do?

Knowlocker provides a knowledge management platform for individuals and corporates, with a focus on helping users get the most value out of the knowledge they already have, while at the same time broadening their expertise.
What is your recent work history, and what do you like about working without borders?
I've been making using LeapIN for around two years now, as part of our longer-term plan. Initially we were just building software for third-party clients, and that remains a part of our business. Our long-term plan has always been to create and operate our own product, and the last six months has seen us drive an increasing percentage of our revenues from the Knowlocker platform.
Working without borders is important for us as a state of mind, as well as practically. We're a small team of around 15 people, but even among that small employee base, we have five nationalities represented. The world is a small place nowadays, and the idea of being more restricted by borders than one needs to be feels like anathema.
What are the challenging aspects of your work, and how do you overcome them?
I'm sure we have all the challenges that any smaller business does. A particular, and perhaps slightly less common one though, is striking the balance between client work and working on our own platform. Especially as our platform is still in its infancy, and doesn't yet cover the costs of the resources spent on it.
We overcome these purely by juggling resources as best we can, both human and capital, with a particular emphasis on managing cash flow and keeping our cost base as low as possible. We want to put every euro to the best possible use.
What made you aware of the possibilities behind e-Residency, and what made you decide to take it up?
Our company operates in the tech sector, and I think there was greater reporting in the tech press about e-Residency than elsewhere, even early on. We decided to take it up for a couple of reasons.
Firstly, we've always tried to operate as cost-effectively as possible, and Estonia ticked the boxes in that regard, as a centre of operations. Secondly, both as a personal position and practically, I've always favoured jurisdictions which are reliable in terms of their laws and applications of them. We've had operations elsewhere in central and eastern European countries in the past, and without a doubt corruption and excessive powers of the state flourish elsewhere. Estonia has been peerless in this regard: Zero corruption, and fair and consistent rules.
Tell us about some of the challenges you face in doing business internationally.
The biggest challenge we've faced regularly has been paying team members in less enlightened countries, where employees who work full time for us have had difficulties in working for a foreign business.
It seems perverse that rules in other countries, ostensibly in place to protect the tax take, are often used as political tools (where good jobs can still be linked to political patronage) and subsequently make it very hard for people to earn a reasonable wage.
I hope this will change over time, and more forward-looking countries like Estonia can only shine a light on the short-sightedness of other countries, helping to inspire this change.
Are there any difficulties due to being based where you are? Are these helped by your company being based in Estonia?
We're based in Stockholm, and generally speaking, it's a good place to do business. However, it could sorely do with a product such as e-Residency, as not having a Swedish ID can cause headaches.
The reason we're based in Stockholm in the first place is that our team, who are mainly spread through central and eastern European countries, cannot all come together in the UK due to tough and impractical visa restrictions. This situation will probably only worsen after Brexit, making the country a much less pleasant place for a non-UK national.
Why did you decide to use LeapIN, and what's your opinion on the service they've provided you? What are the best things about partnering with LeapIN?
We decided to use LeapIN as they did an excellent job of presenting the full-service assistance they provide, in a manner which makes sense to e-Residents.
In terms of the service offered, it has got much better over the two years we've worked with them, especially with the new, automated and online services they've introduced. The best thing about partnering with LeapIN is that stuff just gets done. I never need to worry about handling accounting or bookkeeping chores, other than keeping up to date with uploading the required receipts and invoices.

It's worth noting, in addition, that Holvi has been a great help here. They may not be particularly feature-rich when it comes to the core aspects of banking, but their platform is fantastic for ease of bookkeeping and managing expenses.
Talk us through a typical day at work for you. Where do you like to work? Are there any favourite co-working spaces? What is your approach to meetings?
Currently I tend to spend half the week in Stockholm, where we're building some aspects of our team, and half in the UK meeting clients. In Stockholm we're based at SUP46, which is a fantastic space for hard-working tech businesses. In the UK, I work from home, or from TechHub in London, although where possible I spend time in Ozone Café on Leonard Street. It's just round the corner from the TechHub office, and has more vibrancy about it than TechHub.
Where possible I take meetings remotely, as it saves a lot of time and money. Sometimes though, face-to-face meetings definitely allow a better understanding to be reached between parties.
What do you think of Estonia? Did you have to visit the country to complete your company setup, and were the people welcoming?
I love Estonia! It's a beautiful country, and in the Tallinn area at least, has an inspired, forward-looking populace. It's not just meeting Estonians in person that gives this impression; we're long-term users of TransferWise, and the support team there have always been an excellent example of the best of Estonia.
I did visit Estonia to open a bank account, the process was smooth, and everyone was very efficient.
e-Residency
Customer story