If women '...belong in all places where decisions are being made' — why do we still need to talk about it?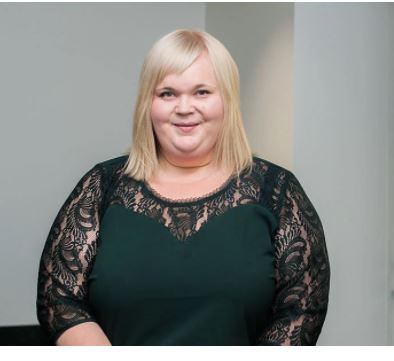 Yes, another blog post about gender equality, the pay gap, and lack of female representation. Are you tired of reading about it? Perhaps even frustrated? I know I am! Having worked for over a decade in tech and fintech, not a single March goes by without me commenting on this topic. And for good reason! Despite efforts to make tech and business more inclusive, the gender gap, and unequal treatment remain an issue in 2021.
We recently conducted a survey at Xolo with our female audiences which shed light on the challenges faced by women in everyday business. Out of the data gathered, here are some of the insights we discovered:
Men, turn down your egos; women, support your peers
We asked, you answered! Around 120 female professionals replied revealing that 81% felt that they've been treated differently in their career because of their gender. A full 71% stated that they've been made to feel that they're less competent in comparison with their male colleagues.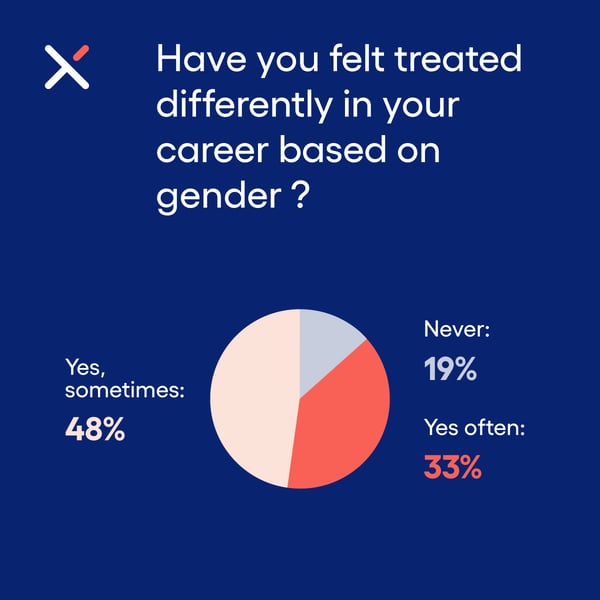 When asked to expand on by whom they felt they had been treated differently, 64% felt discriminated against by their supervisor and 48%, by customers. To make matters worse, 48% of women said that they've felt treated differently specifically by other women, or by both men and women — an indication that we're in this together, but not in the right way.
"Being qualified as [a] "female" CEO makes the playing field different. Being asked to join projects and then not given work, I've felt as a token female. Sexual harassment disguised as compliments. If I express concern about any of these things, I'm called ungrateful or over-reacting."
- age 42, business consultant
Not being taken seriously, being made the object of sexual attention or even being continuously mistaken for a personal assistant were just scraping the surface of underlying issues for females in the business community. Questions about age, marital status, or plans for having children along with assumed difficulties in balancing family and work life were recurring answers for the Xolo female community. An astonishing 51% of respondents stated that they have been offered significantly less financial compensation than their male counterparts for equal work.
"Usually you have to prove more your value, it can't be a little hard to [not] feel bad for charging what your work is worth and teach clients to [not] step [over] the boundaries and/or guidelines you give to them."
- age 38, admin support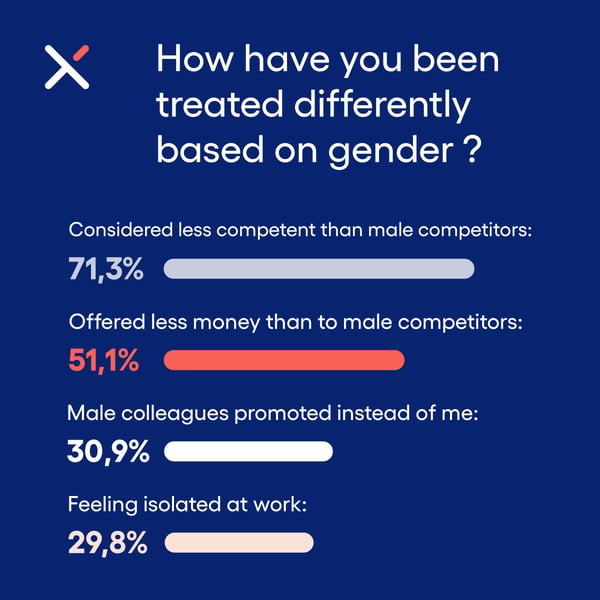 Can wider representation help overcome imposter syndrome?
It's not all about society or the workplace when we look for solutions. What especially caught my eye in the survey results was that women themselves are rejecting alternative career paths because of things like impostor syndrome or fear of failure. Unfortunately, it seems that the paradigm of women not being "cut out" to do business is deeply-rooted in the female psyche.
Overcoming impostor syndrome is easier said than done. It can start with being mindful of representation; presenting business owners of all backgrounds, genders and colours and consciously tearing down antiquated biases and stereotypes that fit our outdated ideas of what makes an entrepreneur. It's also important to have women represented in senior management and in public-facing roles of authority. If we see only certain types of people in positions of power, it's easy to think that climbing the career ladder isn't possible for everyone. I want other women to look at entrepreneurs, business owners and career paths they're interested in and see figures they can relate to. A full 30% of our respondents agreed with this, while almost 55% stated that they would need more coaching and mentoring to overcome insecurities related to starting their own business.
Normalise stay-at-home dads and everybody wins
Societal equality must improve for women to have greater opportunities for taking on more demanding roles. This means the load of parenting must go equally to the employer of the father; businesses should not only encourage but enable men to take longer paternity leaves, so that the responsibility for caring for a new child isn't solely on the mother and her employer. There's no pre-set rule that only the mother can and should stay at home. Both parents deserve to be equally eligible for this to balance work-life responsibilities and prevent women's career paths from diverting. Ultimately, workplace equality starts at home, so that both men and women have the same possibilities and rights to build their career alongside life's many changes and interruptions.
No more boss ladies, boss babes, or female leaders
Sheryl Sandberg once said, "In the future, there will be no female leaders. There will just be leaders." As minor as this may sometimes sound, words can change the world.
Driving for equality and inclusion should be the agenda for all genders — not just women supporting women. However, women themselves should also be conscious about labelling themselves; for starters, "boss ladies" and "female entrepreneurs" should lose the gender reference!
The road to real inclusion is the result of conscious actions
We initiated this survey among our community once we realised that we as a company have so far failed in our attempt to build a more inclusive service for solopreneurs. As 85% of our customer base is male, there is clearly much room for improvement! We also recognise that this is a wider issue, not solely related to our service or niche, but to the business community as a whole.
The Xolo female community survey respondents suggested multiple actions to be taken. More than 50% of women were of the opinion that it's up to each individual to ensure equal treatment for both men and women. A similar number of women thought that preventing gender-based inequality should also be discussed on the government level and different policies should be adopted to create a more diverse business ecosystem.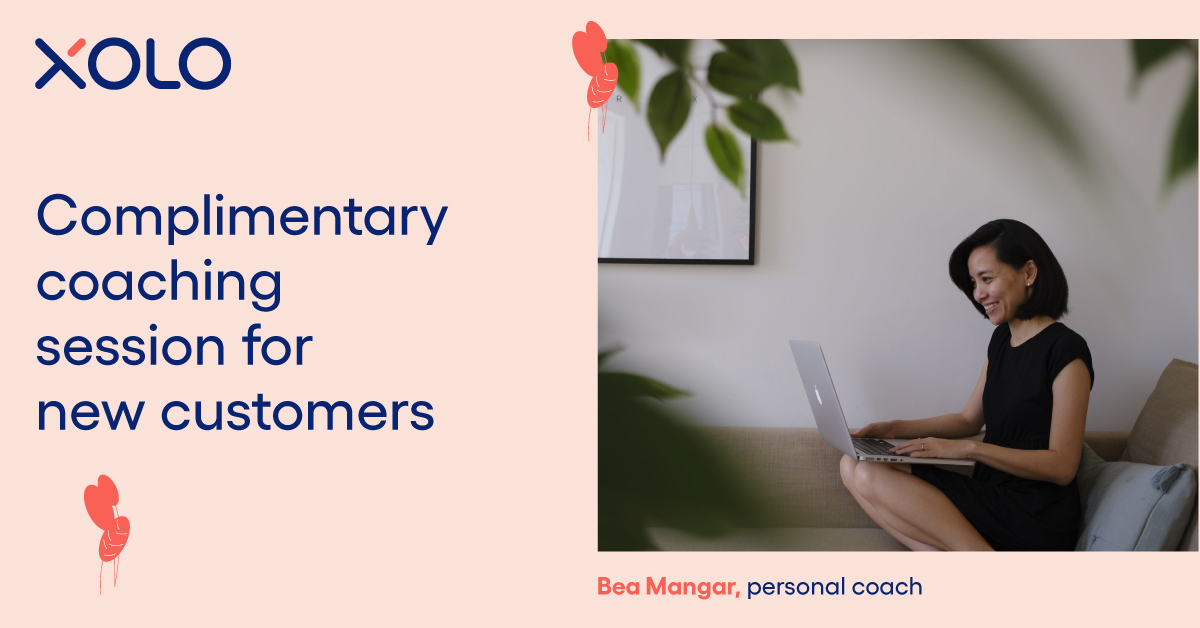 We recognise there's work to be done but we're here to give a voice and do our part. We've teamed up with business mentor and coach Bea Mangar to offer complimentary "Cowork with Bea" co-working sessions to a number of lucky futurepreneurs and future-freelancers as a part of our #freelancingisforeveryone campaign. And that's not all — stay tuned for our upcoming initiative where we've teamed up with a popular licensed therapist and author to learn constructive ways to defeat imposter syndrome.
We've got a long journey ahead on the road to gender equality, and the conversation is just getting started!
Elina Räsänen is the CMO of Xolo, a company that believes that freelancing is for everyone, even though at present, 85% of the 65,000 global solopreneurs they serve are male. Here to make a difference, to give a voice to the community, and take conscious actions towards building a more inclusive business.