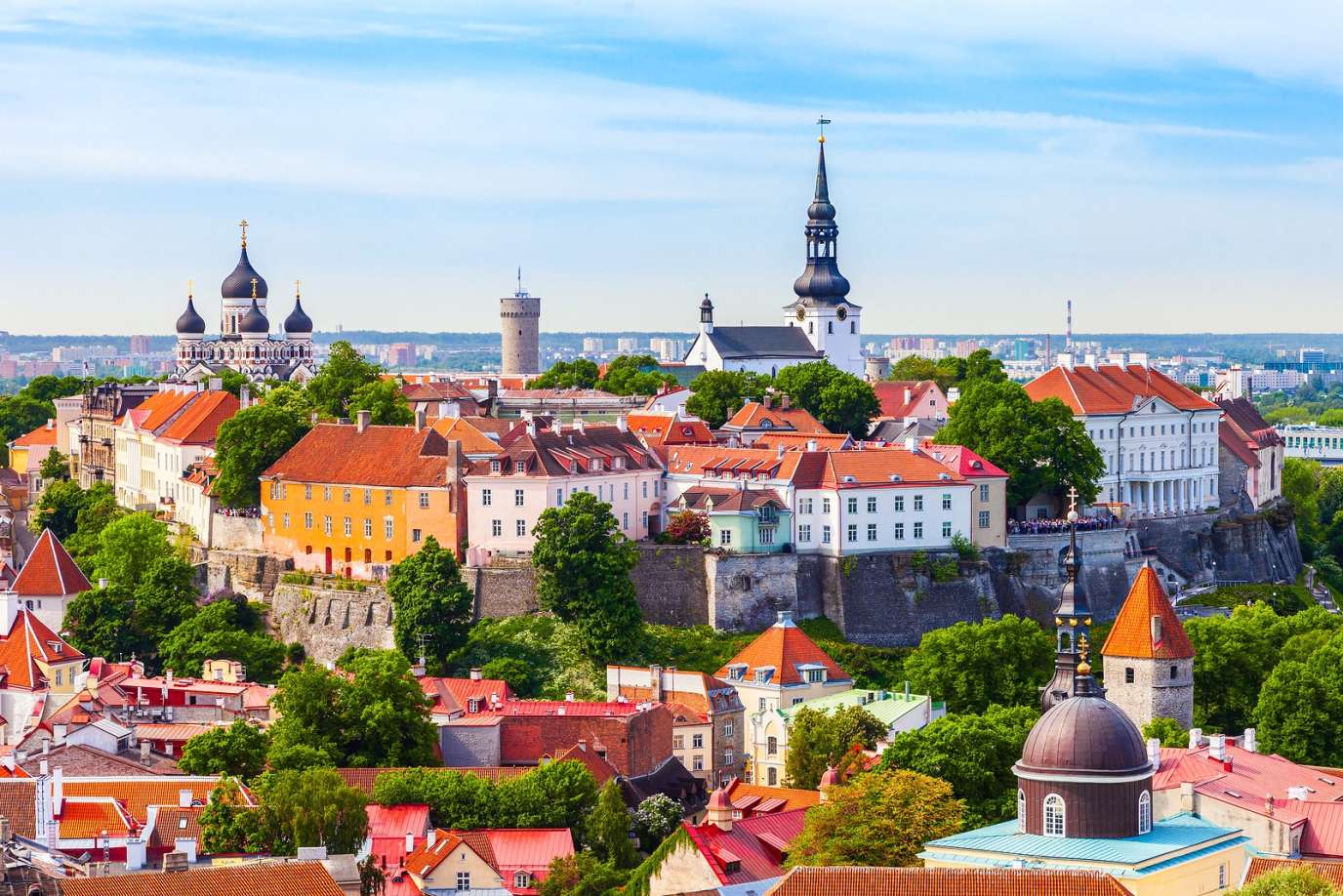 Getting set for your first time in Tallinn
We at LeapIN have everything covered when it comes to Estonian e-residents, and true to form, we're here to guide you though your first visit to the e-state capital. Without giving too much away, we'll get you started with some of the 'must-sees', a couple of the 'lesser-knowns' and some tips to have you blending in like a local (that's a resident of the non 'e' kind). Together with a short guide on getting to your accommodation, a few ideas on where to eat & drink — and if you need it, even work — we'll get you set up for an enjoyable first encounter without giving away all of the magic.
Arriving in Tallinn
Tallinn's Lennart Meri Airport is close to the city, and well served by both taxis and public transport. To catch a bus to the city centre, make a left on passing through the doors into the arrivals area, go down the escalator through the main entrance to level 0. The bus stop is located on the left. Take bus number 2 toward Kesklinn/Reisisadam A-Terminal. It's possible to buy your QR-ticket online in advance (see more information on using Tallinn's public transport system below).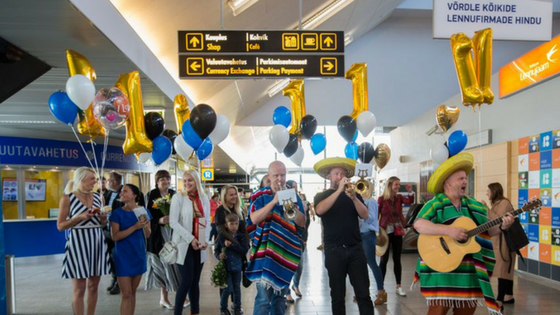 For e-residents who prefer to travel by taxi, Tallinn is well served by Uber as well as local startup Taxify who pick up passengers from the drop-off area directly in front of the terminal. To meet your driver, exit the terminal through the main entrance, and cross the access road, passing the official taxi stand (which is reserved for Tallink and Tulika taxis only).
If you're arriving by ferry from Stockholm or Helsinki, both the A and D terminals are connected to the city by a short trip on bus number 2 (direction Kesklinn/Lennujaam/Mõigu). The terminals are also well served by drivers from Uber and Taxify, and a number of registered taxis also wait directly in front of the arrivals area. Alternatively it's possible to walk to the city centre and old town in approximately 15-20 minutes.
Accommodation and getting around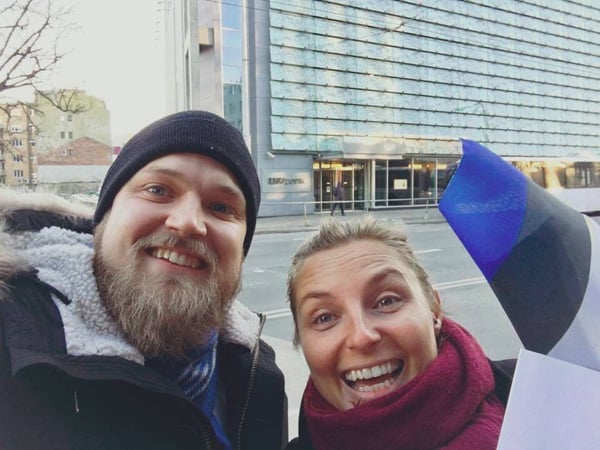 Tallinn is well practiced in hosting visitors, with a range of good options. For close proximity to business meetings and LeapIN's partner bank LHV, there are many international grade hotels such as Radisson BLU, Swissôtel and Tallink City within five minutes walking distance.
To be in the thick of the historical sights, Tallinn's famous medieval charm and the city's nightlife, the Old Town is the only candidate. Here you'll find many well-regarded boutique hotels, serviced apartments, or options from Airbnb.
For a bohemian vibe, hipster cafes and boutiques, try an Airbnb in Kalamaja. A favourite among the local startup scene, the once rundown former fishing village and industrial area now houses an eclectic mix of creatives, young families and long-term residents. The old town is easily accessible, and the city centre is about 30 minutes on foot, or 10 minutes by tram.
Getting around
Tallinn's Old Town is best explored and enjoyed on foot, and lies a short walk from both the city centre and Kalamaja. Using the Nextbike app it's also possible to make use of Sixt rental bikes, located at self-service pickup locations within the city centre and it's surroundings.
For trips further afield, the public transport system is cheap, reliable and straightforward. A single trip QR-ticket in advance costs €1 at tallinn.pilet.ee, or by using the app pilet.ee. Enter the tram or bus from the front door, and be sure to scan your QR-code on the reader. Single trip paper tickets can be bought from the driver for €2 but correct change is very strongly advised. The network operates from about 6am to midnight, and is generally very punctual. Detailed timetable information, and a journey planner are available from Tallinn Transport at soiduplaan.tallinn.ee or you could try out Trafi, an app developed by a Lithuanian startup claiming to be more accurate through real time data and scientific algorithms.
Sightseeing
Old Town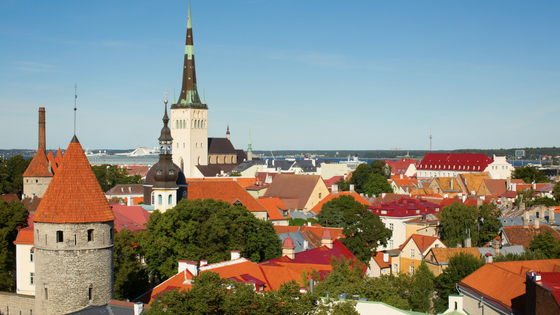 Dating back to the 13th century, Tallinn's Old Town is the best-known attraction that continues to draw millions of tourists to Tallinn each year. Losing yourself in the twists and turns of the cobbled streets framed between the historic buildings and city walls, you won't be short of places to explore — from shops selling Estonian handicrafts, to small galleries and museums, as well as countless cafes. Souvenir shops are impossible to miss, but for something different, Raamatukoi bookshop (Harju 1) sells second-hand books in many languages and has an impressive range of old postcards from the Soviet era. To satisfy your sweet tooth, Karu Talu offers handmade chocolates, and cafe Maiasmokk sells handmade marzipan — complete with figures on display in the 'Marzipan Room' and Tallinn's own legend on the 'true' Estonian origin of the sweet.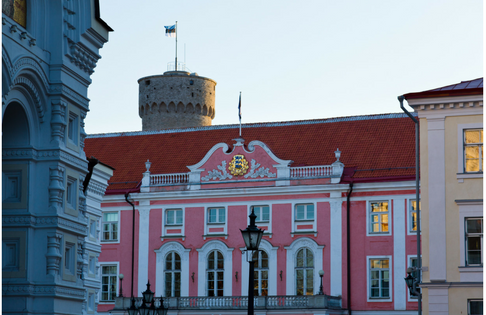 A trip up the longer Pikk jalg (long leg) or the steeper Lühike jalg (short leg) will lead you up the hill from the lower town to Toompea — the upper town and former home of the ruling elites, as well as the Russian Orthodox Alexander Nevsky cathedral. You'll be rewarded with a number of lookout points for a great view over the city — some more crowded than others.
Kalamaja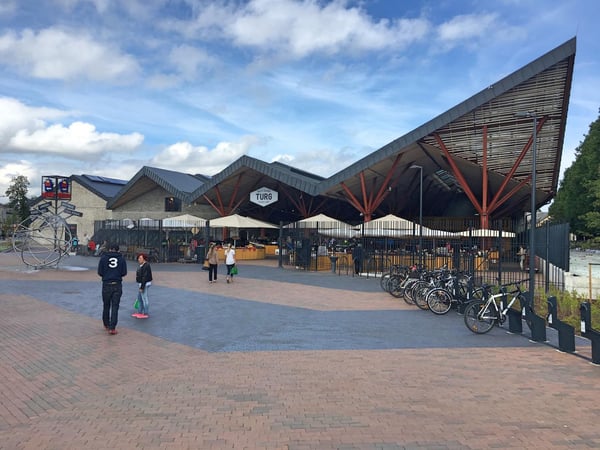 Passing down from the other side of Toompea, or through the gates of the city walls will take you directly to Kalamaja. Before exploring the boutiques of Telliskivi and the timber architecture of Estonia's first republic in the 1920s and 30s, you might stop off at the newly renovated Balti Jaama Turg — which will no doubt be added to must-see lists before long. It houses a market of fresh fruit and vegetables, second hand goods and a dedicated street food section. At Kalamaja's northern edge by the Baltic sea, the distinctive Lennusadam museum (Seaplane Harbour) is home to an award winning collection of maritime history, housed in a former hangar for flying boats, and featuring an actual submarine.
Beyond Old Town and Kalamaja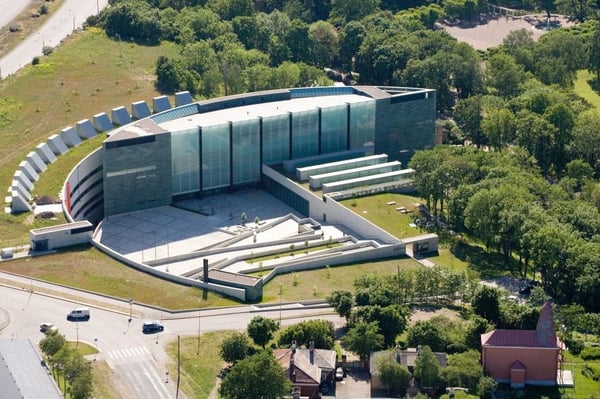 If you're looking to get out of the city centre, Kadriorg park (get there with trams 1 or 3, direction 'Kadriorg'), developed during the time of Russia's Catherine the Great, offers the chance for peace and quiet, to get up and close with the presidential palace, or stop by KUMU, Estonia's national art museum. Moving beyond Kadriorg, a seaside promenade toward Pirita gives beautiful views back to the city, eventually ending up at Pirita beach — good for a summer swim if you dare brave the frigid Baltic sea temperatures. A number of bus stops along the way have regular connections back to the city centre.
Food, dining and bars
Tallinn has an active cafe, bar and restaurant scene, with chefs well-attuned to contemporary tastes. The venues offer stylish and minimalist decor reflecting the country's nordic ambitions as well as both menus and service delivered in faultless English. New places hoping to try their luck are continuously added to the mix, and you'll be rewarded for a little exploration. Nonetheless, for those pressed for time, or looking for a ready-made excellent option, we've saved you the effort and done the hard yards to offer you some real classics.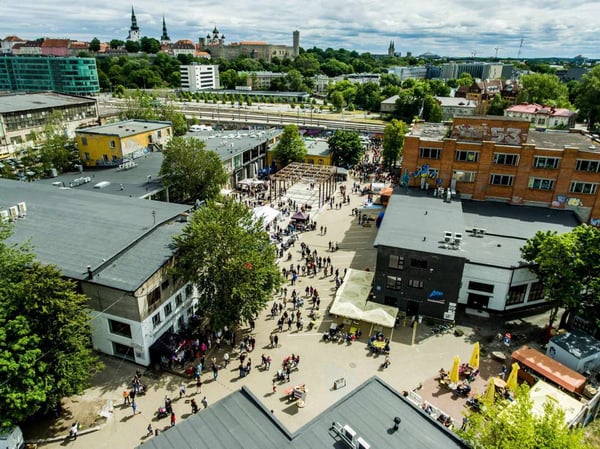 Kalamaja's Telliskivi creative city (Telliskivi loomelinnak) has established itself as a go-to, with the area's pioneer F-hoone maintaining ongoing popularity as a tried and true safe bet, while nearby St. Vitus has recently joined the scene with an impressive range of beers on tap.
More recent additions draw influence from growing trends toward street food and craft beer, and an ever increasing number of events and live music.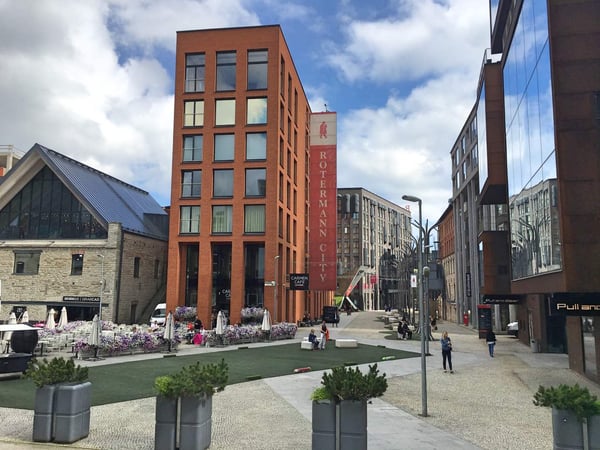 In the city centre the Rotermann Quarter frequently adds new options, set in an intriguing mix of the historic and modern as the area gradually revitalises former 19th century storehouses. Carnivores will enjoy the meat restaurant Pull, while a couple of doors down Flamm offers French-German Flammkuchen with Italian wines, and a little further on TOA specialises in Asian fusion. For a taste of contemporary Estonian-nordic cuisine, nearby Sfäär and Kaks Kokka will more than live up to expectations.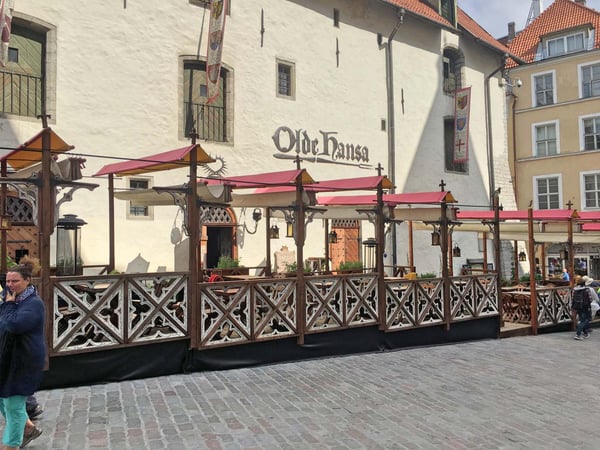 The old town has a dense collection of places to eat and drink for all tastes, and is active through the night into the small hours of the morning. For fine dining with Russian flair, Troika is a favourite, for an authentic medieval experience, Olde Hansa is loved by many, and for something easy on the wallet, III Draakon offers elk soup with traditional pastries and salted cucumbers. Babulja remains popular for cocktails, and in recent times a number of cocktail bars have sprung up in Sauna street, with Frank and Sigmund Freud quickly gaining locals' attention. In nearby Müürivahe, Must Puudel remains a popular bar with foreigners and locals alike, while Hell Hunt, self-proclaimed as 'Estonia's first pub' offers an active and bustling pub atmosphere well into the night any day of the week.
Work, tech and startups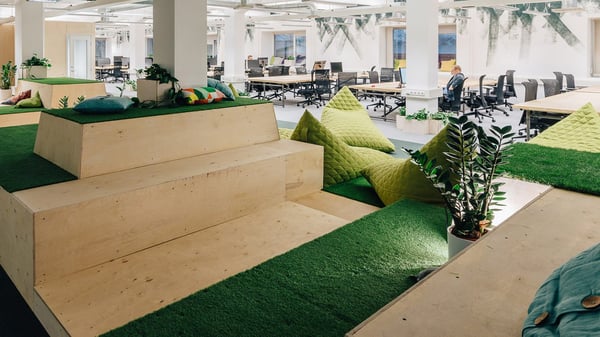 For those that can't or don't want to get away from working, more and more coworking spaces are emerging. Some of the more well-known are Lift99 in Telliskivi, Spring Hub, around 3km from the city centre, and Uma by Technopolis in Ülemiste City — a newly established commercial and tech centre between the airport and city centre (and the home of LeapIN). Working in cafes is also a popular option in Estonia, provided you're reasonable about how long you stay, avoid the lunch rush, and buy something to eat and drink from time to time.
Now you're set
So there you have it, you're ready for Tallinn, and Tallinn is ready for you. We look forward to welcoming you soon!
Useful information
Days are long in summer (If you're sensitive to light, check if your accommodation has blackout curtains, or bring a sleeping mask)
Days are very short in winter, and temperatures can reach well below freezing
As well as New Year's Day, Easter and Christmas, Estonia has public holidays on 24 February, 1 May, 23–24 June and 20th August
Getting to the airport takes approximately 15–20 minutes from the city centre, but allow more time for your trip if your flight is in the evening


(5–6 pm), especially on Fridays when Estonians leave the city en masse for their summer cottages
The old town can be very busy during the daytime in summer — particularly if a cruise ship is in port
Estonians' English language skills are excellent and you shouldn't encounter any problems
Shops are open every day including weekends. Major supermarkets stay open until 10 or 11 pm.
It's possible to pay for almost anything, and almost anywhere, using a credit or debit card — this also means it can be difficult to get change if you make a small purchase using €50 and €100 bank notes.
Tipping is by no means necessary, expected or particularly common, but will be gratefully accepted as a sign that you were happy with the service
Freelance