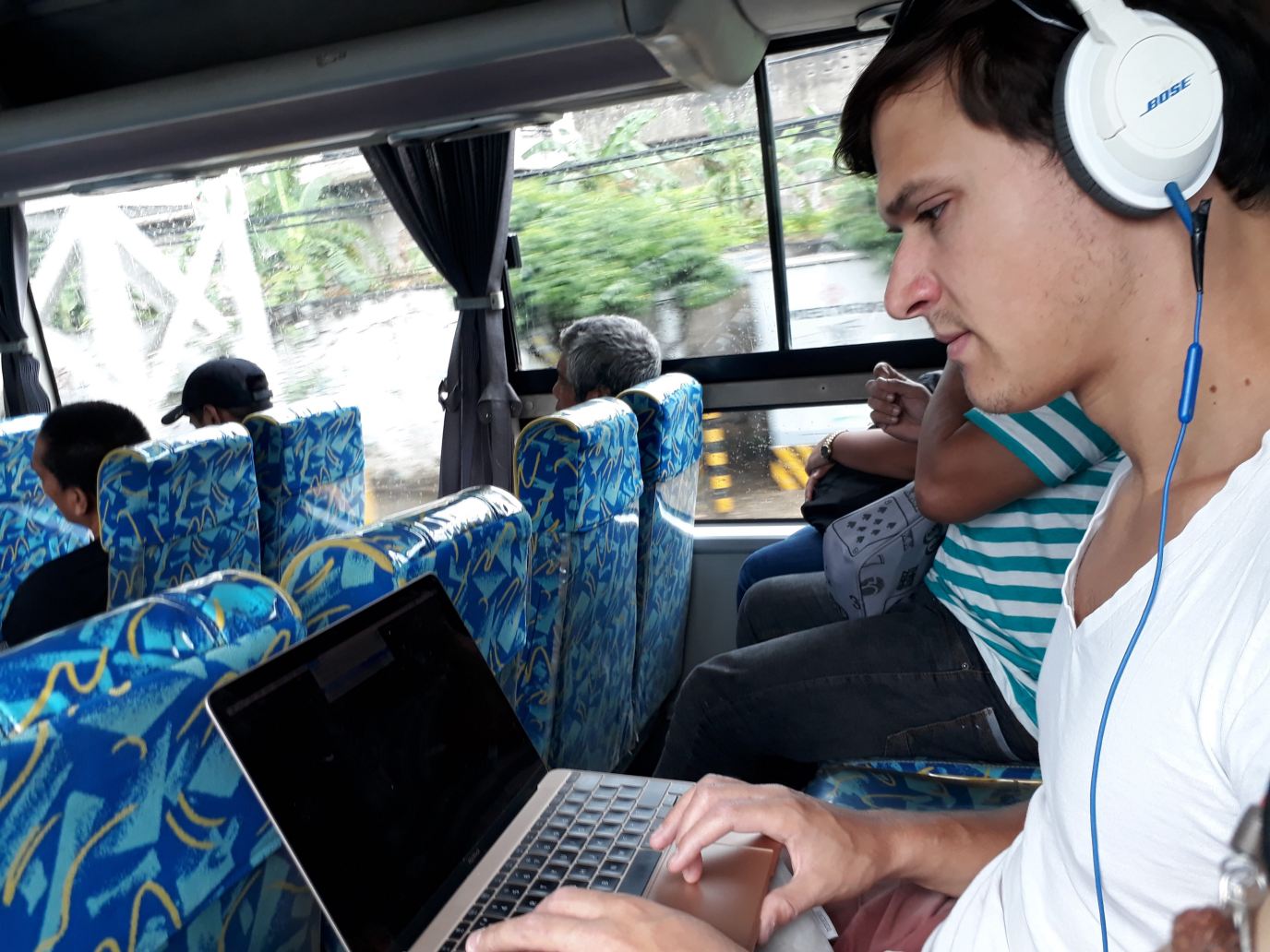 James hard at work while on the move.
James Ivings is a developer and digital nomad who runs his company, Squarecat, with his partner Danielle. They travel the world while helping their clients, who are mostly back in the UK, to realise their online visions. We spoke to James about the roots of the company, his travels as a digital nomad, and his experience with Estonia, and LeapIN.
What does your company do?
Squarecat is a software development company that specialises in architecting and developing bespoke web applications and realising our clients ideas.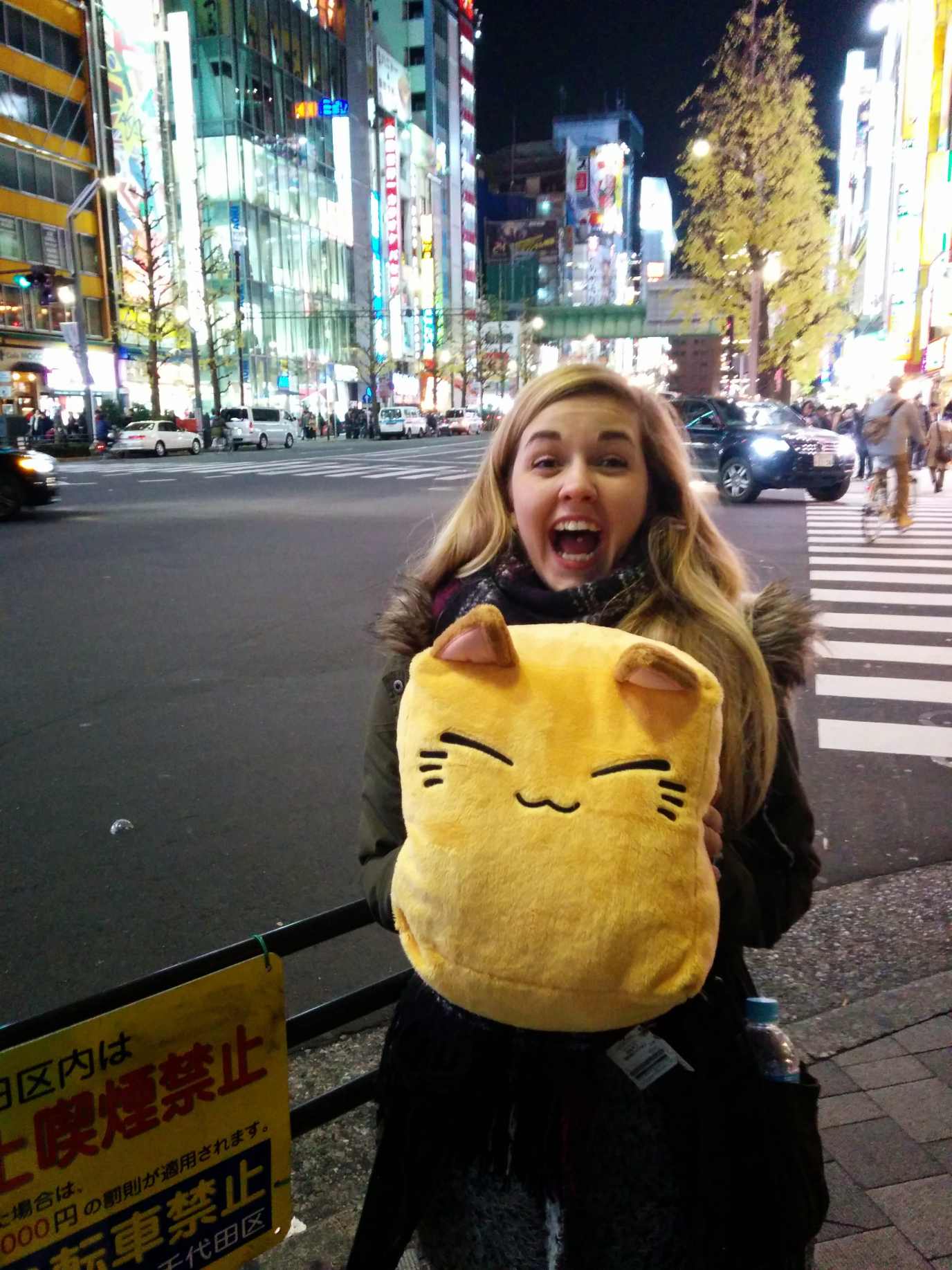 What inspired the company name?
During our first adventure together in Japan, Danielle and I won a giant plushie cat whom we named Colin (as you might have guessed, he's square). When we began our lives as digital nomads I had a smaller version of Colin made to bring along with us as a travel mascot. When we started our company it seemed fitting for him to be included in some way.
Tell us about your recent work history, and what do you like about working as a digital nomad?
We've spent a mix of time on client work and our own projects. Our clients are mostly based in London, and have been a combination of enterprise and solo founders. Working for ourselves means that as well as client work we can also allocate a certain amount of time to our own passion projects. We've yet to release any of these to the public, but are hoping to spend some more time on this over the next few months. Working as a DN means there's always inspiration around us!
What are the challenging aspects of your work, and how do you overcome them?
Having a stable internet connection is definitely a challenge in some parts of the world, especially in some parts of Asia, or even Australia! We can generally overcome this by buying different SIM cards to make sure we have maximum coverage and researching places/cafes beforehand to make sure we can still get work done.
Time zones can also be difficult, for example scheduling calls with clients and freelancers in three different time zones across 12 hours proves tricky. We usually keep quite a flexible schedule in order to help with this. It's not unusual for us to stay up until 1 am for a meeting with London (getting up early is always the less desirable option!).
What made you aware of Estonian e-Residency, and what made you decide to take it up?
I had been following the news regarding e-Residency for some time before starting our DN lifestyle. It seemed to fit well with our goals and we were happy to support the initiative from an ideological point of view. We feel lucky to be a part of the new wave of global living and working!
Are there any difficulties related to being a digital nomad which are helped by your company being based in Estonia?
We travel to our resident country very rarely and have no permanent address. Specifically this can make banking and taxation difficult. Ideally we don't want to have to worry about the running of the company so we can focus on development!
Why did you decide to use LeapIN, and what's your opinion on the service they've provided you so far? What are the best things about partnering with LeapIN?
LeapIN has been great so far. The whole process is hassle free and their support is always helpful when I need it! The best part for us is the ability to outsource the bureaucratic parts of running a company — taxes, expenses, VAT, payroll etc. Not having to worry about these things means that we can concentrate 100% of our time on the things we're good at!

What do you hope LeapIN, and EU registration for your company, will do to help your business in the future?
We definitely want to work with more EU based clients! There are lots of cool looking companies coming from tech hubs in Europe — Berlin, Amsterdam, Tallinn, Barcelona, etc — who we'd love to help. The post-Brexit world may have made this more difficult for us, and having an EU company hopefully will help. It's also nice to know that we can remain a small part of the EU ourselves and stay connected with our friends and clients!
Talk us through a typical work day for you. Where do you like to work? Do you ever use co-working spaces? What's your approach to meetings when you're on the move?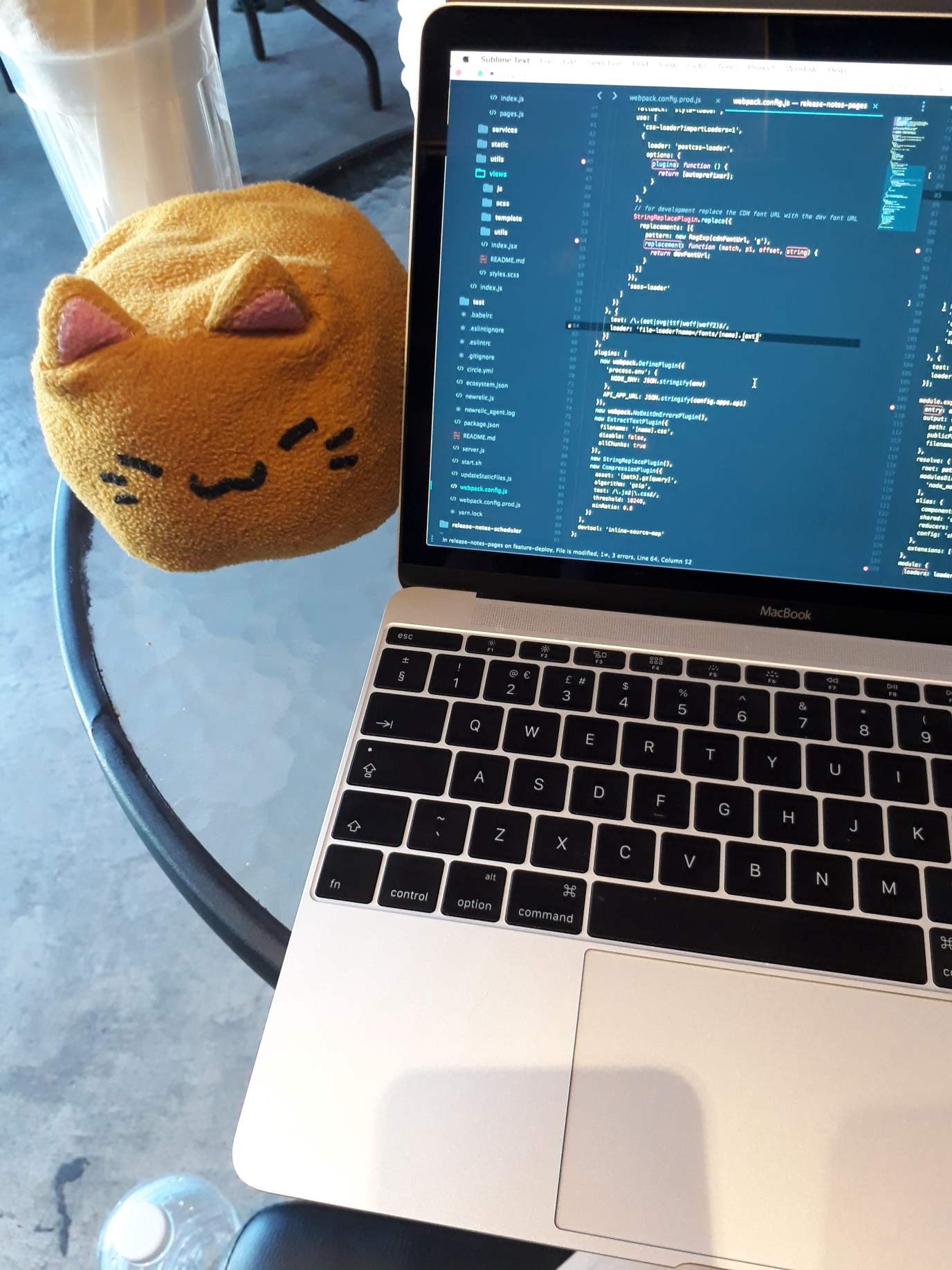 We occasionally use co-working spaces, but more often we work from cafes. We mostly stay in rented apartments, so try to make sure they have an 'office area' as well. Our clients are supportive of our lifestyle, so meetings are generally not a problem — we communicate mostly via Slack and have video conferences occasionally.
Have you had the opportunity to visit Estonia yet, or do you hope to in the future?
We'll be visiting Estonia in September for a few weeks! Any recommendations for co-working spaces, coffee shops or tourist spots are welcome!
Freelance
Customer story