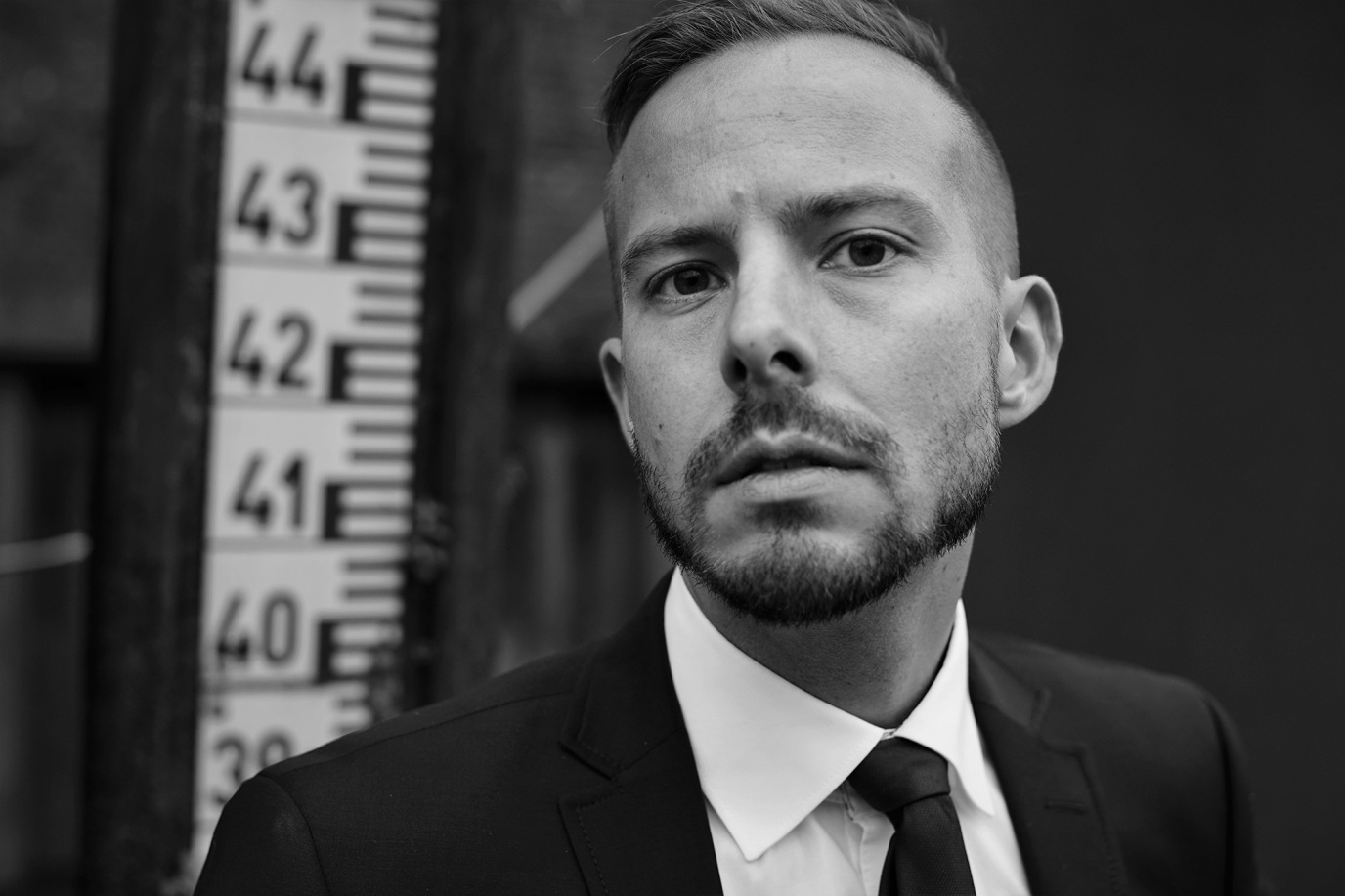 Christoph Huebner, a German entrepreneur, isn't a man for leaving things to chance. Always on the move, Christoph is an experienced international businessman and digital nomad. To make this lifestyle a success, you need mental sharpness, along with a keen focus on your goals. Therefore, when Christoph saw the opportunity to partner with LeapIN, he knew it would allow him to focus on making his company, SCHWARZSTORCH OÜ, the future of the insurance industry. We sat down and chatted to this business trailblazer, to find out more about his exciting life and work, and how LeapIN is helping him to be successful in every way.
What does your company do?
It's all about transforming the insurance industry. The company specialises in digitisation and service improvements in life and health. So, insurance of physical things and services isn't my cup of tea. When it comes to the personal issues of people however, particularly regarding their biometric risks, my passion comes to the fore. This specific part of the European insurance industry seems to be stuck in the Stone Age. As they push paper all day long, efficiency and service innovation are distant prospects.
For this reason, SCHWARZSTORCH OÜ (German for 'black stork'), is about bringing new digital babies to the European insurance world; new fully digital insurance products, services, and sales processes.

What is your recent work history, and what do you like about working as a digital nomad?
I've been self-employed pretty much forever. I started my first business when I was 16 and still in school. And then at 19, right after finishing school, I became a full-time entrepreneur. So I've never signed an employment contract. I love being independent and solely responsible for my life.
My professional life started in the advertising and marketing industry. After a few years, I moved into the finance and insurance market. Today at age 35, I'm focused on the two extreme points of a person's lifespan: health insurance for newborn babies in Germany, and digital precautions services for one's passing.
As products in insurance are not physical, this industry is perfectly made for a location-independent lifestyle. Travelling and discovering the world is so much of a driver in my life that I have a huge world map tattooed all over my body. This map now needs to be filled with colour, on all the places I visit. In other words, I want to make the world colourful through how I live!
What are the challenging aspects of being a digital nomad, and how do you overcome them?
I've been working location-independently for quite some time now. Until recently, I still had at least a registered address in Berlin even when I didn't really have my own apartment anymore. Getting rid of all this to discover the world with just a suitcase and some top-notch gear for work is so much of a big step into personal freedom, that I really had to think long and hard about what kind of challenges might ensue — and still failed to envisage them all!
What made you aware of the possibilities behind Estonian e-Residency, and what made you decide to take it up?
I've been interested in politics since my early youth, and I've always been curious about what happens around me, and around Germany, where I grew up. So I heard about the e-Residency program a number of years ago, and had it on my radar for a while. In recent years, I've given a lot of attention to driving my businesses into a paperless future, and making a fixed location for my work unnecessary. Digitisation gives me a huge opportunity to develop my work in a direction of personal freedom, and for this reason, e-Residency seemed like a perfect fit.
Tell us about some of the challenges you face in doing business internationally.
The black stork, or 'Schwarzstorch' in German, is a migratory bird, and so am I. Doing business internationally with a digitally-managed Estonian company reduces the challenges of my day-to-day work life in the European single market enormously. The paper-based bureaucracy in Germany is much more challenging!
Are there any difficulties due to being based in your country of origin (high bank charges, lots of government red tape, etc)? Are these helped by your company being based in Estonia?
My personal business is about consultancy and business development. This isn't a very regulated industry compared to the industry I work in, insurance. Every country has a different approach to handle bureaucracy and rules for entrepreneurial freedom. Depending on your personal plans and the industry you work in, you should just find the best location for you to start from.
The purpose of my Estonian-based company, SCHWARZSTORCH OÜ, is to have an entity to charge for my personal work. The Estonian laws around deferred company profit taxation makes it appealing, and allow me to take a long-term perspective related to my eventual retirement.
Why did you decide to use
LeapIN, and what's your opinion on the service they've provided you? What are the best things about partnering with

LeapIN?

When I decided to set up an Estonian OÜ as the centre of my business activities, it became obvious that I needed to use one of the professional business service providers locally. The main reason is that I wanted the tasks regarding regulations and bookkeeping to be taken care of by pros, as much as possible. As a German, I know that this part of the business is the thing that limits your entrepreneurial freedom the most. Taking care of paperwork and tax deadlines have never been among my biggest strengths.

Out of all the services I checked out, LeapIN seemed to have the most automated processes, and the leanest, most standardised communications channels. And as my SEO guy (who's working from Southeast Asia these days) had been a customer of LeapIN for several months before I joined, his recommendation gave me a final nudge.

Since signing up, I've experienced a quick and professional service. They deal perfectly with my special demands, answer questions within hours, and on my last trip to Tallinn I even met the team in person — and took part in their planking competition before lunch! They're great guys!


What do you hope Estonia, and EU registration for your company, will do to help your business in the future?
I'm watching with interest developments related to an Estonian state-backed crypto-token with excitement. Supporting these ideas fills a state- and government-criticising libertarian like myself with satisfaction. Seeing an Estonian society that seems to be much more secular, optimistic and technology-positive than most other European countries is just fun! I love being part of that.
Talk us through a typical day at work for you. Where do you like to work? Are there any favourite co-working spaces? What's your approach to meetings?
There is no typical workday for me. I try to stay in places for at least a few weeks, up to two or three months, to develop a feeling of how it is to actually live there. As I do this interview, I'm preparing for a flight from Frankfurt to Thessaloniki, where I'll live for the next weeks in a hostel owned by a friend of mine. I guess I'll go to co-working spaces on weekdays. The past two weekends I've spent at trade shows in Frankfurt and Hamburg. Last month I lived in Lisbon, where some of my colleagues also showed up for a few days to co-work.
I work with people all day, and I love to have people around me. Getting to know new inspiring individuals every day adds spice to my digital nomad lifestyle.
What do you think of Estonia? Did you have to visit the country to complete your e-Residency application, and were the people welcoming?
I did my application digitally, and collected my ID card from the Estonian embassy in Berlin, where I'd lived for 10 years prior to signing off from Germany. The appointment at the embassy was a bit less of a celebratory ceremony than I had in mind. There was no ambassador receiving you with a warm handshake, on a red carpet, in a nicely decorated room with a big wooden desk. It was actually just five minutes with a service officer, who was sat behind a glass wall.
Contrasting with that, Estonia and the Estonians left the very best impression with me on my various trips there. I've seen many eastern-European cities and capitals, Tallinn is the only place where I really felt safe enough to tell an Uber driver to drive me to a restaurant of his recommendation. You don't want to do this in Prague or Budapest as you'll end up, after a big and expensive detour, in a disappointing place that's run by the husband of the taxi driver's sister. When you do this in Estonia, you arrive at a great food temple, after a quick ride and an interesting conversation with an open-minded driver who welcomes you from the heart. Staying in Estonia for at least two or three months is already a fixed plan!
e-Residency
Customer story