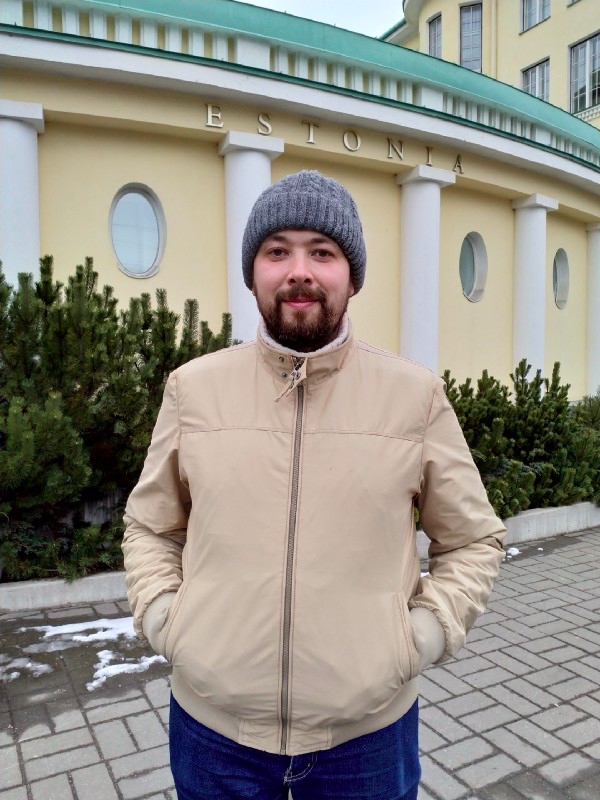 Andrei Dyldin, CEO of Cesbo, knows what the future of his industry — digital streaming — is, and what the future of cross-border businesses is. That's why Andrei has made his working life hyper-efficient, partnering with LeapIN, and basing Cesbo in Estonia. And thanks to Estonian e-Residency, he's gained full access to the EU and global markets, broadening the audience for his innovative concept.
We asked Andrei why e-Residency is such an important component of his working life, and how he spends his time both at work and away from the office.
What does your company do?
I'm a developer of solutions for streaming digital TV. It's a growing market, and I feel that streaming is the future. More and more people are viewing content through streaming services, and it's important that businesses meet customers where they're watching.
The primary project I'm involved in is creating software that turns any computer into a professional TV headquarters. This means any company that wants to provide a TV service for its own customers can start without undue expense, and with minimal necessary investment in resources.
What is your recent work history, and what do you like about working without borders?
I opened a company, Cesbo OÜ, in Estonia in May 2017. To begin with, the
part of my work based in Estonia was only used for operations related to EU customers. In August 2017, I moved all responsibility for the company's international sales to Estonia.
Basing the company in Estonia is an amazing solution when it comes to working without borders. Everything is simple and clear, and if I ever have a question, I know there'll be someone on the end of a phone call or an email who can answer it honestly and quickly.
What are the challenging aspects of your work, and how do you overcome them?
Over the course of the past year, the hardest challenge has been striking a balance between my job and my family. This became more of a challenge, for very positive reasons, when my baby was born at the end of 2016.
Nowadays I have more time for my family. This is because the awesome service offered by LeapIN and much less bureaucracy than in my previous setup lets me concentrate on my work and on those closest to me. I'm very glad to have found such a solid answer to all my work-life balance questions.
What made you aware of the possibilities behind Estonian e-Residency, and what made you decide to take it up?
In 2015, I started my search for the best locations and resources to help my business work without borders. There were a number of possibilities that appealed to me. These were based in Asia, America, and Europe. At the end of 2016, I looked into Estonian e-Residency, and it seemed to fit the bill in every sense.
The most important thing for me was that most of the information from the government needed to be available in English. The Estonian government is very good at making sure that translations of all important documents are online. The ID card is an awesome solution that means I can do so much from a remote location, without ever needing papers, letters, and scanners.
Another thing I like about Estonia is the awesome, easy-to-understand, tax system. It was important when I set out on this journey that I found a business solution that let me accumulate funds for new projects, while growing the company. I can do these things without stress now.
Tell us about some of the challenges you face in doing business internationally.
With my company based in the EU, it's now very simple to do international business. I don't have any major challenges, as there's minimal bureaucracy, and people trust EU companies with their business.
Are there any difficulties due to being based where you are (high bank charges, lots of government red tape, etc)? Are these helped by your company being based in Estonia?
This is probably the most important question. I started working for myself a long time ago, in 2010. For the first three years, my current project operated as a kind of side project, alongside my regular job. In 2013, I resigned from my day job, in order to start working full-time on my own projects. At that time, most of my customers were from Russia.
I tried working with foreign customers while my company was based in Russia. This didn't work out though; Russian bureaucracy, and numerous stupid laws, made it difficult to work in the international market. After looking at the cross-border options for my business, I eventually moved all my work to Estonia, and now I'm happy!
Why did you decide to use LeapIN, and what's your opinion on the service they've provided you? What are the best things about partnering with LeapIN?
LeapIN is making history, thanks to the important role they're playing in getting businesses started with e-Residency, and helping them to keep running efficiently. When I found out about LeapIN, I went straight to the LeapIN blog, and found all the information I needed about e-Residency and Estonia. LeapIN's service saves me huge amounts of time, and lets me spend more time, and mental energy, working on my projects. It's a beautiful site, with a helpful knowledge base, and an incredibly useful control panel.
What do you hope LeapIN, and EU registration for your company, will do to help your business in the future?
The people behind e-Residency, in conjunction with the people at LeapIN, already support me, and this is very important for me and for my company. I've got a lot of plans for the future, and Estonia is the base for all of them.
Talk us through a typical day at work for you. Where do you like to work? Are there any favourite co-working spaces? What is your approach to meetings?
I work in an office. I like silence. I'm not the sort of person who values sharing a huge co-working space; my time is precious, and when I work I make the most of it. Throughout 2017, I stayed at home with my family. In 2018, things might be a little different; we're planning to visit a variety of countries with our baby nomad!
What do you think of Estonia? Did you have to visit the country to complete your company setup, and were the people welcoming?
Estonia is awesome. I spent a couple of days there to open a bank account, and then went back with my family for a 10 day holiday. I think Estonia is on the right path if it wants to be the startup hub of choice for companies going forward.
Company setup
e-Residency