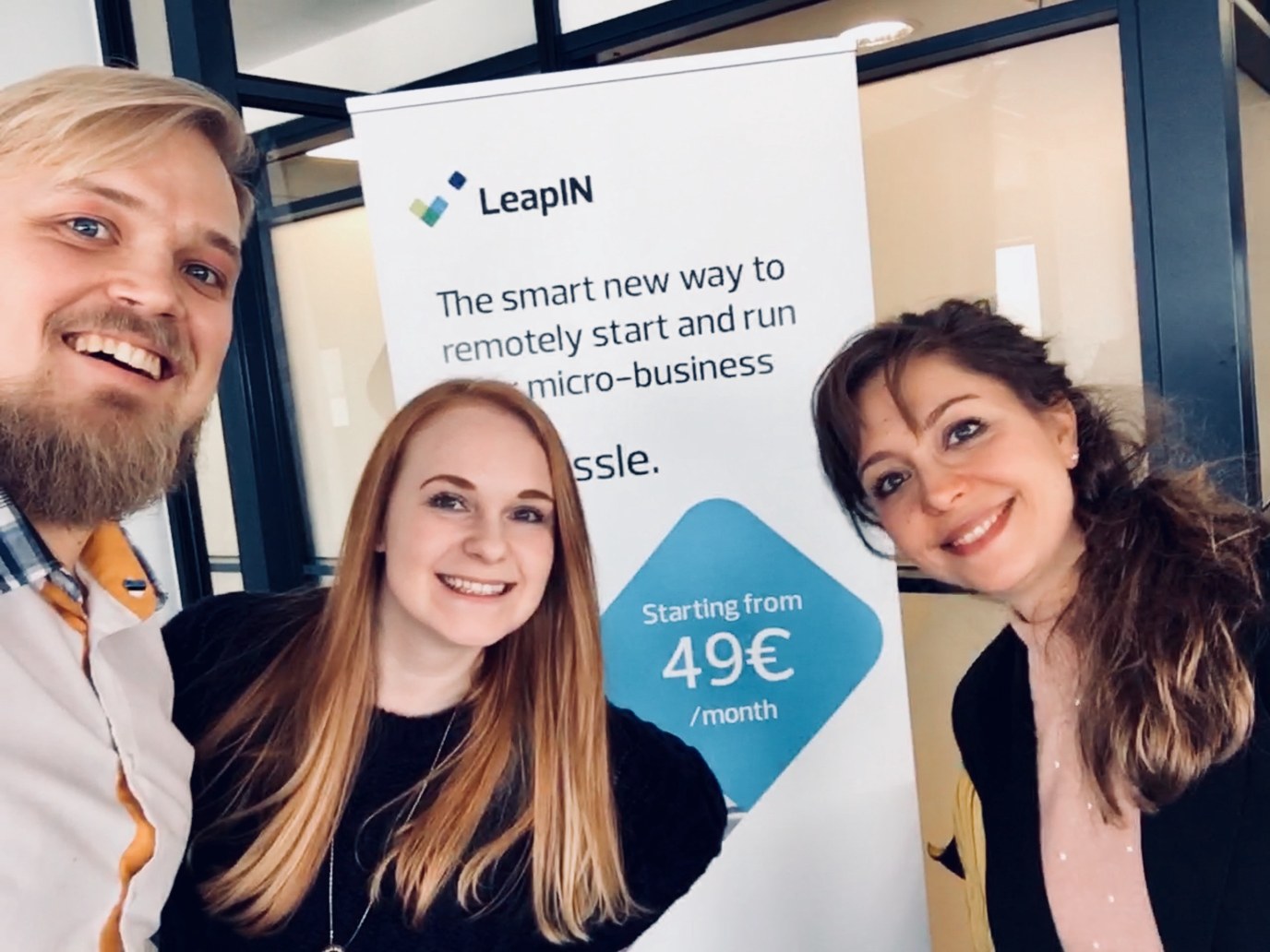 We took this selfie with Lila (on the right) in February when she was here to open her business bank account at LHV.
Lila is an ambitious entrepreneur fascinated by modern digital communication. Her diverse business interests means her company needs to be as dynamic as she is, and accessible all the time from anywhere in the world. This is why she chose LeapIN to help her start her new business.
What does your company do?
Designer Brothers is a digital communication agency, guided by a proactive commitment to our partners' needs, electrifying originality, high ethical values and environmental sustainability. Our services vary from graphic design, corporate identity, photography, publishing and illustration to social media and marketing management, business development and product strategy. In terms of industry, we're currently focused on projects around artificial intelligence, machine learning, digital health and health informatics.
What inspired the name of the company?
Designer Brothers was the name of an international collective of creative professionals. I came across their values, and the fact it was a place of innovation, entrepreneurship and creation inspired me with a vision for the future, so I decided to name the company in Estonia after this. We believe that creation and innovation go hand in hand with sustainability, honesty and trust.
Did you consider basing your company in Greece before starting it with e-Residency?
Yes, I did. However, being constantly on the road, I decided that the openness, flexibility and trust offered by the e-Residency program, together with the ability to manage my company location-free, made it an ideal solution for me. In addition, it offers me the unique opportunity to learn about Estonian culture, people, and values, which is a priceless cultural gift.
How did you first discover e-Residency, and what convinced you to sign up?
I was aware of Estonia's successful implementation of innovative solutions related to e-governance, healthcare, telecommunications and finance. When I first started working on digital health, the e-Residency program came up following Estonia's eHealth Strategies. I decided to sign up at first because I wanted to be part of this innovative approach, and also because I wanted to establish my company in Estonia. The more I was learning about the country's national digital strategy, the more I wanted to become part of the family!
And as someone interested in developing technology, how do you see the future of e-Residency and how it might benefit people worldwide?
I believe that the e-Residency program will disrupt (or is already is disrupting) how states treat their citizens in general, and entrepreneurs in particular, worldwide. Our world has changed, and with it the notion of citizenship and entrepreneurship. However, public states aren't always fully adapted to this new, challenging and ever-changing environment. The e-Residency program brings innovation, creativity and a viable solution, refreshing and re-orientating the relationship between citizens and states. I see the program bringing a paradigm shift, while at the same time, leading the innovative and disruptive road of our new century.
How did you discover LeapIN, and how has your partnership with them been so far?
I discovered LeapIN online and through several friends. I was fortunate enough to witness firsthand the advantages of the service and the professionalism of the team. So far, our collaboration has been excellent and I really recommend their services to everyone thinking of establishing a company in Estonia.

What does a typical workday look like for you? Are you in a fixed place or do you travel frequently?
My workday depends on the project. Right now, I'm based in one place for a project, and then I'm travelling when another project comes up. Being a digital nomad is an interesting experience!
Finally, in a world where social media feels increasingly mistrusted, is it challenging to market businesses in a friendly and trustworthy way?
As a communication professional and scientist, I understand how social, digital and non-digital media works. Communication is a two-way process, and I believe that today's audience is very capable of distinguishing good from evil.
As a consequence, I think that being clear, open and responsive to our audience is the best tactic, and our path towards successful campaigns. I believe that an effective communication strategy shouldn't start with thinking about channels, but with thinking about people, how and why they interact, engage with organizations and with each other.
e-Residency
Customer story