What do companies like Vinted, a pre-loved clothes marketplace, Just Eat, an online food delivery app, and CULTNAKED, an e-commerce party clothes boutique, have in common? They all made it big outside of their home markets within several years of launching.
Lithuanian Vinted went on to dominate in both France and Germany. Danish Just Eat made it big in the UK, while Ukrainian CULTNAKED is selling most of their garments to US consumers.
Indeed, expanding into a new market is a logical next step for many growth-driven entrepreneurs. Especially now, when connectivity is paramount, remote collaboration is the norm, and online shopping keeps rising in popularity.
So what does all this mean for you? This means you can enter new markets without opening offices, hiring full-time local employees, or moving your supply chain. But you'll have to make other decisions, too. From marketing to compliance, there are a lot of things you have to think through.
So let's unpack how you, too, can expand your business into a new market and excel internationally!
What is market expansion?
Market expansion is the process of bringing your products or services to a new geographic region, new target demographic, or new distribution channel.
In other words: you pursue revenue opportunities outside of your operating "comfort zone." And, boy, there are plenty of ways to scale a business — from "servicizing" your products to selling an international franchise of your brand.
The benefits of business expansion are obvious, too!
Access to new customer demographics
Risk and revenue diversification
More sales and profits
Lower competition compared to the domestic market
Ability to become the "first-mover"
Access to more investment opportunities and capital
Extra tax and compliance benefits
It follows that market expansion is what many digitally-led startups, born in smaller domestic markets, do.
For example, Lithuanian Vinted, a pre-loved garments marketplace, expanded its operations to Germany within one year of launching. Then entered other European markets, the UK, and the US. With an estimated valuation of €3.5 billion, Vinted attributes much of its success to effective international expansion strategies.
The Estonian Bolt mobility company is another fine example of market expansion done right. Their global expansion strategy is two-fold:
Product portfolio diversification. Bolt app offers five products: ride-hailing, scooters, car sharing, restaurant delivery, and grocery delivery
Geographic market expansion. Bolt now operates in 200 cities across Europe and Africa – a new

strategic growth market

for them
But let's be real: not every business will succeed in the new markets (even when they are good on cash). Take it from Ofo, a Chinese e-mobility startup that decided to go international. Despite raising extra funding, the team still couldn't turn their popularity into profits and was forced to scrap most operations abroad.
So don't underestimate the following risks of cross-border business expansion:
Bad timing: expanding too late or too early
Budgetary constraints: lack of financing or low cash flow
Regulatory and compliance red tape
Lack of market knowledge leading to marketing flops
Subpar local distribution strategy
Low local market knowledge
That being said, if you are bent on breaking into the new market, you'll find your way around those risks.
How to expand a business into new markets at warp speed at a low cost
For ages, cross-border business expansion was strictly for the "big guns" – cash-heavy enterprises with thousands of employees.
Digital changed that. You can now get your products or services in front of millions of people without having any physical footprint in the market. A localized website, strong social media presence, and a distributed marketing team can help you enter a new market at cruising speed.
But…for that to happen you first need to figure out where you should take your business and how you can prime it for local success.
Our set of 6 solid tips to expand into new markets explains how to do just that!
1. Identify your next growth market
Market expansion can be cross-border, cross-channel, or cross-product — meaning you have a lot of choices. But which way should you go?
To figure out which new market(s) to enter, you need to analyze:
Target demographics
Market conditions
State of competition
One good framework for doing preliminary market analysis is MARACA, short for Market Availability, Real-time Analysis, Customer Addressability. It's a go-to for Natalie Kelly, VP of Localization, at HubSpot.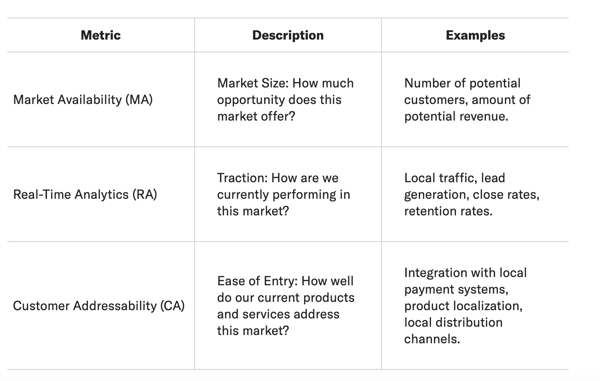 Source: Harvard Business Review
The HubSpot team scores each potential market on a scale of 1-10 across all three dimensions. Then they tally the numbers to decide which market is worth some deeper scrutiny.
But MARACA isn't your only option. Other popular frameworks for market expansion analysis include:
Also, many smaller companies also make international market expansion decisions based on cultural and geographic proximity. For instance, German companies often "soft-test" their market expansion strategies in Austria or Switzerland.
Breaking into an adjacent market is easier, as you don't need as much product adaptation or localization — or an expensive new office, for that matter! But be warned, you might not get a real "taste" of internationalization by moving into the closest turf.
2. Analyze the competition
When doing target market analysis, it's easy to lean towards bigger, more promising markets. But that's where competition is tough, too.
For example, almost every EU country already has a local "Amazon alternative" such as Cdiscount & Fnac in France or Coolblue in the Netherlands. Both players make go-to-market more expensive for Amazon and bite into its profits.
If your niche already has a major competitor that local customers love, you'll need more resources to stand out. This often translates to higher customer acquisition costs (CAC), discounted pricing (and lower profit margins) and heavy investment in local operations.
Therefore, it pays off to go into a smaller, but less competitive space instead – and get the "first mover" advantage there. But…this can get risky, too. For example, Australia isn't a highly competitive e-commerce market with plenty of online gaps and high-margin opportunities. However, operating Down Under requires a local presence — and logistics alone can be very expensive.
So as you do your research, ask yourself:
How can I do better than a local well-known competitor?
Is there a reason why no one else pursues this high-margin opportunity?
Can I grow my global business remotely at early stages to offset the costs?
How much will establishing local operations cost?
What strategies could help me rapidly build local brand awareness?
3. Consider local market quirks
The deeper you dig into your target market research, the more curiosities you'll uncover.
Multinational countries like Canada, Indonesia, and India among others have significant regional market differences. Despite being a single market, Europe, too, is a patchwork of multiple languages, cultures, and regulatory principles that vary from one country to another.
So it's easy to overlook small, but important go-to-market nuances such as customer payment preferences. As Kristina Gibson, Head of Product at Dott notes:
"When launching from the Netherlands — where iDEAL and debit cards are popular — into France, you'll need to consider credit cards or different local bank schemes and make sure they work with your payment provider. Make sure they're presented up-front in your product or service, as it will make it feel more French."
As you think over how to enter new markets, be sure to cover the following bases:
Most profitable target demographics
Consumer price sensitivity/price localization
Payment method preferences
Local trends and cultural references for successful marketing
A good move at this stage is to engage local consultants to help you figure out all of the above.
4. Establish a virtual office first
Market expansion doesn't mean going "all in" all at once. Digital technologies gave us this wonderful opportunity to expand into new markets without opening offices.
Instead of expanding physically to a new market, you can set up a virtual operating hub first to offset some of the go-to-market costs.
A virtual office enables you to:
Obtain local registrations and remain compliant with regulations
Expand your business by hiring freelancers and independent contractors
How to open new virtual offices
While the rules vary depending on the destination, the usual steps to set up a new virtual office include:
Decide if you want to register a local legal entity or open a representative office. In some countries like Estonia, you can

easily incorporate a company online

as a non-resident. In others – getting a small business registered can be way too complex and expensive. In that case, you can set up a nominal local office which is essentially a digital hub for fielding with local requests.
Get a virtual admin setup. There are plenty of providers on the market offering virtual office services. Most packages include a local mailing address, document scanning, virtual phone services, and other admin support add-ons. Again, you may not need all of this, so shop around to find the package that works for your goals and your wallet.
Figure out local compliance. Cross-border market expansion gets complex when it comes to taxation. Specifically, you may be subject to collect and remit local sales and use cases (e.g. VAT in the EU) and get some of your business profits taxed in the new market. Consult with a tax advisor to get a deeper take on your obligations.
How to hire international freelancers
You need "local people" to understand the business climate, culture and consumer preferences in a new market. As an added bonus, they can help you sort out some important to-dos like product localization, document translations, marketing, etc.
When hiring international freelancers and independent contractors you have to figure out:
Required roles: Think in terms of specific, scoped tasks, monthly commitments, and work outcomes (e.g. results or specific deliverables)
Payment rates and terms: Determine how you will pay your local hires. Consider local payment methods, bank fees, and average market rates
Contracts: Ensure that your contract work and invoices comply with the local regulations. Most experienced freelancers can give you some insider info on how these are handled locally
Onboarding and team management:Consider how you'll help new hires get up-to-speed on your project and remain engaged for the long term
We have an extra-detailed post on how to hire EU freelancers, so check it out for more tips.
Xolo provides a comprehensive solution to the entire process of hiring freelancers for your business. Using Xolo, you'll be able to effortlessly find high-quality and motivated candidates, pay fair rates (for both you and the talent you hire) across a qualified market, generate constructive contracts and even bring on teams of freelancers for larger projects.
5. Evaluate different market expansion strategies
You know your target market in and out and are ready to roll with the help of your international team. What's next? Shape your research into a go-to-market plan.
The popular ways to enter a new market include:
Direct export: Your core operations stay put, while you set up a local "front office" in the new market to handle business development, marketing, customer service, etc.
Franchising: Sell a local entity the right to launch your brand using your business system. In return, you get a fixed or percentage-based payment
Strategic partnership and co-branding: Enter a new market by partnering with a local player for product distribution or marketing
Subsidiary: Setup operations in the new market. This is the most challenging, long-term strategy that only makes sense once you've tested the waters.
6. Mind the compliance
Compliance is the least thrilling part of expanding a business into new markets. But it can prove an expensive one to overlook. So make sure you understand how to break into new markets without breaking any legal or regulatory rules 😉
At the final prep stage, research:
Local taxation: Factor in sales taxes for products/services sold. Also, you'll need to pay local employment taxes if you hire full-time employees over contractors.
Product restrictions and regulations: Some countries regulate imports of certain product categories (e.g. agro produce). Or ban the usage of certain substances such as cosmetics ingredients, which your home country may allow
Customer data protection: Customer data privacy laws differ globally and you must ensure that you are ticking all the right boxes here — or pay a steep price
Time to go global
Market expansion is a tantalizing prospect for many entrepreneurs. But as the saying goes, "A goal without a plan is just a wish."
To successfully expand your business into new markets you need to have a solid go-to-market plan. Calculate your serviceable available market (SOM), scope out the local competition, and estimate the costs of customer acquisition.
Then build a local "support network" of consultants and independent contractors who can help you navigate the compliance complexities, understand the cultural nuances, and devise the best strategy for market conquest!
Note: The information contained in this document is for guidance only and cannot be considered financial, legal or tax advice.
About Elena
Elena Prokopets writes content for tech-led companies & software development businesses, marketing to them. Her empathy for the customer, expertise in SEO, and knack for storytelling help create content that ranks well and drives industry conversations.

Elena uses Xolo so she can focus on her solo B2B content writing business without stressing over the compliance and admin overhead.